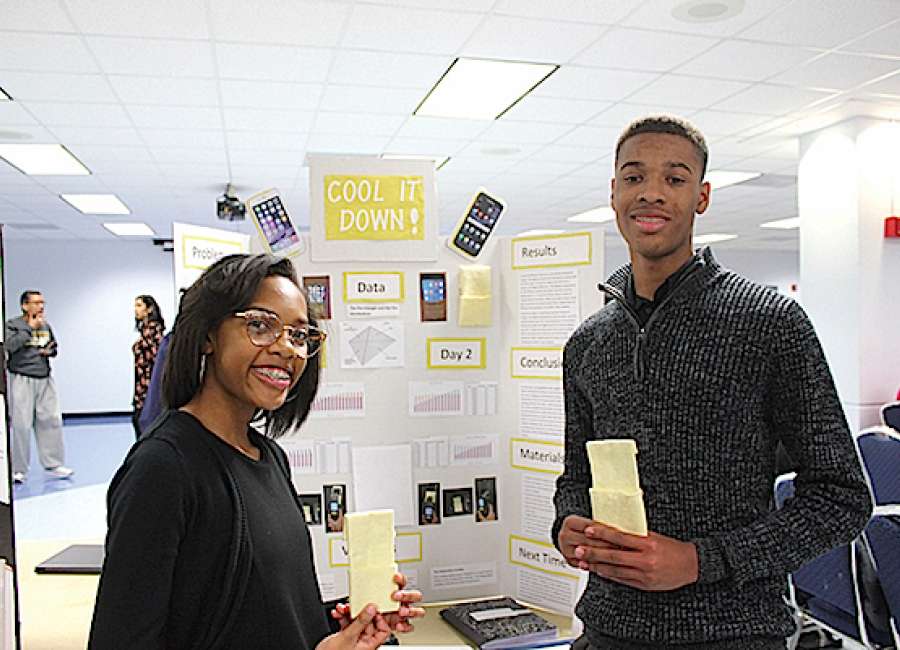 – By Bonnie Butcher, The West Press

Some of the region's sharpest young minds recently converged on the University of West Georgia when winners of local middle and high school science fairs showcased their hard work at the West Georgia Regional Science and Engineering Fair (WGRSEF). The event is just one of many examples of UWG's commitment to STEM (science, technology, engineering and mathematics) education in the region.
"UWG is a leading educator in west Georgia, and of course STEM has become a hot topic recently," WGRSEF Director Ben Jenkins said. "Everybody is wanting to focus on this because that is where a lot of jobs in the future will be. We want to ensure that the local community knows about these choices and knows that UWG is going to be able to give them that type of education to help train them for the jobs of tomorrow."
According to the Bureau of Labor Statistics, employment in STEM-related occupations is projected to grow to more than 9 million jobs by 2022. But Jenkins, who also works as associate director of the UWG Observatory and senior lab coordinator for the Department of Physics, said many undergraduates arrive at UWG with a dislike of math and science because the subjects are difficult. Programs like WGRSEF help students understand early on that while science and math aren't necessarily easy topics, it will help them understand how the world works.
"That is an important process for their worldview," he observed. "Trying to engage them at a young age with things that are not just stuff in classrooms with someone in the front lecturing them can show them the ways these things are going to be a part of their lives as they move forward."
Jenkins has been involved with WGRSEF since he was an undergraduate volunteer at UWG. When hired as an employee at the university, he served as co-director alongside Dr. Bob Powell, associate professor of physics and director of the observatory, before taking over in 2015.
"My motivation in working with this fair is just my excitement in seeing the younger scientists who are trying to make sense of the world around them, trying to solve problems and trying to figure out new ways of looking at old news," Jenkins said. "We also invite judges, who are in many cases subject experts in their field. Being able to bring students together with people who are working in the field, having that communication and starting that bridge, is a good thing."
Professionals invited to judge the projects included UWG faculty as well as representatives from Carroll County Schools, Southwire, Greenway, OFS Optics, and the Charlie Bates Solar Astronomy Project (CBSAP).
CBSAP director Stephen Ramsden gave the keynote speech for the event. As the world's largest solar astronomy outreach program, Ramsden and CBSAP host more than 70 events for more than 60,000 students and adults a year with affiliates in 23 countries.
Ramsden, a retired air traffic controller and U.S. Navy veteran, shared his story of growing up with an attentive mother who showed him math flashcards before he even knew how to read and a teacher who took a chance on him and taught him all about science, physics and chemistry.
"Growing up in southwest Atlanta, it was pretty easy for a teacher to dismiss a Southern boy and tell him to play football," he shared. "Where I'm from, I was very fortunate to have run into this teacher."
He told the parents and teachers in the audience that their involvement, no matter how big or small, can make an enormous difference in their students' lives. When addressing the students, he reiterated several times that the future is 100 percent dependent on them, be it colonizing Mars or breaking the faster-than-light barrier for travel.
"Don't stop learning math and science, because it is the absolute key to your future," he advised. "The best thing you can do right now is study science and math. Math is the language of science, and it's the easiest language you'll ever learn."
Jenkins said he hoped the students in attendance walk away with a broader view of what UWG and science can offer everyone.
"I want them not only to see that their work is important and unique but also that it has applications beyond even what they are currently thinking of," he concluded.