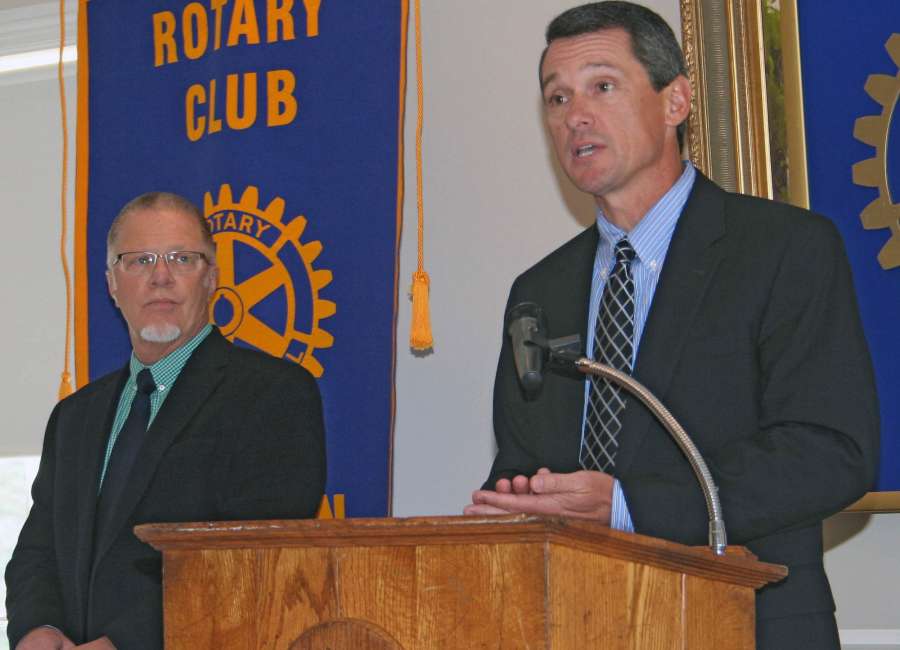 With Tuesday's vote on ESPLOST looming, Coweta County school officials took to the podium once again to distribute information about the proposed continuation of a special one-penny sales tax to fund capital projects for the school system.

Superintendent Steve Barker and Coweta County Board of Education member Larry Robertson spoke at Friday's meeting of the Rotary Club of Newnan, urging members to vote and to encourage others to do the same but stopped just shy of officially taking a stance. Government employees are not allowed to use work resources to campaign, Barker said.
That's a problem Newnan-Coweta Chamber of Commerce President and CEO Candace Boothby doesn't share.
"They can share facts, but they can't tell you what to do," she said. "So I'm here to tell you what to do."
Robertson, a lifelong resident of Coweta County and a product of the local school system, stressed that voters will decide whether to continue the one-penny tax, not vote on a new tax. He also said voters should bear in mind that much of the ESPLOST tax revenue comes from outside the county.
"If you walk through the town of Senoia on any given day and look at the license plates, about 80 percent of what you see is from outside Coweta County," he said. "We need to tap into that source. If you come into this area and enjoy our restaurants, our shopping, our health care, you pay the tax. That's very good for us. Sales tax is, if not the fairest tax, then one of the fairest taxes. Property owners shouldn't be solely responsible for brick and mortar schools."
Barker fielded a few questions, including whether the school system can trim expenses in other places to cover capital projects currently funded by the special tax.
"We're always looking at ways to trim expenses," said Barker, citing a recent decision not to fill a director position at the school system's central office. "But 90 percent of our budget is people. We're talking about money that doesn't come close to covering capital projects. Trimming expenses to meet those kinds of expenses is difficult to impossible."
Barker said the tax is expected to bring in approximately $1.6 million per month, around $95 million over its five-year collections period. A list of projects which would be funded by the proposed tax is available on the Coweta County School System's website, http://www.cowetaschools.org .