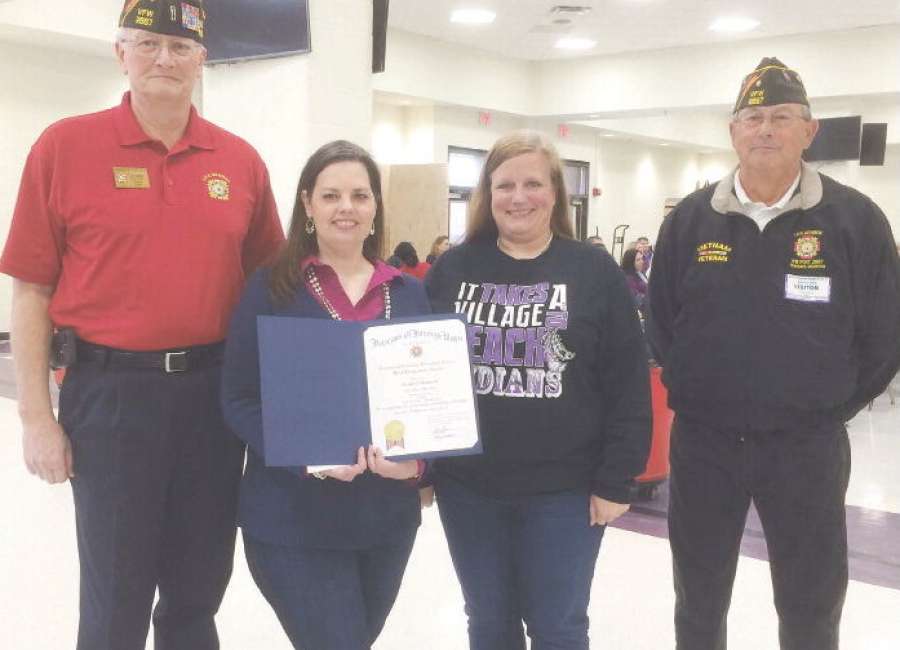 – By GABE GRIFFITH, gabe@newnan.com
Newnan High School teacher John Garner was presented with a Veteran of Foreign Wars Teacher of the Year award earlier this week.
Garner is a history teacher at the local high school and serves as the main sponsor of the History Bowl team, a sponsor of the History Club, and co-head coach of the wresting team.
Garner will also support the local community Saturday evening in Newnan's annual Dragging for Dollars event sponsored by the Swope Family Fund. The popular womanless beauty pageant will be held at the Donald W. Nixon Centre for the Performing and Visual Arts, located at 1523 Lower Fayetteville Road in Newnan. The event will begin at 7 p.m. Saturday and benefits Southeastern Assistance in Healthcare.
The VFW has recognized top educators in elementary, middle and high school since 1999, focusing on instructors who teach citizenship and promote patriotism. In addition to local and state recognition, award winners receive $2,000, divided between the educator and the school. Honorees also receive an all expenses paid trip to the national VFW Teacher of the Year conference.
Social studies teacher Elizabeth Thompson also received a VFW award.