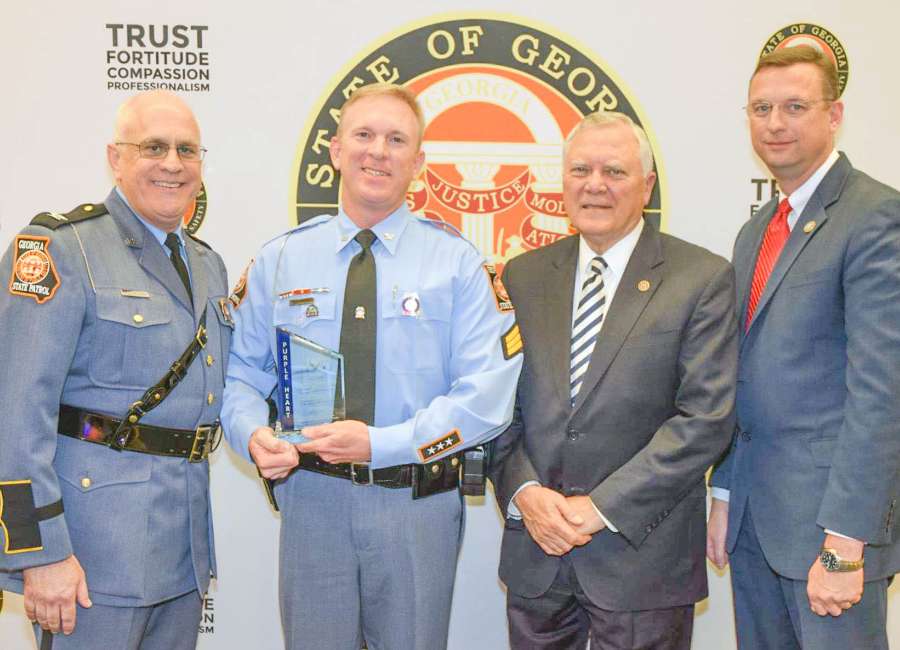 A local Georgia State Patrol trooper who was knocked unconscious by a fleeing vehicle has been recognized for recognized for his dedication to law enforcement.
Sergeant Jay Thompson of Haralson was recently honored with a Purple Heart Award given by the Georgia Department of Public Safety.
In October 2015, Thompson and Motor Carrier Officer Demetrius Survillion conducted a traffic stop on an SUV at the Delk Road overpass in Cobb County for a traffic violation.
During the course of the stop, the driver jumped back in his car and drove off, sending Thompson to the ground and knocking him unconscious.
The driver, Alvaro Jimenez-Santana, was captured after a manhunt involving numerous law enforcement agencies and was taken into the Cobb County Detention Center. Authorities also found a half-kilo of heroin inside his abandoned vehicle.
Thompson spent two days in the ICU at Kennestone Hospital before being released. He was able to recover at home from his injuries, including several broken bones. Thompson returned to duty in May 2016.
****
Clay Neely: clay@newnan.com, @clayneely