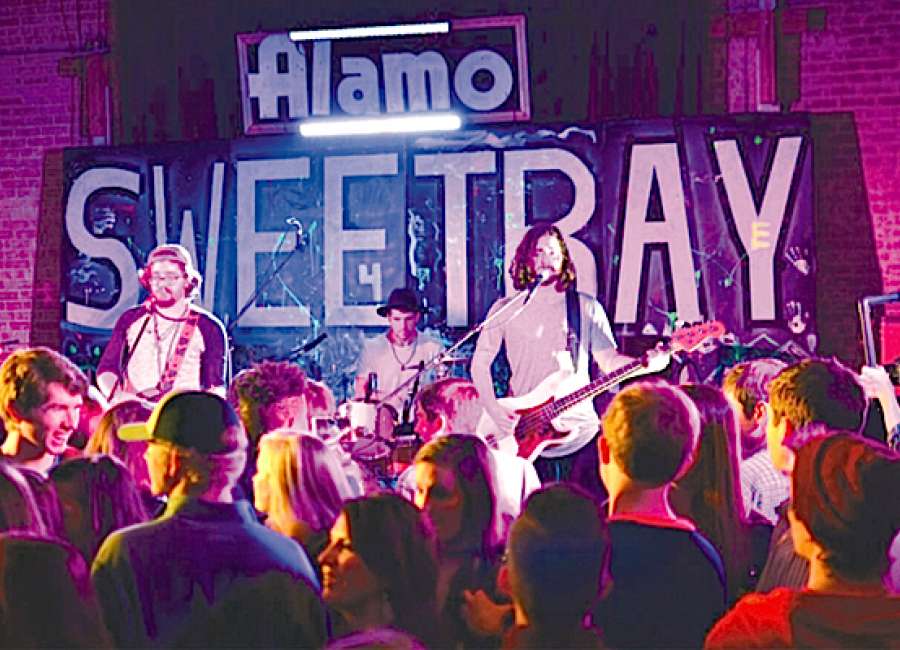 Despite being in their 20s — barely — the members of the local music group Sweetbay already have a firm handle on what it takes to work together to create music, and to perform it in a way that listeners can connect with the band's unique "electronic alternative" sound.
Lance Mapp, James Tiernan and Zach DeLoach have been performing together for a little more than two years. Where they are today all started because, according to lead singer and guitarist Mapp, their first show together "wasn't a train wreck."
In February 2015, Mapp agreed to play a popular Newnan fundraising event benefitting Meals on Wheels of Coweta. The Blues Plate Special, created and organized by local bluegrass musician Kris Youmans, is held annually at the Alamo downtown.
"Kris got me up to play guitar for a few songs in her set at the event the year before," Mapp explained. "This time, she wanted me to play my own set, so I asked James and Zach to play with me."
Mapp and his musician friends didn't even have a chance to practice before the big show.
"I gave them the song list and when we came together at the Alamo, we played… and we weren't a train wreck," Mapp said. "So, we decided we would start playing together as a band."
The Alamo is still Sweetbay's favorite place to come together, and it shows. The band has a large fan base downtown and even just their name on the old marquee creates a bit of a buzz around town. As a group, the guys have played more than 10 shows at the local bar and restaurant.
"We are all very comfortable there," said bass player Tiernan. "It's one of the only music venues in town that has a great space for bands, and it's a fun place to be."
Mapp added, "The local crowd is so supportive, too, of any band that comes in there to play – I've seen so many different types of musicians there and crowds seem to love all of it equally."
Both Mapp and Tiernan noted that much of their music influence and encouragement came locally from musicians like Kris Youmans and Doug Kees, owner and instructor at Musicology, and others like musician Ken Spake and music instructor Lyn Schenbeck.
"Really everyone here has helped us out in so many ways," Tiernan said. "We would like to return the favor and pass it on to the next generation by cultivating young musicians here."
Mapp and his bandmates also hone their talents by teaching. The three manage a music-instruction business, offering young, up-and-coming musicians not only instrumental lessons, but advice on what it takes to be a part of today's music scene.
"We are working to build musicians," Mapp said. "We are teaching what we know, preparing younger musicians for what is going on in music now."
The business is growing. Once known as Studio 150, the company is currently expanding to include a few other instructors and even a new location. Band members plan to offer the public a grand opening of Fusion Music, located at 20 Tower Place in Newnan, in mid-April.
"The name 'Fusion Music' signifies a combination of the talent of all of the instructors involved," Tiernan explained. "We each have such different musical backgrounds and so much to offer."
In fact, Mapp, Tiernan, and DeLoach are already offering more than most to the community. The band most often plays not to pad their own pockets, but to give back. Sweetbay started out playing for a local charity fundraiser, and though a percentage of paying performances have gone toward the recent recording of a new album, the band intends to continue using their talent to help nonprofits.
"We have a few big shows coming up," Mapp said. "There will be a performance April 7 in Athens where we will play for the event Relay for Life of University of Georgia."
Sweetbay will be the final act at the event, playing as part of the closing ceremony, and all band merchandise sold during the show will benefit the Athens-based organization. In addition, Sweetbay will offer performances in Virginia and in North Carolina during the month of April. In North Carolina, the band will play to benefit the city of Elon's local chapter of Meals on Wheels.
"We try to give some, if not all, of our profits to charities," Tiernan explained. "We all have some things on the side, and we just want to put money into the band to keep moving forward and into the communities we play in."
The band's musical influences differ as significantly as the people their collective style of music reaches, particularly since Mapp was raised on country music.
"Once I did break into other genres of music during my early teen years, though, I was influenced by groups like Coldplay, One Republic and M-83," Mapp said.
Tiernan, who has a passion for bass guitar but also offers his talent in violin and keyboard to the band, said he has long admired Victor Wooten, an American bass player and composer who has earned five Grammy Awards and was the first to win "Bass Player of the Year" more than once from Bass Player magazine.
"I recently contacted (Wooten) and, unbelievably, he is working on a recording that will be included on our album," Tiernan said.
Mapp added, "We are so proud and thankful for him and to have him included in this."
For fun, Mapp and Tiernan admitted their "guilty pleasure" when it comes to music and, not surprisingly, Mapp said his secret favorite tunes are of the country music variety.
"Anything country from the 90s," Mapp said. "George Strait, for starters."
"For me, it's Dave Matthews Band," Tiernan said. "And for Zach, it's anything metal."
With that kind of musical diversity, it's not surprising Sweetbay has come together to create a unique sound that a variety of audiences can connect with.
Check out the band tonight at Grazing Here, located at 2850 Highway 54 in Peachtree City. Sweetbay will perform at 8 p.m. in a concert fundraiser benefitting Zac Brown's Southern Ground.
For more information on the band and to find out where the guys are playing next, visit Sweetbay online at www.sweetbaymusic.net .
They band also has a presence on Facebook at www.facebook.com/sweetbaymusic .
Look for "City Comes Alive," on April 28, the first single from the band's upcoming EP, "Before the Light."