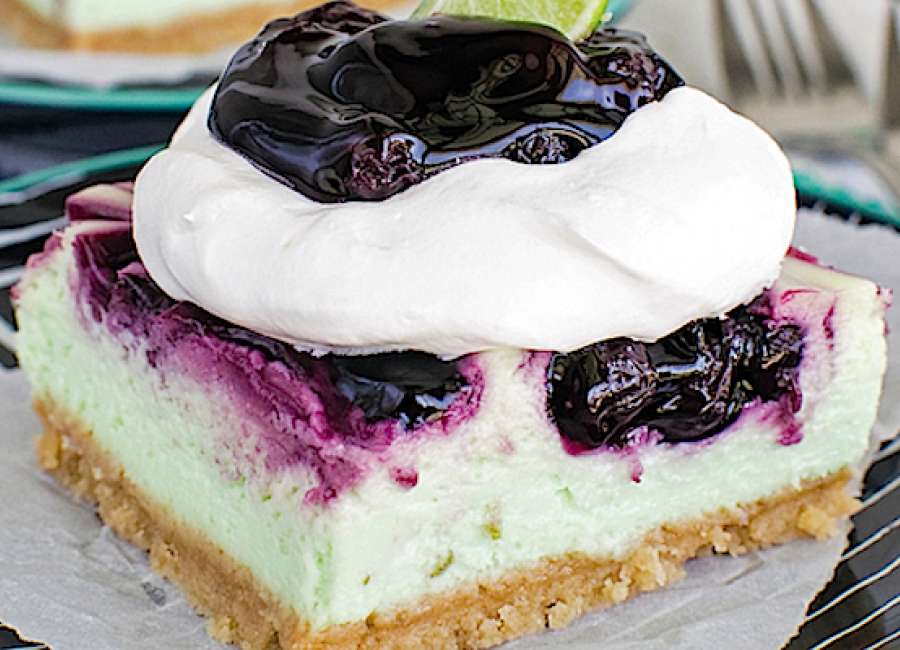 – Family Features 
When the scent of fresh blooms begins to fill the air, it's a sure sign that spring has sprung. It's the perfect time of year to gather loved ones for a leisurely meal, then linger over dessert as you enjoy this season of refreshment.
No dessert menu is complete without an array of treats, and these creamy, homemade Blueberry Key Lime Cheesecake Bars are the perfect way to put a sweet finishing touch on your celebrations. Or go for a crowd pleaser with this Cherry Cheesecake Lush Dessert and its smooth, velvety texture and plump, juicy cherries. 
•••
Blueberry Key Lime Cheesecake Bars
Recipe courtesy of Inside BruCrew Life blog
 
• nonstick cooking spray
• 30 vanilla cream-filled cookies
• 1/4 cup butter, melted
• 3 packages (8 ounces each) cream cheese, softened
• 3/4 cup sugar
• 3/4 cup sour cream
• 1/3 cup key lime juice
• 1 tablespoon key lime zest
• 1/4 cup flour
• 3 eggs
• green gel food coloring (optional)
• 1 can (21 ounces) blueberry pie filling, divided
• 1 container (8 ounces) whipped topping, thawed
• key lime slices (optional)
Place baking sheet on bottom rack of oven. Fill halfway with water. Heat oven to 325 F. Line 9-by-13-inch pan with foil and spray with nonstick spray.
Using food processor, pulse cookies until crumbly. Stir together crumbs and butter. Press evenly into bottom of prepared pan.
Beat cream cheese until creamy. Add sugar and sour cream, and beat again until smooth. Add key lime juice, zest and flour, and beat until mixed thoroughly. Add eggs, one at a time, and beat gently after each. Add green food coloring to cheesecake mixture, if desired.
Spread cheesecake batter evenly over crust in pan. Add 1 cup of blueberry pie filling over top of cheesecake. Use butter knife to gently swirl pie filling into cheesecake. Do not let knife go through to crust.
Place pan on oven rack above tray of water. Bake 45-48 minutes. Remove immediately and place on wire rack for 1 hour then place in refrigerator until completely chilled.
Cut into 24 squares and serve with whipped topping, remaining pie filling and key lime wedges.
•••
Cherry Cheesecake Lush Dessert
Recipe courtesy of Lemon Tree Dwelling blog
• 1 cup vanilla wafer crumbs
• 1 cup finely chopped pecans
• 1 cup butter, melted
• 8 ounces cream cheese, softened
• 1 cup powdered sugar
• 16 ounces whipped topping, divided
• 2 small boxes cheesecake-flavored pudding 
• 3 cups milk
• 1 can (21 ounces) cherry pie filling
• 1/2 cup. chopped pecans
Heat oven to 350 F.
In medium mixing bowl, combine vanilla wafer crumbs, finely chopped pecans and butter.
Press into 9-by-13-inch baking pan; bake 15 minutes. Remove from oven and cool.
In separate mixing bowl, combine cream cheese, powdered sugar and 1 1/2 cups whipped topping. Mix until smooth; spread evenly over cooled crust.
Combine cheesecake pudding mix, milk and 1 1/2 cups whipped topping, and mix until smooth. Spread evenly over cream cheese layer in pan.
Top with pie filling, remaining whipped topping and chopped pecans.
•••
Strawberry-Lemonade Layer Cake
Recipe by Southern Living
• 1 cup butter, softened
• 2 cups granulated sugar
• 4 large eggs, separated
• 3 cups cake flour
• 1 tablespoon baking powder
• 1/8 teaspoon table salt
• 1 cup milk
• 1 tablespoon lemon zest
• 1 tablespoon lemon juice
• Shortening
• Strawberry-Lemonade Jam
• Strawberry Frosting
Preheat oven to 350°. Beat butter at medium speed with an electric mixer until creamy; gradually add sugar, beating until light and fluffy. Add egg yolks, one at a time, beating until blended after each addition.
Stir together flour and next two ingredients; add to butter mixture alternately with milk, beginning and ending with flour mixture. Beat at low speed just until blended. Stir in zest and juice.
Beat egg whites in a large bowl at high speed until stiff peaks form. Gently stir one-third of egg whites into batter; fold in remaining egg whites. Spoon batter into four greased (with shortening) and floured 9-inch round cake pans.
Bake at 350° for 16 to 20 minutes or until a wooden pick inserted in center comes out clean. Cool in pans on wire racks 10 minutes; remove from pans to wire racks, and cool completely.
•••
Easy Lemon Bars
Recipe by Megan Shepherd, delish.com
For the Crust:
• nonstick cooking spray
• 1 cup butter, cubed
• 2 1/2 cup all-purpose flour
• 3/4 cup granulated sugar
• 1/4 cup powdered sugar
For the Filling:
• 2 cups sugar
• 1/4 cup all-purpose flour
• 6 large eggs
• 3/4 cup lemon juice
• zest of one lemon
• 1 lemon, cut into small wedges
Preheat oven to 350°, then line a 9"-x-13" baking pan with parchment paper and spray with nonstick cooking spray.
Make the crust: In a large mixing bowl, whisk together butter, flour, and sugars. Mix until smooth crumbles turn into dough.
Spread dough into prepared baking pan and press to flatten. Bake until lightly golden, 18 to 20 minutes. Remove from oven and let cool for 30 minutes.
Make the filling: In a large mixing bowl, whisk together sugar, flour, eggs, lemon juice, and lemon zest and mix until fully combined. Pour filling over crust, return to oven, and bake until firm, 24 to 26 minutes.
Remove from oven and refrigerate, 3 to 4 hours. Slice and garnish with powdered sugar and lemon wedges.