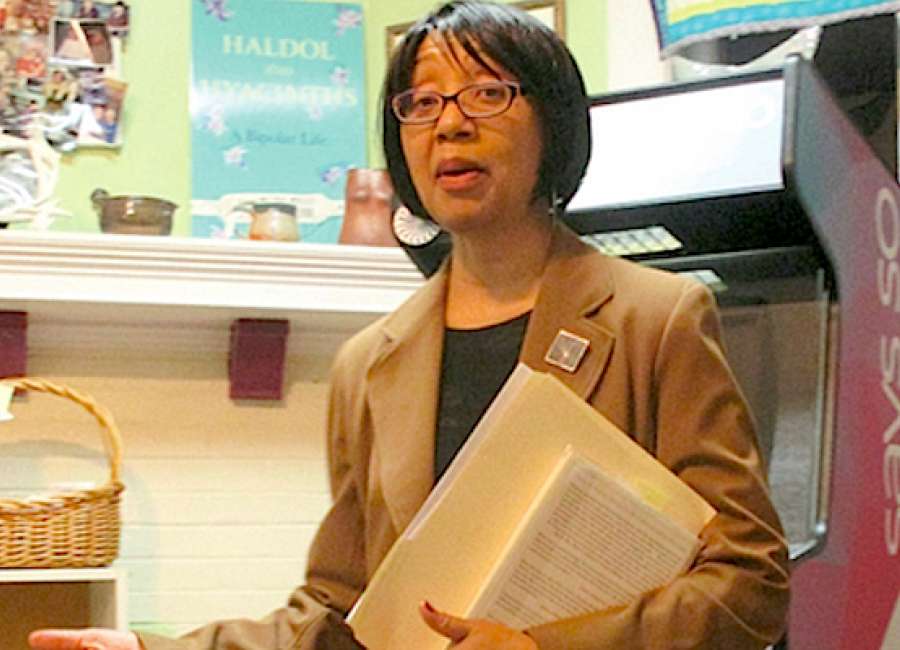 The friendship of Eleanor Roosevelt and Pauli Murray endured for decades – and strengthened the faith and personal resolve in each of them.
Dr. Patricia Bell-Scott, whose book, "The Firebrand and the First Lady," chronicles their friendship, said many of the black people in Roosevelt's circle wanted something from her. In Murray, she had a friend who would tell her the truth.
"Pauli's goal was to put some ideas out there. It wasn't about trading votes or gaining favor," Bell-Scott said during her Feb. 8 talk at Charis Books and More in Atlanta. "She would just cut to the chase."
Bell-Scott said Murray "was so direct sometimes with Eleanor" that friends were embarrassed. Roosevelt was open, however, to what Murray had to say.
"She liked Pauli's authenticity. Pauli didn't pretend," Bell-Scott said. "Pauli liked it because she felt accepted."
During her husband's presidency, Eleanor Roosevelt visited Newnan. The Roosevelts often got off the train in Newnan to travel to their rural retreat in Warm Springs. At least once, Eleanor Roosevelt shopped for supplies on Newnan's court square.
It was during Franklin Roosevelt's time in office that his wife and Pauli Murray first crossed paths. The granddaughter of a mixed-race slave, Murray grew up mostly with her grandparents in North Carolina. Early in life, she was angered by Jim Crow and she decided she would go to college – and that she would go to school somewhere outside the segregated South.
She worked her way through Hunter College in New York City, homeless at times as she pursued her degree. When she graduated, the Depression was underway. Unable to secure a job, Murray found shelter and work at a New Deal camp for women who were unemployed.
Eleanor Roosevelt visited the camp. "Pauli is stunned. She never expected to see the president's wife come through. She never expected to see her drive herself," Bell-Scott said.
Four years later, Murray wrote a letter to the president encouraging him to take a stand against lynching. She copied Eleanor Roosevelt. "The first lady answered under her own signature within two weeks," Bell-Scott said.
Roosevelt urged Murray to be patient and to work within the system. Murray's response was that the system was broken, and so began a connection that continued until Roosevelt's death.
"This is an unlikely relationship. When they met, Pauli was a young radical," Bell-Scott said. "Pauli was sitting in the white section of a bus years before Rosa Parks."
Bell-Scott noted their interactions matured with time. Initially, Roosevelt was defensive of her husband's policies. After his death at Warm Springs in 1945, she felt more free to express her liberal sentiments – eventually violating segregation lines and supporting activist students.
Some of Murray's writings were used in the U.S. Supreme Court's Brown v. Board of Education ruling. "She has not gotten her credit for that," Bell-Scott said.
Murray was a writer, a scholar, an activist for Civil Rights and women's rights and the first black woman – and first lesbian – to be ordained as an Episcopal priest.
"They both were devout Episcopalians. They had much more in common than you might think at first glance," Bell-Scott said.
Murray was at least a fourth-generation Episcopalian. An uncle was a bishop, and Murray herself played the organ as a girl. "That was a part of her family legacy," Bell-Scott said.
Late in her life, Murray said that of all the challenges she took on, dealing with the church was the hardest one.
"Their friendship came to be marked by honesty, truth, mutual respect, acceptance, a commitment to hear the other's point of view," Bell-Scott said. "Long before Hillary was saying women's rights are human rights, they were."
Bell-Scott also spoke on the Murray-Roosevelt connection on Feb. 14 at the Jimmy Carter Presidential Library, at a program sponsored by the Southern American Studies. Murray's childhood home in Durham, N.C. was designated a National Historic Landmark on Jan. 11.