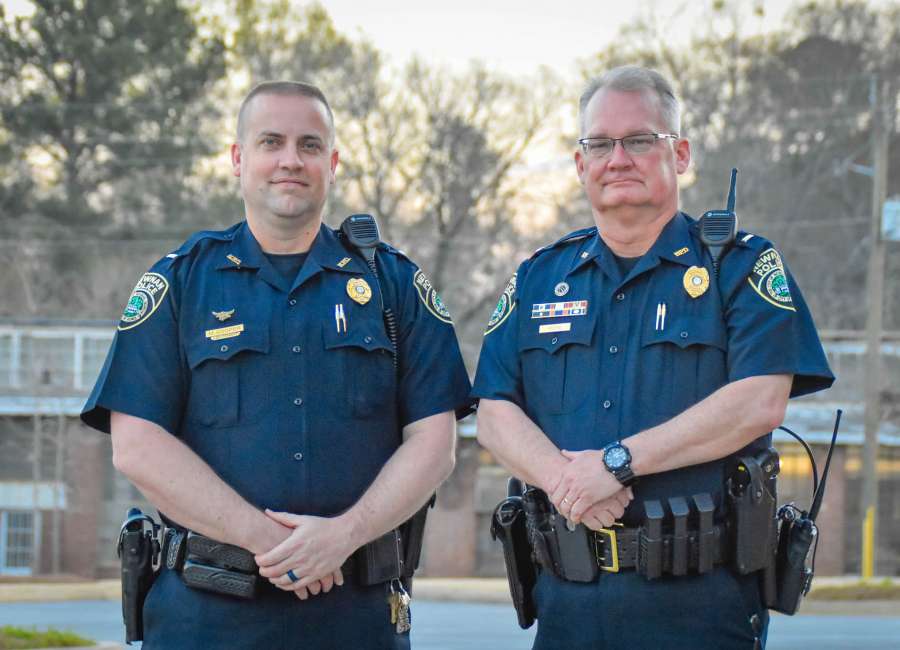 Three months following the retirement of former Deputy Chief Rodney Riggs, the Newnan Police Department has announced his successor.
Lt. Mark Cooper was promoted to deputy chief this week and will assume his duties on March 28.
"I think he's a great officer and will do a fantastic job," said Riggs. "He's experienced in a number of different areas and committed to both on and off-duty education."
With nearly 20 years of experience at the Newnan Police Department, Cooper was one of 40 applicants from both inside and outside the department who applied for the position.
"I'm very honored to be the one selected to replace Rodney after many years of his leadership," Cooper said.
After narrowing down the field to seven applicants, Police Chief D.L. "Buster" Meadows ultimately chose Cooper for the job.
"Others were very capable, but looking at everyone, I thought he was the one to move in this position," Meadows said. "We were in a very fortunate position to have so many qualified applicants to choose from."
Citing his enthusiasm for volunteering and community outreach, Meadows said Cooper has continued to take on projects over the last several years, including working on the budget and pushing the need for continuing education for himself and members the department.
Cooper said he's looking forward to implementing new, fresh ideas in an effort to keep the department working together towards a common vision.
"With the help of supervisors, we can work together to make our department better than what it already is," he said. "There's nothing that needs to be overturned, but fresh ideas can help put a new look on our day-to-day operations."
As Cooper prepares to assume the role of deputy chief, Sgt. Christopher Reese will now take over as lieutenant. In his 31 years of law enforcement, Reese has spent his last 21 years with the Newnan Police Department and even helped train Cooper many years ago.
"My shift is in good hands with him," Cooper said. "It's all come full circle."
Meadows cited the promotions of Cooper and Reese as examples of the departments emphasis on the need for continuing education.
"Both Cooper and Reese are committed to the practice of advanced training and lead by example," Meadows said. "We began pushing more advanced training several years ago, and I believe they will help further that initiative."
Cooper is leading by example and currently attending Command College in Columbus, where he is working to obtain his associate degree.
The college is a partnership between Columbus State University and the Georgia Association of Chiefs of Police, and provides a program of study that goes beyond what is currently available in public safety executive and management development courses.
It's described as a "graduate school" for public safety executives. Students earn professional development experience while also earning academic credit toward a master's degree.
"With the growth of the city and population, I think it's a prime opportunity to push education with the training," Reese said.
While the state sets a minimum of 20 hours of training for law enforcement annually, Meadows requests members of the police department receive a minimum of 40 hours.
Recently, the Newnan Police Department hosted a Crisis Intervention Team training course. The 40-hour, five-day course teaches law enforcement officers how to recognize the signs and symptoms of someone in crisis.
This is the first time the Newnan Police Department has hosted the course. According to Meadows, it's a start in the right direction. The department would gladly host more sessions in the future, he said.
Following the San Bernardino shootings in 2015, Cooper also helped lead a series of active shooter seminars at the Newnan Centre that were well-attended. While he has no immediate plans to hold another, it's an example of the kind of community outreach he hopes will be the hallmark of the department.
"I'm really looking forward to this and am grateful for the opportunity," Cooper said.
****
Clay Neely: clay@newnan.com, @clayneely