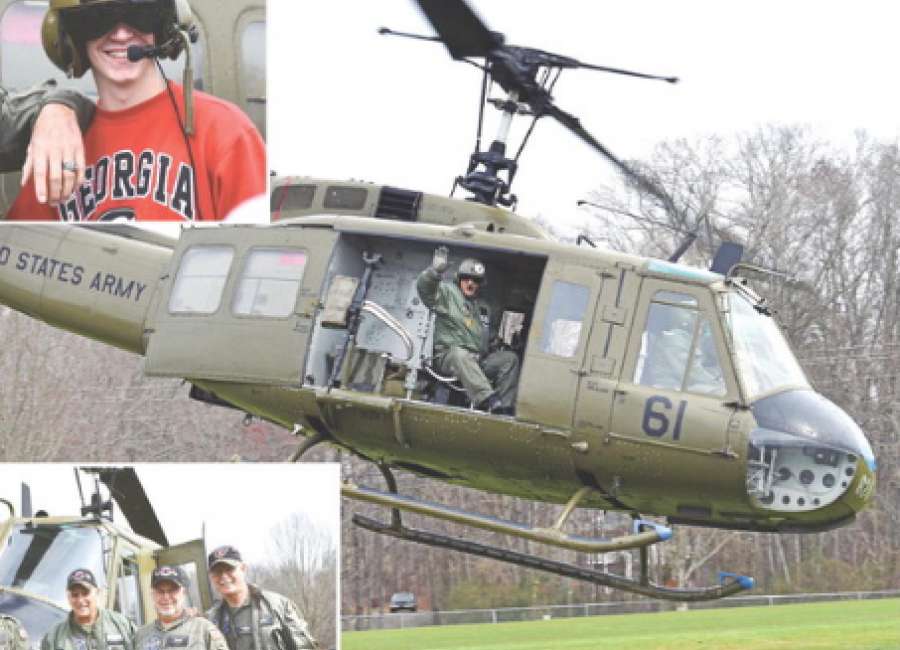 When Northgate High School teacher Kim Fortner attended a Veteran's Day event honoring Vietnam veterans in 2013, she took a ride in one of the Bell UH-1 Iroquois helicopters so closely associated with the Vietnam War.
Commonly known as "Hueys," the helicopters were used to drop and pick up troops in the Vietnam War. Thanks to Fortner, one also landed at Northgate recently.
"The Huey played a major role in the Vietnam War and I try to focus on embedding 'real world' experiences into the curriculum," said Fortner, who teaches a military history class. "Having a Huey helicopter fly into your school with six veterans – five from Vietnam – is priceless."
On a rotating basis, social studies classes visited with the crew, each of whom introduced himself and briefly talked about his service before the students broke up into groups to speak with the crew members individually.
Students also had the opportunity to explore the Huey, and Fortner said they found the tiny details of the design intriguing – for instance, the rings on the rear side walls of the interior which connected to the flight suits of door gunners so both hands could be free.
"Those kinds of details have a greater impact on student learning than reading about it or even hearing about it," Fortner said. "These kinds of experiences will stay with them and I hope one day, they can tell their children about the time they got to climb on a helicopter and talk to some of the veterans who flew in it.
"Having the helicopter come out and allowing the students to explore and ask questions brings the things they read about to life," added Fortner, who teaches military history and who has arranged three Huey landings at the school. 
"We have also had several helicopter pilots come and speak to the class about their experiences, so this is a great way for the students to make better connections to what they've heard. Plus, it's just a whole lot of fun."