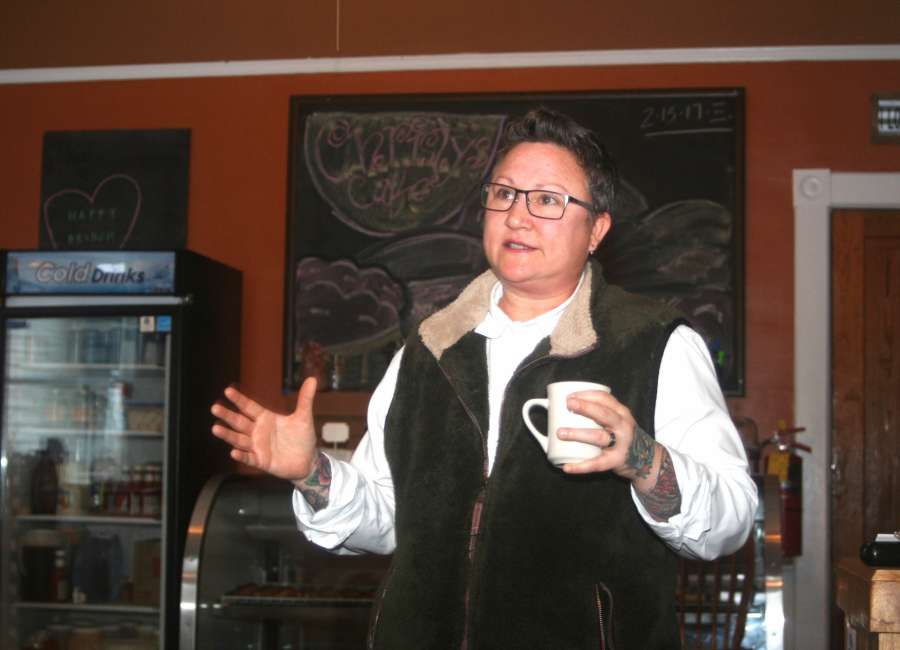 Amy Murphy, who runs three successful restaurants in downtown Newnan, was able to share her journey to success at the Newnan-Coweta Young Professional Morning Buzz last month.

The Young Professionals are an arm of the Newnan-Coweta Chamber of Commerce. The Morning Buzz was held at Christy's Cafe in downtown Newnan.
Murphy owns Meat 'N Greet on Jefferson Street in downtown Newnan and Fabiano's Pizzeria and The Alamo, both on the court square.
Meat 'N Greet specializes in custom burgers and Fabiano's is known for its pizza, but Murphy said she decided to create the bar atmosphere at The Alamo because she felt there was need for it.
Murphy said her road to entrepreneurship was not easy, but worth it, including fighting breast cancer along the way.
"Every successful person has had their share of failures," Murphy said. "You have lots of failures and lots of successes."
Murphy said 2017 marks her 13th year of entrepreneurship, owning and operating four restaurants.
"The very first restaurant I opened was The Alamo," Murphy said. "I was previously a tree farmer, doing big commercial projects all over, especially in Newnan. I was living in Atlanta and commuting, and it was too much."
Murphy said she moved to Newnan in 2001 to be closer to work and fell in love with the town, but saw there was a need for a place for millennials to hang out, dance and listen to live music.
She said she noticed The Alamo was for sale on her way home one day, and the rest was history. The Alamo has served as movie theatre, but was most recently a gift shop before becoming a restaurant in 2004.
"We struggled the first two years, because people in Newnan had a hard time walking into a place that was a bar on the court square," Murphy said. "Fabiano's is right next door, but we had to make it two different things, although the buildings are adjoined. We put that wall in between so families could bring their kids."
Murphy encouraged all entrepreneurs and businesses to know their demographic and where they will put their business.
"Whatever line of work, you have to know your demographic and what need you're filling," Murphy said. "Just because I wanted a bar doesn't mean Newnan was ready for it. I got lucky."
Murphy's success story took a turn when she was diagnosed with cancer. She took nine months away from work to focus on fighting the disease. This year makes her eighth year of being cancer-free.
"My entrepreneurial spirit is just 'I can do anything,' so cancer was not different," Murphy said.
After briefly operating restaurants in north Georgia, Murphy said she decided to put her energy into her community, and decided to open Meat 'N Greet.
"It made more sense to me," she said. "The better I can make downtown and more I can do for my community, it really helps everybody."
Murphy said her mother came up with the name of the restaurant while on vacation.
As far as running a business, Murphy said the formula is uniform.
"It's consistency and follow-through – consistency and quality," Murphy said.
Murphy said social media is also important, as well as listening to customer reviews.
She said there is a shift toward supporting the community you live in, and mom-and-pop stores and restaurants are re-emerging.
"Where you spend your money matters," she said. "You know where you're spending your money, you know where it goes, and you know who you're supporting by shopping local. People are starting to pay more attention to that."
Ninety-three percent of Americans believe it's important to support the small businesses they value in their community, according to the American Express OPEN Small Business Saturday Consumer Pulse Study. Nearly 73 percent of Americans said they often shop at small businesses in their communities because they don't want them to go away.
Murphy said she takes pride in giving youth a chance to learn and grow in the business.
"I love going to your restaurants," Kim Melhouse said. "One of the main reasons I love going to the restaurant is because of the top-notch customer service. Thank you for believing in our youth."