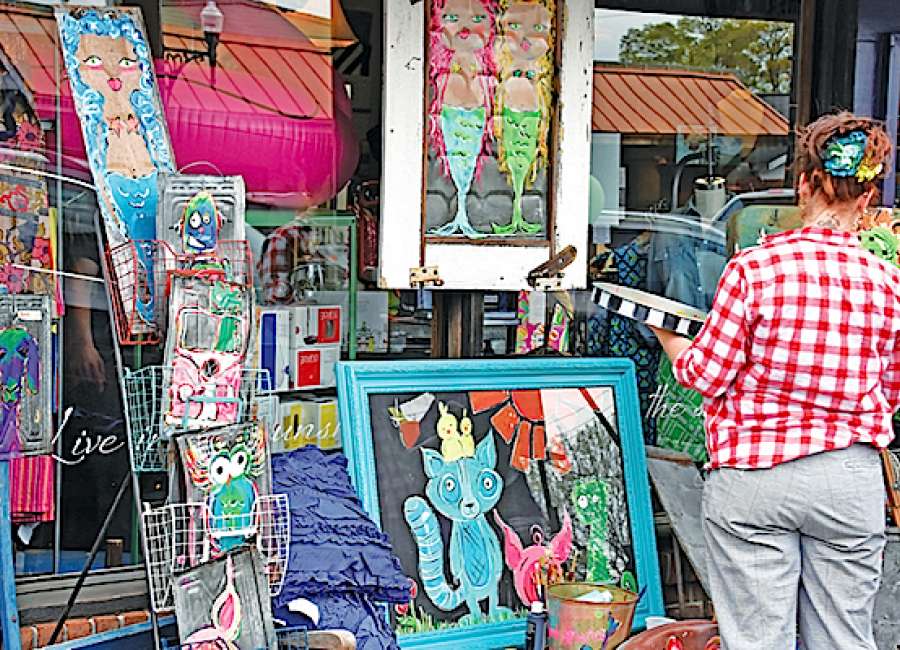 Spring is in the air, and warmer temperatures are coaxing residents out of winter hibernation and into the county in search of entertainment.

The month of March has plenty to offer locals, from theatre arts to music performances. "We have several great events coming this month at the Nixon Centre," said Brittney Henderson of the Donald W. Nixon Centre for Performing and Visual Arts.
The venue is located at 1523 Lower Fayetteville Road in Newnan, and will offer everything from music to a one-day only visual art sale and exhibit this month.
Events at the Nixon Centre begin tonight with Mark Randisi and the Motor City Horns. Band members Cliff Monear (piano), Paul Keller (bass) and David Taylor (drums) are from Detroit, Mich. and have worked with a variety of artists, bands and orchestras. The band joins Randisi, a vocalist with a voice strikingly similar to Frank Sinatra, for a tribute performance which will include many of Sinatra's most popular recordings.
The event begins at 3 p.m. and remaining tickets, if available, can be purchased at the door.
Many Coweta residents grew up with Lamb Chop, a sock puppet brought to life by ventriloquist Shari Lewis. Now, following her mother's death, Mallory Lewis is bringing the little lamb back to entertain a new generation. The event includes interactive entertainment suited for audiences of all ages. Tickets are available now for the March 12 performance and can be purchased online at www.thenixoncentre.net.
On March 24, beginning at 7 p.m., the Nixon Centre presents Voice Play, as seen on Season 4 of NBC's "The Sing Off." The five-part a cappella group offers an entire musical production with no instruments, and members are known not only for song but for humor. The performance is suitable for all ages, and tickets can be purchased online.
The Society of Seven, Newnan's own collection of seven plein-air artists will honor the late Gene Chesnut with a one-day only art sale at the Nixon Centre March 28.
"All of the art is priced at $250 or less," explained Henderson. "All proceeds will go to the Nixon Centre to fund camp scholarships and art supplies for Title I schools."
Gene Chestnut, according to Society of Seven member and popular local artist David Boyd, opened his farm near Moreland to society members and many other local artists as a place for the painters to work depicting the landscape.
"We hope that Newnan will help us celebrate his memory and attend the upcoming art sale," Boyd said.
The art sale will be one day only at the Nixon Centre, from 5 p.m. to 7 p.m.
*****
In addition to a host of programs including fitness, yoga, crochet, movie nights and literary discussions, the Newnan Carnegie Library in downtown Newnan will offer two new and exclusive events for locals in the month of March.
"We are happy to have our community partners back again to offer programs in both gardening and creativity," said Carnegie Director Amy Maple.
Pat Farmer, a Master Gardener Extension Volunteer at the University of Georgia Extension Club, will offer a presentation about rain gardens — what a rain garden is, where to locate your own garden, and what plants will thrive in the rain garden environment. The event is March 15, beginning at 10 a.m.
"Dale Lyles is bringing a very interesting program in March. He has done a lot in the community with the theatre and as an educator and we are really looking forward to hearing from him about procrastination as a creative strategy," Maple said. "We do programs with a lot of artists, musicians and writers, and this presentation speaks to that mindset."
Lyles will speak on how to procrastinate in a creative sense in his March 24 presentation beginning at 2 p.m., and will include notes on his background and studies of lichtenbergianism, a unique approach to the creative process.
The Newnan Carnegie Library is located at 1 LaGrange Street in Newnan and can be reached by phone for more information at 770-683-1347. A calendar of upcoming events can be found at the library's website at www.newnancarnegie.com.
****
Vocalist and Newnan native Courtenay Budd will return to Coweta March 11 in the role of artistic director and host of Friends of Wadsworth Concert: The Legacy Continues. The series carries on the spring concerts made popular by Charles Wadsworth who originated the performances to help raise funds for the performance hall in Newnan, which is now named in his honor.
"The evening will be magical and filled with music that will awe and inspire," said Phyllis Graham, who along with Kim Wright, is a concert co-chair. The event is sponsored by the Newnan Cultural Arts Commission.
The event's returning performers include Atlanta soprano Indra Thomas and pianist Andrew Armstrong. Doors will open at 6:30 p.m. at Charles Wadsworth Auditorium, 25 Jefferson St. in downtown Newnan. Tickets can be purchased at select Newnan locations and on BrownPaperTickets.com.
****
A unique event is coming to Newnan's only brewery on March 18, hosted by Pennie Fuqua, a Newnan-Coweta Humane Society volunteer. St. PAWtricks Day is a celebration of "Tails & Ales" from 1-6 p.m. to which both children and dogs are welcomed at 130 Werz Industrial Blvd. in Newnan.
"Abide Brewery has allowed us to take over their brewery for a day to benefit the Newnan-Coweta Humane Society," Fuqua explained. "We are raising money for boarding and medical treatments and all of the costs associated with rescuing animals in the county."
The event will include live music, food by Brickhouse Grille and Tavern, and plenty of fun and games – all in addition to a brewery tour, beer tasting and an Abide Brewery souvenir cup. Tickets are $25 and can be purchased at the time of the event.
Fuqua added that a silent auction of gift certificates and other items will be available for guests to bid on.
"This event is just one of many ways for the community to support the humane society even if you can't adopt an animal," Fuqua said.
Bedding for shelter animals and donations of pet food are always welcome. For more information on this event, contact Fuqua at 678-859-2233 or Abide Brewing Company at www.abidebrewing.com.
****
For those who enjoy a stroll through downtown Newnan for charity, the Newnan Junior Service League will offer the 11th Annual Shamrock Run. The event is a celebration of the city, fitness and St. Patrick's Day.
The Shamrock Run benefits the Newnan-Coweta Angel's House, a local organization working to provide safe, nurturing homes for teen girls in crisis. Races include the Leprechaun Dash: a one-mile fun run/walk, as well as a 5K and a 10K, both USATF-certified courses. Races are chip-timed and managed by Orion Racing.
Awards will be presented to the top three male and female finishers in each of the 15 age groups, as well as the top overall male and female finishers in the 5k and 10k.  Awards will be announced once a winner has crossed the line in each category. All finishers of the Leprechaun Dash will receive a finisher's medal and all 10k finishers will also receive a commemorative medal.
In addition, the event will include a St. Patrick's Day costume contest with awards offered for Most Creative Green Costumes for both adult and child under 12.  
For more information or to register for a race, visit the Newnan Junior Service League online at www.njslserves.org.
*****
The city of Newnan celebrates local artists and artisans in downtown on March 24 for the city's annual Spring Art Walk.
Downtown businesses will extend hours to host store-front exhibits and demonstrations, and several shops will offer guests special sales in addition to snacks and beverages. More than 20 locations will offer exhibits of over 40 artists with a variety of creations including paintings, engraving, pottery, photography, jewelry, and fiber-arts.
New this year is the opportunity to "see art come alive" as dance companies will perform on the square during the event, said city of Newnan Special Events Coordinator Paige Deweese. Southern Arc Dance and Kyle Khan Dance Studio students and instructors will perform.
"It will be a great addition to the event as art comes in many forms," Deweese said in a recent press release.
No fee for admission is charged for this popular downtown Newnan event. For more information and for vendor opportunities contact Deweese at 770-253-8283 or visit www.cityofnewnan.org or www.mainstreetnewnan.org.