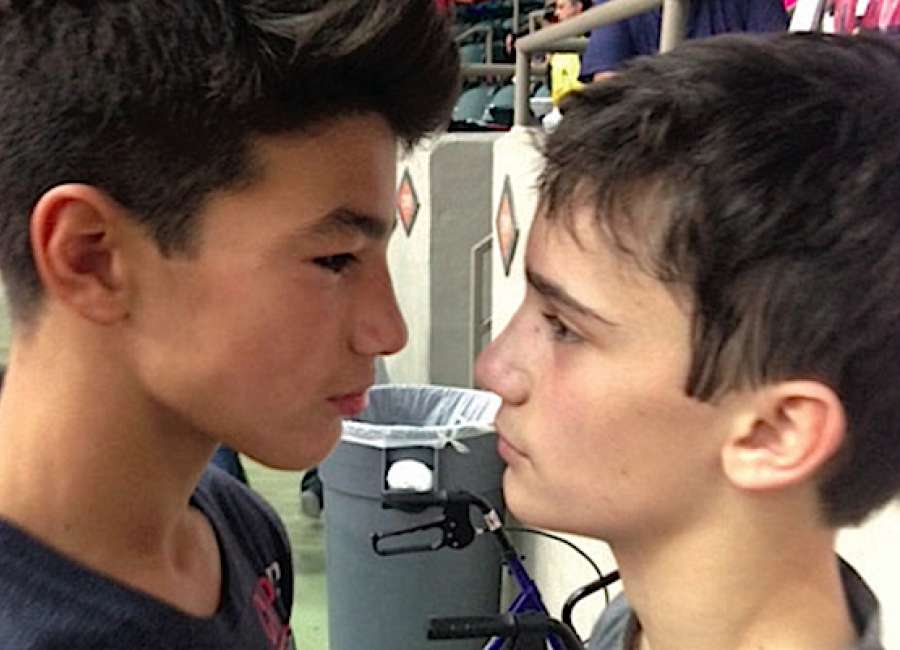 Moreland's Matthew Singleton might only be 13, but the Trinity Christian School seventh-grader already is a champion wrestler with a long list of accolades on the mat.
He first fell in love with the sport at the age of 6, when he was a member of the Coweta Cobras.
"I found out I really liked it, and I was good at it," Singleton said. "I have stuck with it."
Singleton recently won his fourth Folkstyle State Title at the Georgia Kids State Wrestling Championships in Cartersville.
His talent for the sport might just be in the genes.
His father, Wayne, was a college wrestler at Virginia Tech, and he has passed on a wealth of knowledge to his son.
"He has taught me so much about the sport," Singleton said. "He has helped me get better."
Singleton comes from an athletic family. His late grandfather, Art Singleton, started the athletic bloodlines, lettering in football, basketball, baseball and track in high school.
Singleton's most recent state title came in the 14-and-under 100-pound division as a member of the Compound Wrestling Club.
After pinning his first three opponents in the round of 16, Singleton edged Hunter Noland 6-5 to capture his fourth state title.
The young grappler also won folkstyle state titles in 2016, 2014 and 2012.
In addition to excelling in folkstyle wrestling, Singleton has captured three state titles each in Greco-Roman and freestyle wrestling, giving him a grand total of 10 in the three different wrestling categories.
Singleton also wrestles for the Georgia National Team in Dual Tournaments.
His skill in the sport has allowed Singleton to travel around the country.
He has competed in Virginia Beach, Va. in Wildwood, N.J., and in Kingsport, Tenn.
Thanks to his success in those tournaments, Singleton is a six-time All-American with a duals record of 55-7.
Singleton now has turned his attention to competing on a bigger stage: The Flo Reno World Championships in Nevada April 6-8.
He also hopes to capture the "Trinity Award." To bring home that honor, a wrestler has to win the Flo Kickoff Classic, the Flo Tulsa Nationals and the Flo Reno World Championships.
Singleton is two-thirds of the way there after having captured the Kickoff Classic and Tulsa Nationals. He just needs a win next month at the World Championships to win the Trinity Award.
Singleton's reputation on the mat is growing.
He is currently ranked No. 1 in his age and weight class in the 100-pound division of the World of Wrestling National Youth Rankings.
In addition to his father, he has several other people guiding his career.
Singleton trains and competes for Compound Wrestling in McDonough, where he's coached by Cliff Fretwell and former two-time All-American Peter Yates, who competed for Virginia Tech.
He also works out at the Wrestling Center in Smyrna under the direction of Arturo Holmes and at Level Up Wrestling in Marietta under the watchful eyes of Donovan Panone.
It might seem like wrestling takes up all of Singleton's free time, but he also excels on the soccer and football fields at Trinity.
Like his success in wrestling, academic achievement is nothing new for Singleton. He was on the A honor roll at Moreland Elementary and captain of the robotics team.
Now, he's on the A-B honor roll at Trinity.
The well-rounded student admits wrestling is his favorite pastime.
"I love and enjoy playing soccer, but wrestling is an individual sport," Singleton said. "I love the things you have to do in order to succeed in wrestling."
Singleton draws much of his support from his mother Isabel and sister Megan, who is a runner at Woodward Academy.
"My mother doesn't know a whole lot about wrestling, but she is there to help me with nutrition, and making sure I make my weight before each tournament," he said. "My sister is just a really big supporter and always there for me."
Wrestling has taught Singleton plenty about discipline.
"It's not easy sometimes when you are hanging out with your friends. You just have to watch what you eat," he said. "You have to take care of yourself."
Singleton said he hopes to attend Woodward Academy once he gets to high school. There, he would wrestle for head coach Jeff Ragan. Ragan is a former All-American at Oklahoma State.