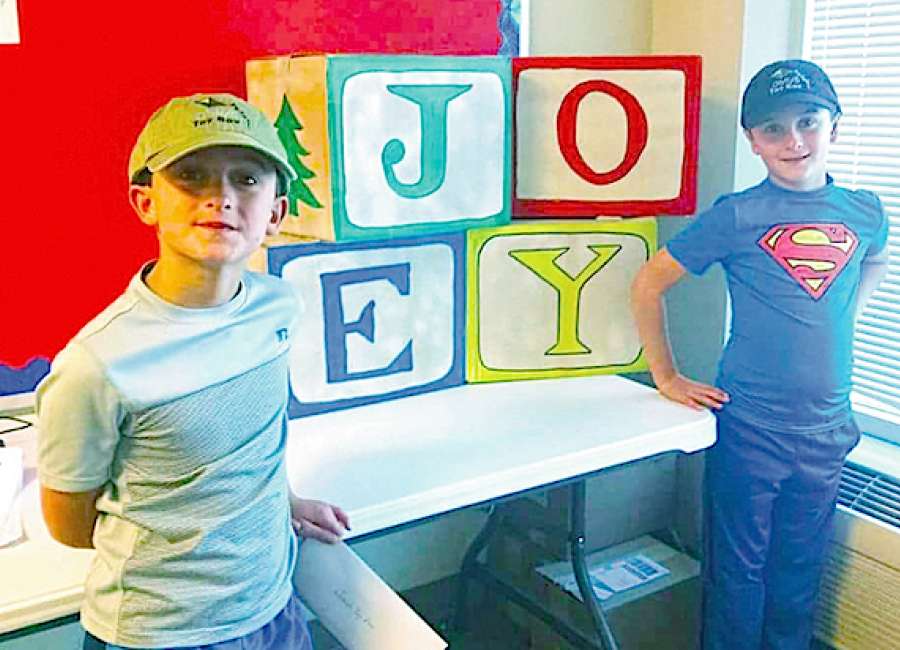 Of the many nonprofits in Coweta County, few are originated by such a young, brave soul as Joey Doolittle, a local boy who spent the majority of his short life battling cancer.
Joey's Toy Box was founded in 2008 when, at just 9 years old, Joey raised $1,800 by organizing a "cycle-a-thon" at a gym in nearby Peachtree City. Funds went to purchase toys for children like him who were undergoing treatment in nearby hospitals. His first delivery of toys was made to the AFLAC Children's Cancer Center at Scottish Rite hospital in Atlanta. Joey passed away peacefully only one month later.
Having been diagnosed with Rhabdomyosarcoma, a cancer that affects the skeletal muscles, as an infant, Joey underwent numerous chemotherapy and radiation treatments as well as surgeries, and, according to his mother, having toys available to distract and entertain were part of what helped Joey manage.
"We would bribe him to do different things at the hospital," Kim Doolittle, Joey's mom, said in a 2016 interview. "He would get Joey bucks and he would get a toy whenever he finished getting his port accessed, having blood drawn, getting shots or chemotherapy."
Doolittle explained that after one especially rough day of treatment, Joey discovered only two toys were available at the hospital for him to choose from.
"He picked a toy and we went home, and he asked me later that evening if people would give a little kid money," she said. "He said he was concerned about there not being enough toys for a kid like him."
Joey wanted to fill the closet of toys up again immediately, his mom said and he quickly pledged his Christmas and birthday money he had been saving for that cause.
The nonprofit continues today, not only filling hospitals with toys for children undergoing treatment for cancer, but helping to serve many additional needs of young patients with illnesses in Coweta and beyond.
One former Newnan resident, Audiologist Nikki Weaver, discovered Joey's Toy Box after her 9-year-old twins decided that for their birthday in January, they wanted to ask for monetary donations instead of gifts from friends and relatives. Weaver and family had planned a birthday party at home for Dominic and Peyton, to which approximately 30 children were invited.
"I began to think about different charities that they could donate to," Weaver explained in an email. "I wanted it to be a charity that they could relate to and maybe participate in to encourage and grow the philanthropy in their hearts that would hopefully come through in their lives."
After looking at a number of local charities in the family's hometown of Newnan, along with several near their Peachtree City residence, Weaver approached her sons with the idea of giving to Joey's Toy Box. Weaver said she thought this would be a meaningful charity to the boys, noting that they are many very sick children in the US and across the world.
"Of additional coincidence, Joey was 9 years old when he died," Weaver said. "And he died in 2008, the same year my boys were born."
Weaver reached out to Joey's mom and explained the plan. Included in the invitation to Dominic and Peyton's party was a request to "send the amount you might have spent on a gift" to be donated to Joey's Toy Box. The boys raised just over $300 for the organization and were able to personally give the donation to Joey's mom.
"I am so proud of them and hope they will remember the feeling this donation gave them in their hearts," Weaver said. The proud mom explained that she has always encouraged her sons to give, and has assisted them in filling Samaritan Shoe Boxes for children at Christmas as well as donating to the Shriners and Fire Fighters. She did not, however, expect this large, unselfish gesture and hopes that the boys will continue to give to others throughout their lives.
"I am also hopeful that this (act of kindness) will encourage other children," she said.
Joey's Toy Box accepts donations at any time online at www.joeystoybox.net .
The local charity also offers a number of fundraising events throughout the year, including an art show, silent auction opportunities, spirit nights, motorcycle rides and a Spring Brunch.
Joey's Toy Box will participate in the 26th annual Georgia Police Memorial Ride on April 22 honoring Georgia's 2016 fallen officers. The organization will be serving food to the families of fallen officers, law enforcement and riders at the event and is currently accepting volunteers. For more information, visit the charity online or email kim@joeystoybox.net .