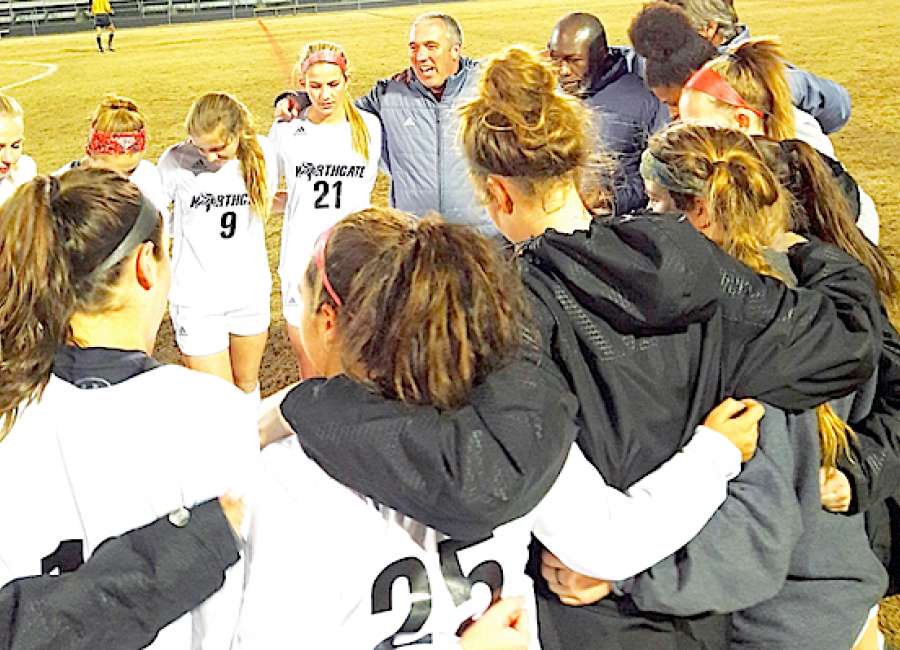 Northgate soccer player Hannah Swenson scored a goal with 8:09 left in the match to lead the Lady Vikings to a thrilling 2-1 victory over the Alexander Lady Cougars Thursday night in Region 5-AAAAAA action at Henry Seldon Field.

The two teams — tied at 1-1 for the majority of the match — looked like they were going to head into overtime before the Lady Vikings buckled down and made key plays to win.
"My teammate Hannah Sutherland floated a good ball back to me and I hit the shot to give us the win," said Swenson, a junior striker and outside midfielder. "We took so many shots in the match; it was nice to get one in. This match was important because it could determine who will be region champs. It's a big confidence boost for our team."
The Lady Vikings won their seventh straight match to improve to 8-1 overall and 5-0 in the region. Alexander's six-match winning streak comes to an end and it falls to 6-2, 3-1 region.
The huge win over Alexander puts Northgate in the driver's seat for the region championship, as the Lady Vikings have three winnable region matches remaining on the season.
Northgate started quickly on Thursday, getting a goal from senior Kylie Doster off an assist by Maddie Admundson to give the Lady Vikes a 1-0 lead one minute into the match. The Lady Vikings held firm after that, until they made one mistake that led to a goal from Alexander's Keerston Hambrick to tie the match at 1-1 at the 23:33 mark of the first half.
The match remained tied at halftime.
Both teams played well defensively in the second half, but Northgate got the majority of the shots and possessed the ball longer until finally breaking through. Northgate's game-winning goal actually started on the defensive end, as Doster made a nice sliding tackle to get possession and the Hannahs did the rest.
"We needed a play and I saw the opening and I took it so we could get another shot," Doster said. "We worked together as a team and that's a good sign for us. Our coaches tell us to stay focused at all times and we were tonight. That helped us get the win."
"We made one mistake and a good team like Alexander made a play to score," said Northgate head coach Bryan Hicks. "I'm happy we kept possession and got shots against them. It was good that our younger players saw we have to keep playing, even when things look a bit tense out there."
The Lady Vikings host region opponent Tri-Cities (2-5, 2-2) at 5:30 p.m. Tuesday on Senior Night.
****
Northgate 10, Decatur 9 (girls lacrosse): Callie DuBose scored five goals to help lead the Northgate Lady Vikings to a 10-9 victory over the Decatur Lady Bulldogs in lacrosse Wednesday at Henry Seldon Field.
Goalie Kayla Hamlett had 10 saves for the Lady Vikings (6-2), who play at Woodward Academy at 6:30 p.m. Tuesday.