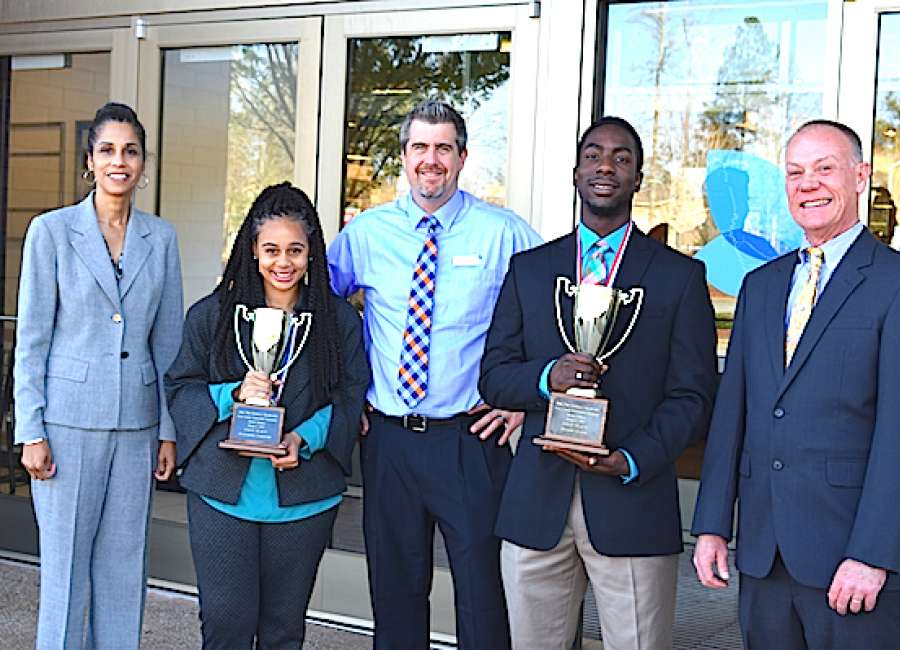 Students in Newnan High School's Jobs for Georgia Graduates program took top honors at Georgia Department of Labor-sponsored competitions recently.

Mahari Young earned a first place award in the Decision-Making category in the Georgia Department of Labor's Jobs for Georgia Graduates 13th Annual State Career Association Conference in Macon, while Shaylyn Marshall took first place in Outstanding Leadership in the event.
Newnan High also won second place in Outstanding Chapter Manual in the state event. Roneesha Bowles, Destiny Strong and Jolene Robertson accepted the award.
Not only did the students finish well, they were dressed for the part, according to Gaines Coker, the organization's sponsor. Newnan students pitted their employability skills against students from four other metro Atlanta high schools in regional competition Feb. 27 in business clothing provided by a local department store.
"This year we have added the Belk department store component that provided all of our professional business attire for region and state competition," Coker said.
Todd Spain, sales manager for Belk at Ashley Park, met with students during their winter break and helped outfit them in jackets, slacks, women's business suits, blouses, shirts, belts, ties, jackets, socks, shoes and accessories at no cost to the students for their region and state events.
"We are really excited about our partnership with Belk at Ashley Park," Coker said.
At the region event in Atlanta, Young and Marshall qualified for state competition with first place finishes and Newnan High won first place in Outstanding Chapter Manual as well. Alan Owens placed third in Public Speaking. Other participants from NHS included Kevin Cleveland, Maria Nunez, Maribel Nunez and Nathaly Quiros.
Jobs for Georgia Graduates is a school-to-work transition program sponsored by the Georgia Department of Labor.