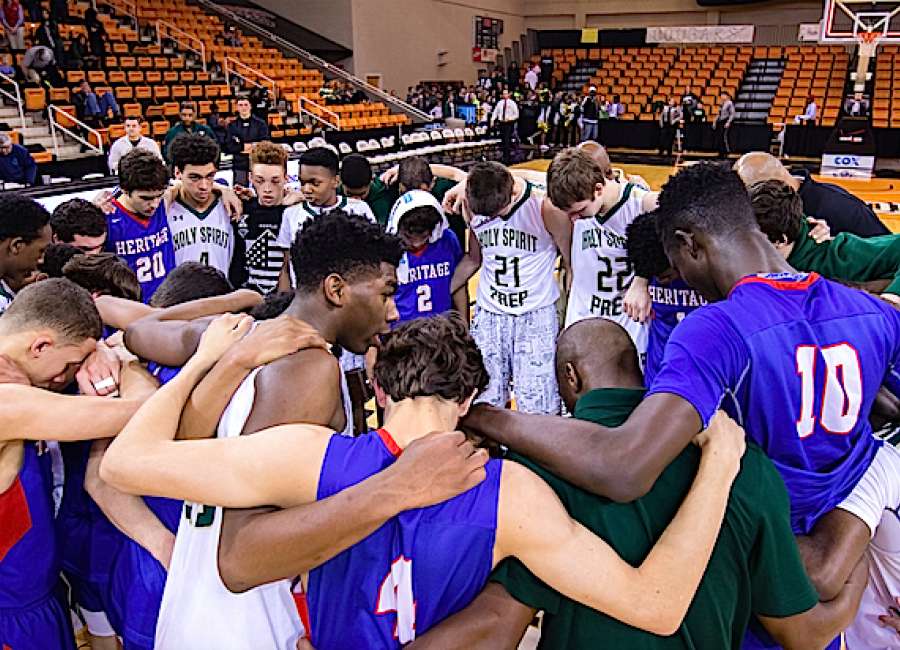 MACON — The Holy Spirit Prep Cougars outscored The Heritage School Hawks 18-7 in the third quarter to turn a close game into a blowout, defeating the Hawks 63-44 in the championship game of the GISA Class AAA State Basketball Tournament Saturday.
The game was close in the first half, but the Hawks couldn't buy a basket in the second half. 
Heritage (21-10) raced to a 4-0 lead at the start of the game, but Holy Spirit went on a 9-0 run to take a 9-4 lead and ended up leading 11-8 at the end of the first quarter.
Holy Spirit (22-3) led 15-9 early in the second quarter, but the Hawks rallied behind 3-pointers from Lance Terry and Jake Canter to only trail 18-15 at halftime.
The game turned in the Cougars' favor in the third quarter. The Hawks missed several shots while the Cougars made a wide range of baskets. Kamani Johnson, Michaiah Jeremiah and George Maslennikov scored at least two baskets each for Holy Spirit in the third.
Terry made a rare 4-point play in the third, but that couldn't light a spark for the Hawks. They only managed seven points in the period and trailed Holy Spirit 36-22 heading to the fourth quarter.
Holy Spirit kept Heritage at bay in the fourth, maintaining leads of 49-30 and 55-36 before cruising to the 63-44 state-title clinching win. Terry scored 19 of Heritage's 22 total points in the fourth.
Maslennikov finished with 15 points, Johnson scored 14, Jeremiah added 13 and Miles Wallace chipped in 11 for the Cougars. Terry finished with 27 points for the Hawks while Ebe Dowuona scored 5.
"I want to thank the seniors on our team for their play this year. I learned a lot from them this season," said first-year Heritage player Anthony Williams, a junior. "It hurts to lose this game, especially since we worked so hard all year to get here. We just have to go back to work tomorrow and try to get here again next year."