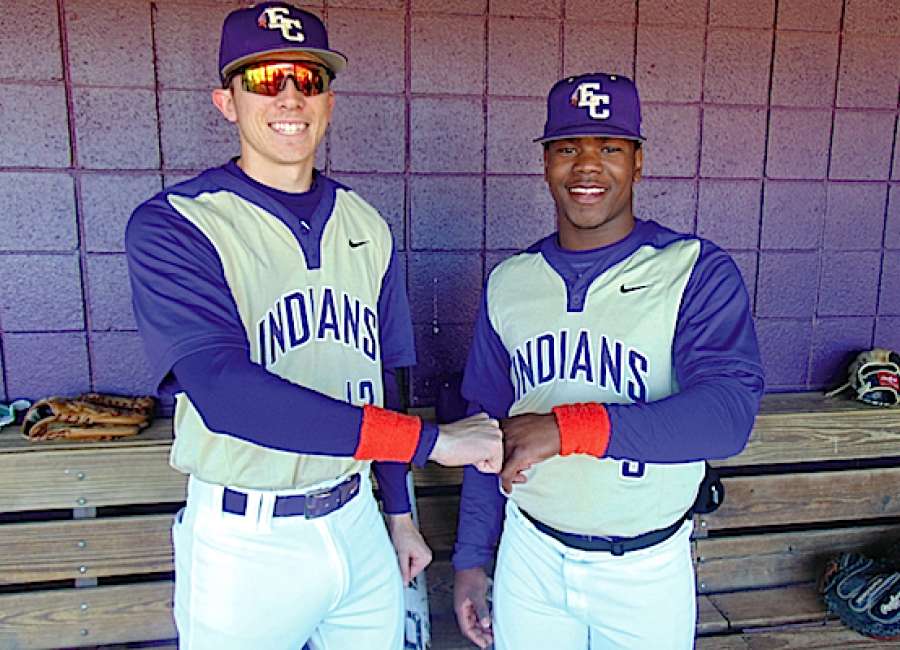 The East Coweta High "Let's Strike Out Leukemia" campaign for 2-year-old Korbyn Daniel Martinez hit a home run.
The East Coweta High baseball community — along with unexpected help from Heard County High School — raised more than $2,000 to help young Korbyn fight his battle with acute lymphocytic leukemia. Martinez, who lives in Orlando, Fla. with parents Hillary and Bryce Martinez, is the nephew of EC assistant baseball coach Tyler Ridgeway.
The apex of the "Let's Strike Out Leukemia" campaign was a special day in honor of Martinez when the EC Indians hosted Heard County in a game on March 15.
The campaign was brought to fruition by EC head baseball coach Franklin DeLoach after hearing of Martinez' plight from Cindy and Mike Ridgeway, the longtime boosters and supporters of ECHS baseball, and the parents of Tyler and Hillary. DeLoach, Tyler Ridgeway and the rest of the EC baseball coaches all got together to plan a fundraiser and finish it with a baseball game-day ceremony.
They sold T-shirts donated by Coweta Sports Center of Sharpsburg with "East Coweta Baseball" on the front and "Korbyn Strong" with an orange ribbon on the back. The EC baseball players all wore orange wristbands for the Heard County game, assistant coach Mark Bowles painted "Korbyn Strong" and an orange ribbon on the grass behind home plate and the EC "Diamond Dolls" decorated the majority of the ECHS stadium with orange balloons and orange crepe paper. On game day, the EC concession stand displayed a "Korbyn Strong" donation bucket for fans who wanted to help.
"Coach DeLoach suggested we should do something after my parents told him about Korbyn's costly battle with leukemia and what everyone has done has been a blessing," said Coach Ridgeway, a 2011 ECHS graduate and former baseball player. "I can't thank everyone enough — from Shawn White of Coweta Sports Center donating the T-shirts, to Jody Glover at our school's front desk helping sell the shirts, and the kids at school wearing the shirts. It was very special."
The EC baseball players said they were happy to honor Martinez.
"This is a good cause and it felt great to do what we could to help Korbyn, his family and Coach Ridgeway," said EC senior infielder Devonte Brown. "And an added bonus was these 'Korbyn Strong' shirts are really comfortable."
"Family and friends supported this cause and that was cool. Leukemia affects a lot of people and this campaign can help others who are going through this," said Ethan Darrow, another EC senior infielder. "We're glad to be a part of this. It's a great feeling."
The game-day ceremony began with a special donation from Heard County High. HC head baseball coach Trent Bianco and HC principal Brent Tisdale presented Ridgeway with a check for $1,050.00 for the Martinez family.
Tisdale said when Bianco told him that EC was planning to honor Martinez before their game, he felt compelled to help.
"Once I heard about this, I talked to my colleagues and we decided we wanted to contribute to the cause. I put the word out on social media last weekend and I made an announcement at school on March 13," Tisdale said. "In two days, our kids raised $500. Our faculty and a few local business also contributed and we came up with the final total. It ain't much, but hopefully it will help Korbyn. We at Heard County High will keep Korbyn and his family in our prayers."
After the check presentation, letters from the Martinez and Ridgeway families were read to the crowd. Ridgeway then threw the ceremonial first pitch to EC assistant baseball coach Lee Heaberlin, a cancer survivor himself.
"Any time I can help bring cancer awareness to the forefront, I will do it. I'm happy to help out and it was great to see the community come together and support this cause," said Heaberlin, a 2003 EC graduate and three-sport athlete at EC. "We will pray for the Martinez and Ridgeway families and for others around the world who are suffering with this."
DeLoach said he was pleased with the whole ceremony after the game — which EC won 8-4 — ended.
"This was a great day for the entire EC community and I'm thankful for the support. And kudos to Heard County for their outstanding donation; that was very special on their part," he said. "We are fortunate and blessed to have this kind of support for Korbyn and his entire family."