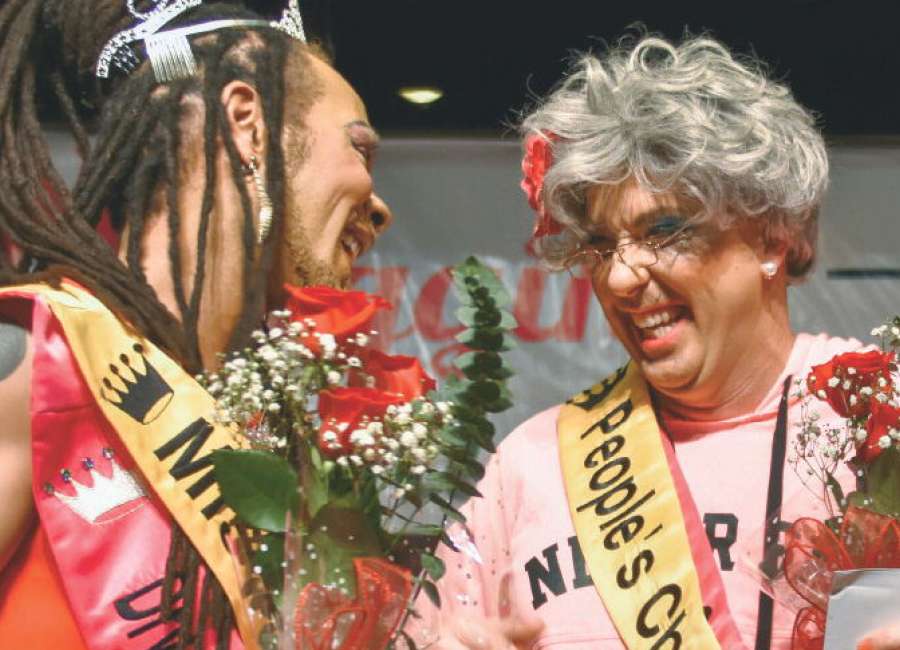 It's that time of year again, in which several local businessmen will don women's clothing and participate in a womanless beauty pageant – all for a good cause, and, of course, for the community's entertainment.

The fifth annual "Dragging for Dollars" event will be held at the Donald W. Nixon Centre for the Performing and Visual Arts on March 18 beginning at 7 p.m. Individual tickets are $15 and are available online at www.aih.org/newnan/draggingfordollars.
The event raises funds for the local chapter of the Southeastern Assistance in Healthcare (SAIH), a nonprofit organization which provides assistance to patients and families of patients undergoing treatment for cancer.
"We help with things like rent, utilities, child care and other extra things that many of us don't think about that are needed when a parent, child or other family member is receiving treatment for cancer," explained Michelle Kent, SAIH President.
Each year businessmen, county employees and community leaders in Coweta County dress in women's clothing and put on their best impressions of ladies strutting the stage in a beauty pageant. The contest is fashioned similarly to the traditional American pageant, sans the swimsuit competition. Each contestant will show off elegant attire, answer questions from a panel of judges and offer a talent performance.
It is those performances, in particular, that are most entertaining, according to the event's coordinator Katie Brady. "The talent portion is actually a crazy, non-talent show that everyone seems to especially enjoy seeing," Brady said.
This year, Brady noted that there will be a total of 11 contestants, down from the 15 community leaders that participated in the 2016 event. Despite fewer men competing, the organization is hopeful the evening will bring in significant funds.
"We need people to come to this event and be generous," Brady said, adding that the men are "really putting themselves out of their comfort zones to help raise money for financially struggling cancer patients."
Ticket sales are not the only avenue with which the nonprofit raises money for the popular show. Locals are invited to visit the Southeastern Assistance website listed above to make donations for their favorite participants. Each donation will count as a vote for that contestant and will go towards the overall People's Choice Award presented at the end of the evening. The "popularity" of each participant can be seen on the SAIH website, as current donation totals are listed and updated online for each potential beauty queen. Donation "votes" can also be made during the event.    
The 2017 participants include Newnan banker Brett Johnson, sponsored by C.S. Toggery; East Coweta High School educator Christopher Bolling, sponsored by Crain Oil Company; Cancer Treatment Centers of America security officer and Coweta County Firefighter Rick Reeves, sponsored by Coweta-Fayette EMC; Northgate Assistant Principal Eric Fiske, sponsored by Rednexican; Newnan High School educator John Garner, sponsored by Infiniti South Atlanta; Cancer Treatment Centers of America Chief Operating Officer David Kent, sponsored by Newnan Utilities; funeral director Ryan Kelly, sponsored by McKoon Funeral Home; software architect Ron Struempf, sponsored by Dry Cleaning Connection; Vice President of Home Care Services with Community Health Services of Georgia Michael Leech, sponsored by Southtowne; Southern Arc Dance owner and instructor Paulo Manso de Sousa, sponsored by Southtowne; and Mike Provines of Ace Beer Growlers, sponsored by UBS Wealth Management.
"We are very excited about the 11 guys participating and the companies who are sponsoring them," Brady said. "We couldn't do it without them."
New this year will be a video of highlights from past Dragging for Dollars events, Brady added. The video will play as the donations are counted.
Judges this year will include Carole Anne Fields, Carl McKnight and Mark Whitlock.
The SAIH organization was established in 2012 and serves Newnan and the surrounding metro Atlanta counties. The nonprofit was formed as a branch of Assistance in Healthcare, the parent organization that began in 1983 when a group of volunteers at the Cancer Treatment Centers of America (CTCA) in Illinois came together to raise funds in support of cancer patients and their families.
The local chapter serves more than just those patients being treated at CTCA, however. Though established by the Stephenson family, founders of CTCA, the Southeastern alliance is a separate organization.
"We help patients receiving treatment at a variety of treatment centers – North Georgia Cancer Specialists patients, and those being treated through Piedmont as well as CTCA and other facilities," Kent said.
Kent explained that SAIH has no overhead costs, therefore all donations are directed toward patients and their families.