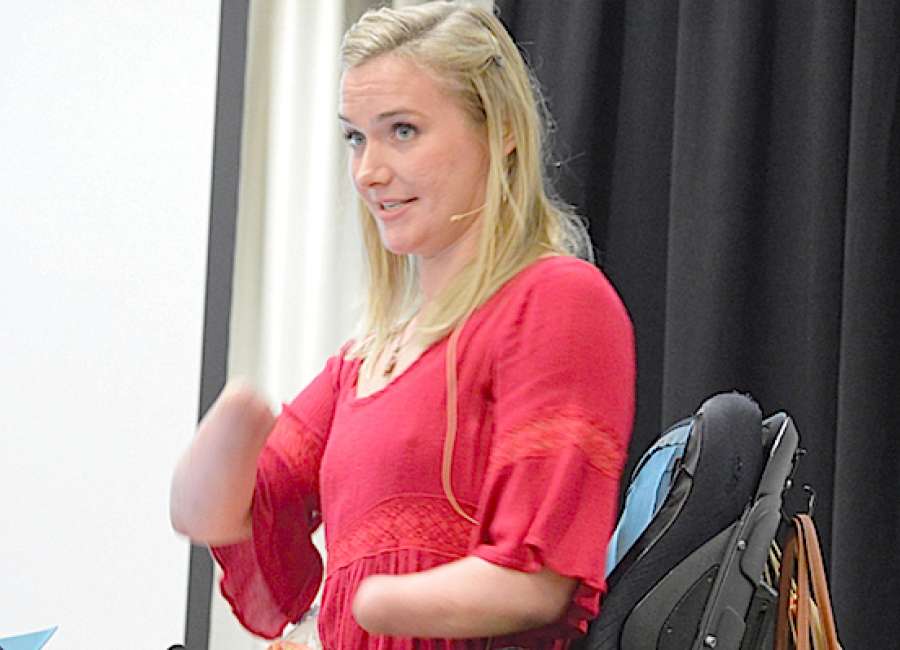 Rob and Christi Estes welcomed more than 400 guests to dinner Friday evening at the fourth annual Grey Matters Dinner held at the Newnan Centre. 
The Estes are founders of Can't Never Could, a local nonprofit created to serve those suffering from cancer or facing adversity in other forms.

The foundation was established after Rob was diagnosed with grade IV glioblastoma, an incurable form of brain cancer, in 2013. 
After treatment and the removal of a five-centimeter tumor, Rob and Christi founded Can't Never Could in an effort to help others battling similar diseases.
Rob continues to fight the aggressive cancer and has undergone additional surgeries to remove tumorous growths. 
But, the father of two vows to continue to push forward, calling the foundation, and those the nonprofit has helped, his "Ebenezer stones."
A biblical term, the Ebenezer stone or "stone of help" is a reminder of God's love and protection.
"They gave me 12 months," Estes told diners. "That was four years ago."
The Estes and guests welcomed keynote speaker Aimee Copeland, a Georgia-born quadruple amputee who has not only faced extreme adversity, but has overcome difficulties with a smile, and an amazing story to tell.
Copeland was attending the University of West Georgia in Carrollton in 2012 when she fell from a homemade zip-line, severely cutting her left leg. 
Just days after doctors repaired the wound, Copeland began to experience pain, and soon her leg was purple and dying.
The college student had been infected with a deadly bacteria, necrotizing fasciitis, which was destroying the tissue in her leg.
Doctors amputated Copeland's leg at the hip, and later, would be forced to also amputate both hands and her right foot due to complications from a medication that the 28-year-old said saved her life but starved her extremities of blood.
"People are constantly asking me, 'How did you get through this?'" Copeland told guests. "What's been incredibly important in my healing is compassion. Helping other people."
Now, five years since making the choice to live, Copeland works as a therapist at Heartwork Counseling Center in Atlanta, and is working to create a foundation of her own holistic therapy pilot program.
After four years, Can't Never Could has helped a number of recipients and has donated to several programs, which both treat and research new treatments for cancer.
This year the foundation has awarded Piedmont Newnan Hospital a total of $25,000 to benefit the hospital's massage therapy program at the Cancer Wellness Center.
Rob told guests that the wellness center and massage therapy services greatly benefitted him during treatment and he hopes he can help expand the services to help more patients and survivors.
Another recipient offered a prayer to diners at the annual event. Yemanuil Gluschak told the audience how great of a blessing the Estes' foundation has been to his family.
Gluschak is a 35-year-old father and husband who was diagnosed with inoperable grade 3 brain cancer in 2014. The family fell on hard times due to his inability to work during his treatment.
For more information on Can't Never Could, to make a donation, or to apply as a recipient of the nonprofit visit www.cantnevercouldinc.com , or at www.facebook.com/Cant-Never-Could-Inc