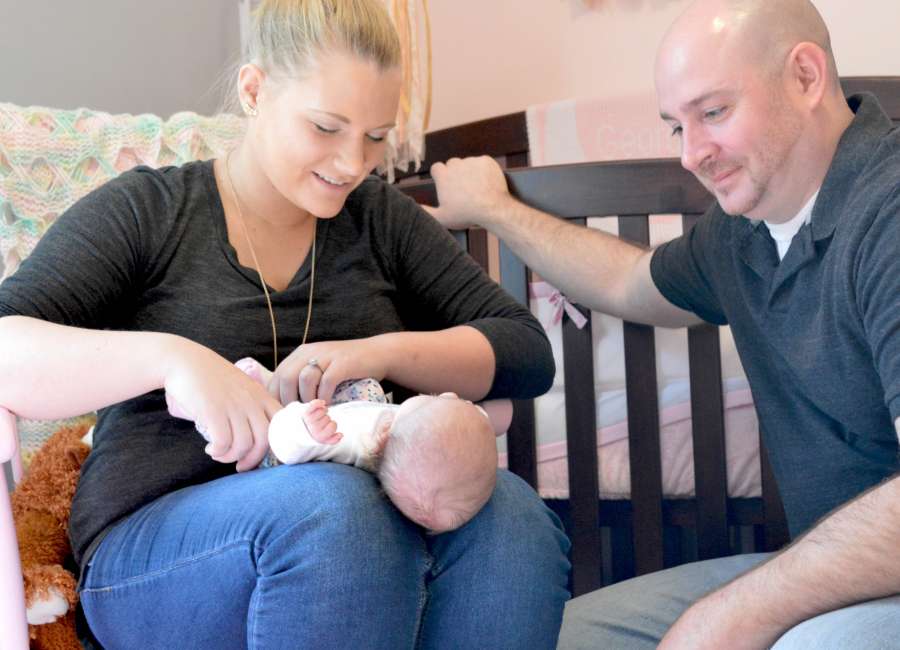 As Kimberly Minor's pregnancy, her first, progressed, she kept feeling like something was wrong.
She wasn't sure what, but something. She told her obstetrician, who brushed her concerns off. She changed obstetricians, but the new doctors also told her her concerns were normal.
"To the last month they kept telling us we had a seven-pound baby, a fine, normal pregnancy," Kimberly said. Even the 20-week ultrasound looked perfectly normal.
Then they went to get the 3D/4D ultrasound.
The 3D/4D ultrasounds are a novelty procedure, often used for keepsake pictures of your baby in the womb. The technicians aren't medical professionals.
"The tech said your baby looks a little small. She probably shouldn't have," Kimberly said. There was such a large amount of amniotic fluid that the ultrasound showed a very clear picture of most of little Georgia. When Kimberly told her obstetrician about what the tech saw on the ultrasound, she said the doctor wasn't worried about it.
When her water broke, Kimberly and her husband Patrick headed to Tanner Medical Center in Carrollton. She had planned for natural childbirth, but as her contractions continued, little Georgia's heart rate would slow. It was decided to induce labor. But then they found meconium – waste –  in her amniotic fluid, and Kimberly was rushed into an emergency C-section.
When little Georgia was delivered, she didn't cry. The nurses and doctors were wonderful, the Minors said, but she could tell they were worried.
"You know that voice people give you when they're trying to be nice and not freak you out but there is something wrong? That is how everybody started talking," she said.
Kimberly wasn't able to see her baby until the next day – nurse's orders. When she was able to see her, the parents weren't allowed to hold her.
Though Georgia had been full term, she was tiny, just 4 pounds, 9 ounces. There's no Neonatal Intensive Care Unit at Tanner, so Georgia was in the Special Needs Nursery.
Georgia was nursing but wasn't gaining weight. When it was time for the "car seat test," which makes sure that a baby can maintain oxygen levels while in the car seat, she failed it three times before finally passing it.
But when she was nursing or had "skin-to-skin" contact with her mom, Georgia did well.
Georgia was in the hospital for 10 days, and Kimberly decided to ask for genetic testing. The results would take two weeks.
When that time was up, Minor called her pediatrician and left a message. She finally got a call back from the receptionist who gave her the terrible news – Georgia had Trisomy 18, also known as Edwards Syndrome.
The Minors were told their daughter's condition was "incompatible with life," and that only 10 percent of babies born with it live to their first birthdays.
The Minors were devastated, scared, and angry. They found a new pediatrician, and Georgia had many tests. The Minors also did a lot of research.
Some children with Trisomy 18 have a complete third 18th chromosome. Some just have a partial one. In Georgia's case, there's a long "tail" coming off of one of her 18th chromosomes.
A Trisomy 18 error occurs in about one out of every 2,500 pregnancies in the U.S. and one out of every 6,000 live births, according to the Trisomy 18 Foundation. Many babies die before they make it full term, and only about 50 percent of those are born alive, according to the foundation.
Full Trisomy 18 is "pretty much like a death sentence," Minor said.
But "there are children with Trisomy 18 that can enjoy many years of life with their families, reaching milestones and being involved with their communities," according to the foundation. There is even a small number of adults living into their 20s and 30s with Trisomy 18, though they have significant developmental delays and cannot live independently.
Today, March 18, is Trisomy 18 Awareness Day. The Minors and their friends and family will be wearing light blue today in honor of Georgia.
Georgia has multiple heart defects and a palsy in her face, but those issues are getting much better, Patrick said. Doctors don't expect her to develop any new problems.
She can still nurse, but expends too much energy that way, so Kimberly pumps and feeds Georgia breastmilk, with fortifier, in a bottle. That in itself is unusual for a baby with Trisomy 18.
"Most Trisomy kids never get to be fed off a bottle. They are on feeding tubes," Kimberly said.
Kimberly credits breastmilk as helping with Georgia's progress.
Georgia was recently diagnosed with a form of sleep apnea and will start sleeping with oxygen.
Finding out Georgia's condition after she was home from the hospital was a shocker, but the Minors are glad they didn't know sooner.
Typically, when it's diagnosed during pregnancy, doctors will advise a woman to terminate the pregnancy.
And when it's known that a baby will be born with Trisomy 18, sometimes treatment is different – because the babies aren't expected to live.
"It's kind of a good thing that they didn't catch it when I was pregnant," Kimberly said. "We would have gotten different treatment."
"I would have missed out on her, and that's what would have been terrible. I hate for parents to think they didn't have an option," Kimberly said.
Since Georgia's diagnoses, Kimberly has connected with other Trisomy 18 parents on Facebook and other online communities.
Even moms whose babies were stillborn say it was worth it to carry the pregnancy to term, she said.
"There is so much miseducation out there on the decision of what to do with Trisomy 18 kids," Kimberly said. "No one gives them a chance. My kid is doing great."
She's talked to one mom whose son is learning to crawl. "There are kids who walk and talk. Doctors said they have two weeks to live," she said. "You have no idea what they are capable of unless you give them a chance."
Kimberly said that Georgia looks much like her grandfather. She has a lot in common with him. Minor's father has a rare cancer. When he was diagnosed, he was told he had six months to live. That was 11 years ago.
"My dad is a fighter, and I guess she's just like him," Kimberly said.
Georgia celebrated her 2-month birthday on Wednesday. She's growing, and she's getting strong. She loves baths and going outside. She loves to hold her head up and look around. And she loves the family's dogs.
"Her legs are so strong," said Patrick. "In the bathtub, she'll push herself. She's strong for two months."
He told a story of toting her around one night. She was pretending to be asleep when he was looking at her, but when he looked away she would open her eyes. Then she'd shut her eyes and pretend to be asleep again when he looked back.
"She smiles. She likes to play," he said. "She is an angel."
"There are parts of it that are crazy, but she doesn't know that. She's thinks it's normal," Kimberly said. "She's a miracle. A little miracle baby."
"She is a bundle of joy," her dad said. "Just because she's different doesn't mean that it is over."
You can follow Georgia's journey on her Facebook page at https://www.facebook.com/georgiaonmymindt18/