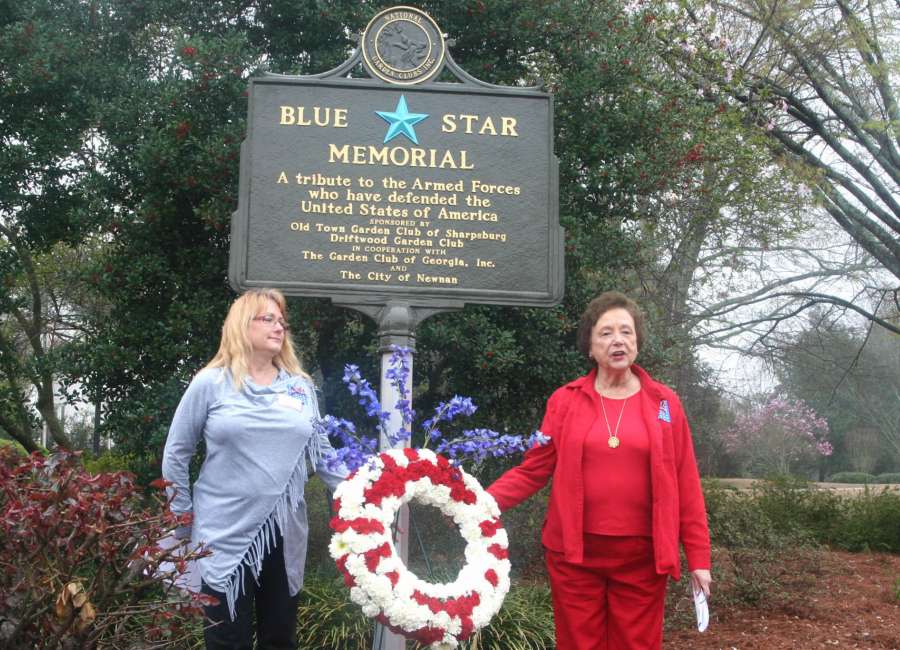 Veterans, local leadership and Coweta residents attended the Blue Star Memorial marker dedication ceremony yesterday morning at the Veterans Memorial Plaza at the city park at Jackson Street and Temple Avenue.

The installation and dedication was sponsored by Old Town Garden Club of Sharpsburg, Driftwood Garden Club, the Garden Club of Georgia, Inc. and the city.
"The Blue Star marker is in honor of all who have served in the armed forces of the United States, all who are serving and all those who will serve in the future," said Emily Wilbert, local chairman for Blue Star Markers in a previous Newnan Times-Herald interview.
The Newnan High School Color Guard and Air Force JROTC GA-394 presented and retired the colors.
Martha Price, president of The Garden Club of Georgia, Inc. dedicated the marker.
"The Blue Star Marker pays tribute to our armed forces, Price said. "While we go about daily lives or while we sleep, the men and women in our armed forces fly our skies, sail our seas and guard our shores to ensure our safety. They stand ready at a moment's notice to defend our country. We must not forget them, and we do not. Honor and the glory to all men and women who have served or who will serve in the armed services of this great service."
Dick Stender, member of the  local American Legion and Veterans of Foreign Wars, said he felt honored to have the marker.
"Thank you on behalf of all our members for adding to the dignity of our park," Stender said.
The Blue Star marker program began in 1944. In 1945, the National Council of State Garden Clubs adopted the program and began a Blue Star Highway system that covers thousands of miles across the continental United States, Alaska and Hawaii. 
"A large metal Blue Star Memorial Highway marker was placed at appropriate locations along the way," said Wilbert.
There are a number of Blue Star markers in Georgia. There are three in the Atlanta area.