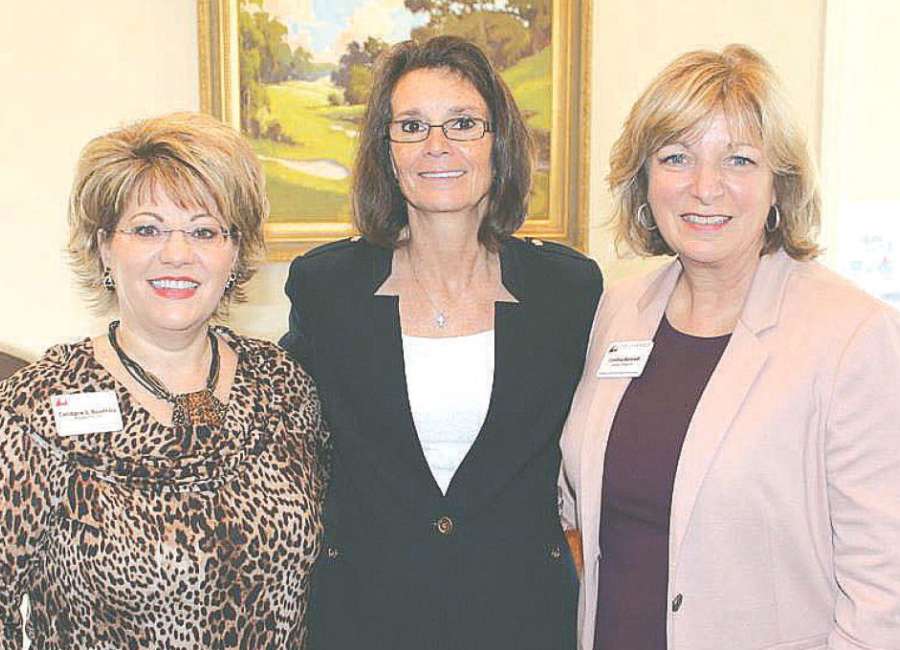 The world of business involves strategizing and positioning, which is much like sports, according to WNBA Atlanta Dream Team President Theresa Wenzel.

Wenzel, who has served as team president for the WNBA Atlanta Dream since March 2016, was the keynote speaker at the Business Women's Network Prosperity luncheon on Wednesday, March 1 at the Newnan Country Club, the exact day Wenzel celebrated her one-year anniversary as the team's president.
Wenzel, a 21-year sports-industry veteran, spent 10 years as a top athletic administrator at the Georgia Institute of Technology, joining the Yellow Jackets in 2005 before being elevated to the position of senior women's administrator in 2006. She was honored as the 2011 Administrator of the Year by the Women's Basketball Coaches Association.
During her tenure at Georgia Tech, Wenzel oversaw the women's basketball, golf and softball; men's and women's swimming; men's and women's tennis; and men's and women's track and field and volleyball programs. Under her supervision, the Yellow Jackets women's tennis team captured the 2007 NCAA National Championship.
Newnan Mayor Pro Tem Cynthia Jenkins, who is a former Georgia Tech cheerleader, introduced Wenzel.
'Theresa firmly believes in creating opportunities for women and girls in all aspects of life,' Jenkins said.
Wenzel has a background in playing sports, which she said contributes to her competitive spirit.
'I'm the youngest of three,' Wenzel said. 'My brother set the bar for sports, and my sister set the bar for academics.'
Wenzel said business is about building relationships. 'No matter what business you're in, people don't know how much you know until they know how much you care,' Wenzel said.
Wenzel said she believes participating in sports helps develop confidence and skills that can be used in the workplace.
'I'm very stat- and data-driven,' she said. 'Women have a great level of achievement and intellect. The average GPA for girls is 3.1 in college and 2.9 for the boys. Women lead academically, but struggle from a confidence standpoint.'
'Women want have to have friendships and they don't want to compete,' she said. 'We're afraid to compete or call one another out.'
Wenzel said playing sports helped prepare her for her current leadership position as president.
Wenzel said she was the fifth president in six years. The Atlanta Dream had only been in existence for 10 years when she took the position.
'Walking into that office for the first time, I saw a group of people, men and women on staff, wounded and bruised,' she said. 'They had been through five different leaders in six years, lost millions of dollars over course of five years.'
Wenzel said 90 percent of the employees at The Atlanta Dream played sports.
'According to a survey by Ernst & Young, many CEOs and presidents of companies, or those in leadership, said they developed confidence through playing sports.'
Ernst & Young, a multinational professional services firm, presented the results of their research, 'Women leaders' perspective on sport and high-performance teams,' showing that participation in sports plays a crucial role in developing leadership and team building skills for women, as being reported by thedailybeast.com.
A majority of women surveyed, who had executive and management roles, participated in sports at some point in their lives.
Beth Brooke, global vice chair for public policy for Ernst & Young, said, 'Not only do the majority of senior women executives have sports in their background, they recognize that the behaviors and techniques learned through sports are critical to motivating teams and improving performance in a corporate environment.'
Wenzel shared an acronym she believes defines a brand and the way a company or individual conducts business.
'IRS, which means you must be intentional, resourceful and strategic,' she said. 'When you have the title of president, people think you know a ton of stuff, but it's about teamwork. Look at what's important to you and how you manage your business. Look at what's important to the people you work with.'
The three-time Eastern Conference Champion Atlanta Dream is entering its 10th season in the Women's National Basketball Association (WNBA).