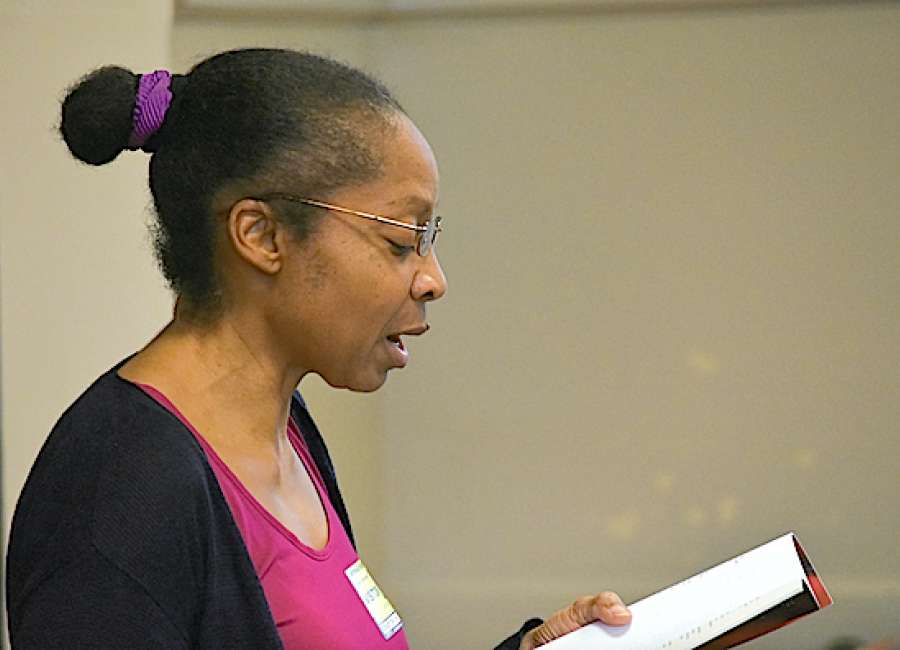 The local community welcomed a special guest this week, courtesy of the University of West Georgia and Coweta's ArtRez program.

Award-winning poet Allison Joseph arrived in Newnan for a short stay, primarily at Gray Cottage, a quaint, downtown home and studio intended for visiting artists. Though most visiting artists remain in Coweta for up to a full month, Joseph, also a professor at Southern Illinois University Carbondale, had a limited visit of just two weeks. In that time, however, she managed to share not only her poetry, but also her insight, tutelage and humor.
"I like it here," Joseph said of Newnan. "I enjoy a place where I can simply walk right into town."
The poet echoed that sentiment in an anecdote she offered to Newnan High School students during a visit to the school. Joseph noted that she grew up in New York where public transportation is the norm and, as a consequence, the poet is not a driver.
"I've been telling people all over town that I am a member of an oppressed minority group," Joseph explained to students. "And, I'm tired of the way I have been treated in this country. My anger and frustration is mounting, and I will reveal my status to you today… I am a pedestrian American.
"Yeah," Joseph added. "I'm a black woman, too. That's pretty obvious."
The poet continued with tales of her personal plight as a non-driver, adding that she did not, in fact, learn to operate a vehicle until well into adulthood.
"Then, when I attempted to learn to drive, I crashed the driver's ed vehicle," she said. "I crashed it into a stationary van."
The poet read aloud several of her compositions to students during her time in the classroom at Newnan High, offering up stories about her life in New York, as well and her work as a professor.
Joseph leaves the Gray Cottage today, but during her stay in Newnan, the poet managed several readings and lessons, including a visit to Spelman College in Atlanta, a reading in Kathy Cashen Hall at the University of West Georgia, a session with students at both Newnan High School and East Coweta High School and, finally, a reading at Oglethorpe College in North Atlanta. There also was a weekend-long visit at AIR Serenbe, a nearby artist-in-residence program offered in the community of Serenbe in Chattahoochee Hills.
Despite a number of awards, multiple publications and her acknowledged ability to paint a memorable portrait of the world around her with words, Joseph said she does not consider herself an artist.
"Maybe a wordsmith," she said amongst new friends and ArtRez board members. "I'm no William Blake."
At home, Joseph is director of the Young Writers Workshop at Southern Illinois University Carbondale, a program she founded in 1999. She also helped found Crab Orchard Review, a literary journal. Among her numerous honors, Joseph won the George Garrett Award for Outstanding Community Service in Literature from the Association of Writers and Writing Programs in 2012.
In her latest publication, "Mercurial," Joseph offers both solemn insights and lighthearted opinions on of her own life experiences and views of the world around her. The poet addresses a range of topics in the collection, including odes to sandals and a waning metabolism juxtaposed with a portrayal of anorexia and thoughts on daughters without mothers.
From a poem called "Period," Joseph read to a group of Newnan High School students, "How is it you get to dictate all our beginnings, endings, so smug in potent squalor, ubiquitous beyond all reason. If I leave you out, skip you, ignore you, you only call attention through your absence, haunting as you disappear."
The poet explained to those gathered that there are moments in life in which there is an unresolved issue, a problem without an immediate solution.
"I wrote that poem thinking about all the times when you don't have an ending or a solution to something and you really are longing for that finality," Joseph said. "I think I need to write a question mark poem, because the older you get, the more questions stack up and the more you don't have answers to things."