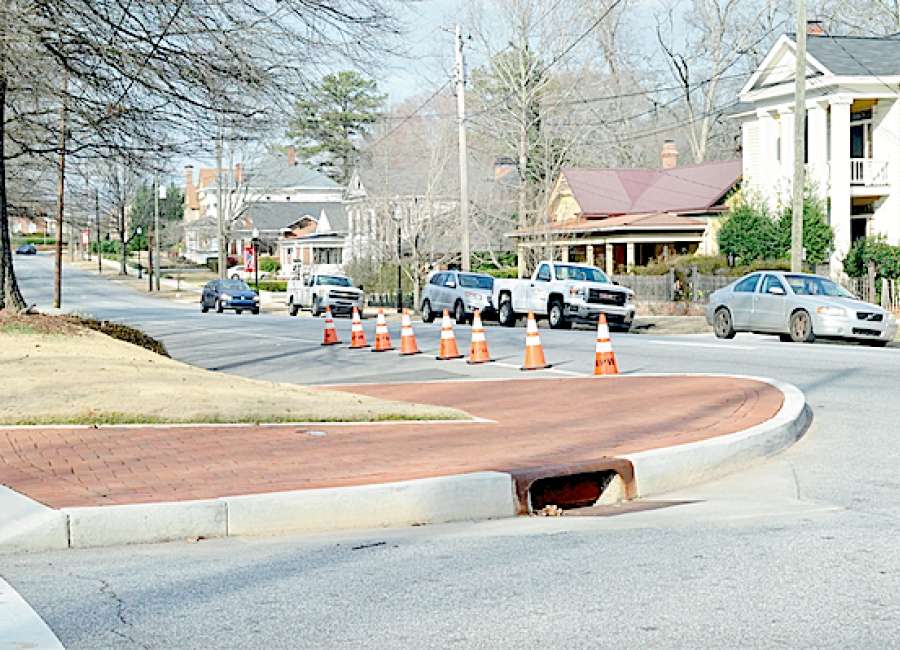 A line of traffic cones along Jackson Street at Temple Avenue isn't meant to block off the parallel parking spaces in the area.
Instead, it's meant to draw attention to the brick curb extension – better known as a "bump-out." There have been issues with motorists hitting the bump-outs on both sides of the intersection.
The cones are meant to emphasize the edge line in advance of the curb extension, said Michael Klahr, engineer and public works director for the city of Newnan.
The city is working with the Georgia Department of Transportation to try to find a solution to the problem of drivers hitting the bump-out, Klahr said.
"Drivers are failing to maintain their lane and/or not seeing the first curb extension traveling towards town on Jackson Street," Klahr said.
There is also an issue with drivers who are taking a right from Temple Avenue onto Jackson Street hitting the other bump-out. "Drivers are turning too sharp in a right turn and running over the curb extension," he said.
Drivers hitting the bump-out while making a turn was discussed at the Jan. 24 meeting of the Newnan City Council. One resident said she had bent her vehicle frame and blown out two tires while turning onto Jackson Street in heavy traffic. Jane Keith told the council she knows several other people who have had similar issues and asked if the city could look into making some changes to the bump-out.
At the meeting, City Manager Cleatus Phillips suggested talking to the design engineer to look into possible modifications.
"It's obvious we've got to take some course of action," Mayor Keith Brady said at the time. "If it needs to be reconstruction of those areas, so be it."