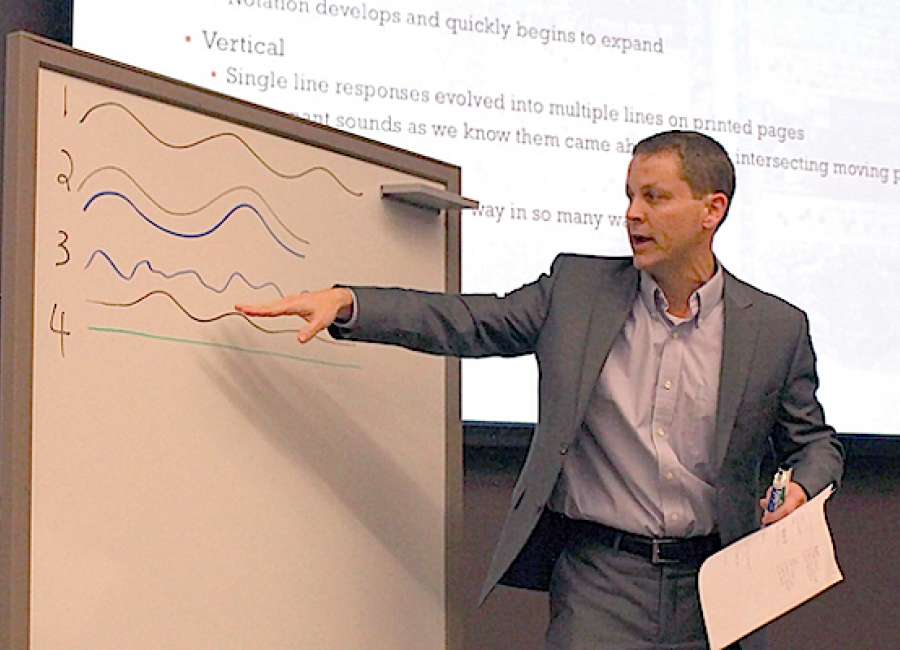 – By Emily Wurst

Building on its successful series "The Curious History of the English Language," the University of West Georgia's School of the Arts has expanded the focus of the events, added more offerings and dubbed it "The Other Night School." As a result, this spring's series will feature six events with three different topics up for discussion: music, philosophy and art. 
The first of this year's series was held at UWG Newnan on Jan. 31 and featured UWG Director of Bands Dr. Josh Byrd, who gave attendees a mini-lecture on "The Curious History of Classical Music." As part of his presentation, the audience was treated to musical excerpts from the early medieval period, such as gregorian chants, and through the modern era, featuring neoclassicism and Jazz. 
"In the medieval period, music was centered around the church, so there was a lot of focus on text. It wasn't until the renaissance era that music was starting to gain some structure," Byrd explained. "This is the era when chords first began to appear."
Byrd then took attendees on a musical journey through the baroque era, featuring such composers as Handel and Bach. Byrd described the era as "ornate" and "lavish," which reflected in the music produced at the time. 
More familiar names followed, such as Hayden and Mozart, who helped usher in more expressive melodies and contributed to the prolific creation of music at the time. 
"Then Beethoven came in and just blew up the system," Byrd said. "He expanded harmony and form. He bent the rules about what sort of instruments should be used in a symphony, and he included the human voice as an instrument."
Beethoven was creating music in a time when music was created for music's sake, Byrd explained, and the production itself was a performance rather than just an accompaniment to a play, opera or dinner party. 
"Then came the romantic era, when music began be used as a way to evoke imagery and display a wider range of emotion," Byrd said. 
To illustrate this, he played excerpts of Wagner's and Liszt's works. He also said these composers helped broaden the scope of music with a fearless approach to production and performance. 
"This was the beginning of the rock star mentality," Byrd laughed. "The orchestras for these performances were huge, and the entire production was grand in scale. But you also had individual composers who were great self-promoters, like Paganini, and had a great sense of showmanship."
According to Byrd, now that the rules of music had been fairly well established, the 20th century ushered in an era of impressionism, atonal compositions and breaking down of boundaries. 
"So with the modern era, people came in and said, 'Rules? What rules?'" he said. "So we get some really interesting arrangements."
Byrd wrapped up his lecture by discussing jazz music. He explained that jazz was formed around the idea of substituting new, unfamiliar sounds in place of chords, leading to an under appreciated new style.
"Jazz has always been looked down upon by a number of people, and I don't think that's very fair," said Byrd. "Because in all honestly, it's some of the most complex music possible."
"The Other Night School" will continue throughout the spring 2017 semester with the following lectures: "Rethinking the Body" and "Rethinking Work," both presented jointly by Dr. Janet Donohoe and Dr. John V. Garner on Feb. 21 and 28, respectively, "Truth and Lies in Photography" by Professor Mark Schoon on April 11, and "Art and Propaganda: the Curious History of Politics and Painting" by Dr. Nathan Rees on April 18. 
All lectures will take place at UWG Newnan.