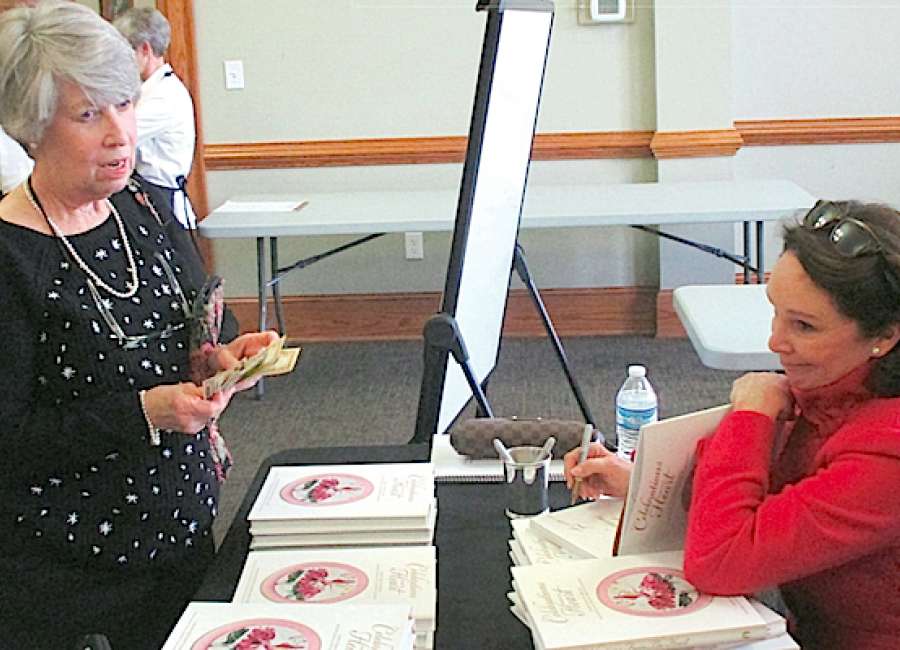 Patricia "Sister" Schubert Barnes says women should find their passion and follow it with enthusiasm.

"I do believe I was put on this world to bake bread," she told a mostly female crowd of about 130 on Feb. 5 at the Carnegie Library's upstairs meeting room. Barnes' talk was part of the 2017 Edgar B. Hollis Distinguished Speaker Series, sponsored by the Newnan Carnegie Library Foundation.
Barnes opened her talk with a short prayer. She reflected on the story of how her grandmother's Everlasting Bread recipe grew from a family favorite into a national staple.
"I did take a recipe, a family recipe that I made those for years for my family and turned that into a business," she said. "I feel like I've been successful because I found my purpose."
She said her bread brings families together in the kitchen and around the table. "I believe our world needs a lot more of that, don't you?," she asked.
"For as long as I can remember, I have loved being in the kitchen," Barnes said. Her grandmother taught her to cook around a large kitchen table, and the book of handwritten recipes they used was passed along to Barnes.
"We had many wonderful experiences at Gommy's house around that table," she remembered. "I cherished every minute that I had with her in the kitchen and every other way. She saw something in me that would somehow help others."
As an adult, Barnes began making the bread, sharing it when someone in Troy, Ala. had a new baby, was ill or experienced a death in the family. "It was my way of showing they were loved," she said.
When her church sponsored a frozen food fair at Christmas in 1989, she decided to try the Everlasting Bread recipe and see if it would freeze and thaw. It would, so she baked about 20 pans of rolls.
The following year, there were 200 orders for the rolls, and the next year, the church secretary called her to tell her there were more than 300 orders. Barnes told the secretary, "Stop taking orders."
Barnes got all the bread baked. "I actually managed to bake a couple of pans for my family for our holiday dinner," she said.
The next year, she began to bake them to sell, first taking 12 dozen rolls to a curb market in Troy. "Next thing I know I'm taking dozens of pans to her every week."
She began to get orders from grocery stores. Her daughters would don lacy aprons and offer samples of the bread to customers, turning their mother's marketing concept into action. "If I could get you to try them, I could get you to buy them," Barnes reasoned.
Eventually, Southern Living discovered Barnes' bread. Gary Wright, who is now Barnes' publicist, met her when he was working for Southern Living. The magazine's goal, he said, was to showcase the best the South had to offer.
"Someone told us that the very best bread you have ever tasted is made by this woman in south Alabama," he recalled. He went to Troy, where Barnes had just made some bread for a church group on her sun porch.
Soon, Barnes moved the business to a warehouse building her father owned. She began expanding to stores in Montgomery and Dothan.
Barnes said some companies pay fees to get their products into a story. Sister Schubert's bread market began to grow because customers wanted it.
"Never underestimate the power of word of mouth. It's a very powerful tool," she said.
A commercial plant opened in 1994 in Luverne, Ala. Realizing she needed help to grow her company, she contacted George Barnes. They married in 1996.


"I knew I could sell those rolls," he told her later. "I just didn't know how I was going to get the roll lady to marry me."
"A lot of people say you can't mix business with pleasure, but it seems like we've had a really good time growing a business together," she said.
The company has continued to expand, and T. Marzetti bought the Sister Schubert's brand several years ago. "They had the resources to propel us to national status. They also had a record of purchasing family-owned companies and and continuing to let the families run them," she said.
Barnes started out selling Parker House rolls, which have been popular since the first were baked at a Boston hotel in the1870s. Larger dinner rolls were added to the Sister Schubert line after she made some for a Tennessee barbecue restaurant. She said the bread for the Chicken Minis at Chick-fil-A is Sister Schubert's.

Barnes has put together several cookbooks. She signed copies of the latest one, "Celebrations from the Heart," after her talk at the Carnegie. She co-wrote the book with Betty Sims, who teaches cooking classes.
Sister Schubert's bakeries in Alabama and Kentucky now bake 10 million rolls a day. "She has changed the world in the last 25 years," Wright said.