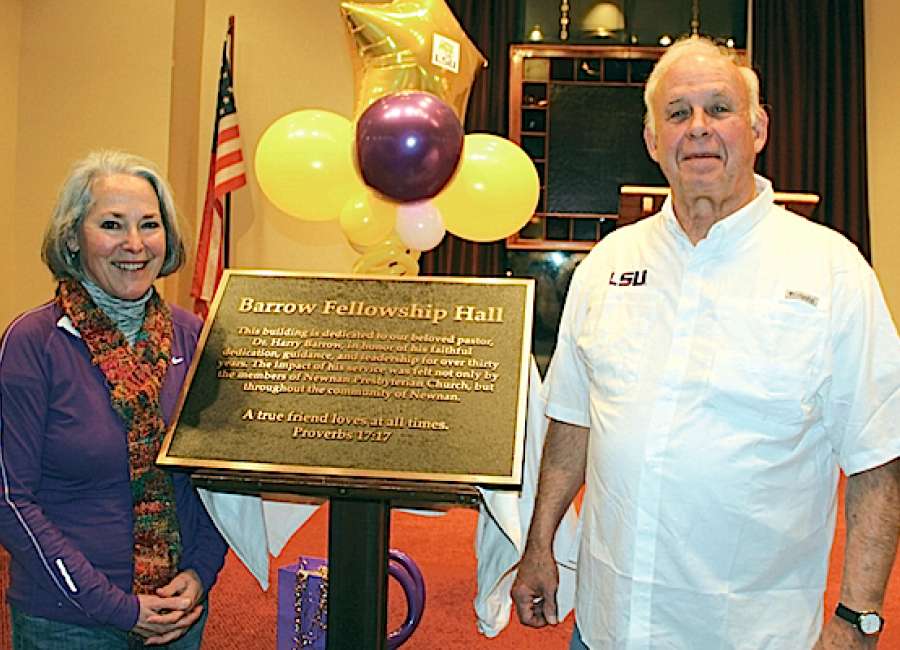 Newnan Presbyterian Church has renamed its fellowship hall in honor of Dr. Harry Barrow, the church's longtime pastor.

The dedication of the Barrow Fellowship Hall was held on the evening of Jan. 8. Barrow retired last January, after 31 years of ministry at Newnan Presbyterian.
For the celebration, the space was decorated in purple and gold, team colors for Barrow's team, Louisiana State University. The overflow crowd enjoyed a tailgate-style dinner. A plaque was presented to Dr. Barrow, which will be placed at the entrance to the Fellowship Hall.
Not long after Dr. Barrow's retirement in 2016, a committee of Newnan Presbyterian Church began considering ways to honor his ministry. "It soon became clear that naming the fellowship hall would be an excellent and long-lasting way to honor his decades of ministry to the congregation and community," said church secretary Beth Royal.
The preschool and fellowship hall building were built in the late 1990s, and Barrow was instrumental in the planning and construction of the facility.
When told of the plans to name the fellowship hall in his honor, Dr. Barrow said that he was "overwhelmed by the gesture." He reflected on past, faithful church members who helped pave the way for the former fellowship hall and then the men and women whose faithful ministry and generous gifts made the new fellowship hall possible.
Under Barrow's leadership, Newnan Presbyterian embarked on a major construction project, which is currently underway. A handicapped-accessible ramp and entrance to the sanctuary are being built. Completion of this work is slated for March of this year.
"In addition to better accessibility to the main building, a beautiful courtyard and fountain are being constructed," Royal said.