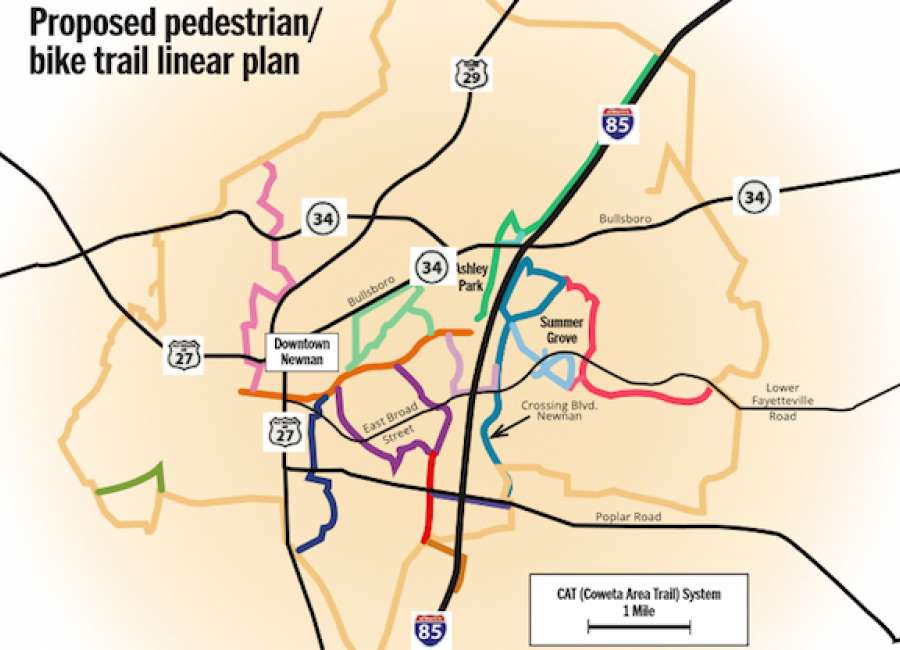 Newnan's linear park was the topic of discussion at the annual Mayor's Business Luncheon hosted by Mayor Keith Brady on Wednesday at The Newnan Centre on Lower Fayetteville Road.

A linear park is a relatively new concept that uses walking/biking trails to connect neighborhoods.
Ed McBrayer, executive director of the PATH Foundation, talked about the proposed trails and the social and economic impact of such trails.
PATH, formed about 26 years ago, is a public-private partnership that has built more than 260 miles of greenway trails, raised more than $80 million from the private sector for trail development and caused $130 million to be allocated from public sector. The Silver Comet Trail is an example of the success of Path's approach.
Newnan's contract authorizes work with PATH and with the Kaizen Collaborative, which designs projects. Kaizen's work includes the Atlanta Beltline, an island-wide project on St. Simon's Island and projects in Rockdale and DeKalb.
Types of trails
McBrayer said the trails are not being designed for experienced cyclers, but for those who are interested in the trails, but shy away from cycling or walking because of the dangerous conditions.
McBrayer said PATH is proposing two facility types for the Newnan Trails-Greenway Trails or a Shared-Use Side Path to connect downtown to east Newnan and the Newnan Crossing area.
"These are just proposed, but neither has been adopted," he said. "Greenway trails are separated from the street and shared by cyclists and pedestrians for non-motorized use. Twenty-one miles of total trail has been proposed for Newnan. We can add to it for infinity, but we want to make sure the east and west are connected as best as possible. Right now if you're coming from the east side to downtown, you have to get in your car and drive. We want to fix that."
The Shared-Use Side Path trail would have a five-foot planted buffer between the side path and street.
McBrayer said the historic train depot on East Broad Street could be a place for cyclers to park and walk into downtown.  Murray Street and C.J. Smith Park on Glenn Street may be part of the trail.  McBrayer also said he would like to see Murray Street become an affordable housing district.
The pond near C.J. Smith Park and Murray Street would also be part of the trail.
Economic impact of trails
As far as business opportunities and the economic impact of the trails, McBrayer said the possibilities are endless.
"Trails add sales tax revenue without new infrastructure," he said. "They keep people coming from all over the place. Trails also increase tourism from adjacent jurisdictions
and are a catalyst for new business and development."


It is McBrayer's opinion that within the next 10 years, employers will be flocking to areas that include trails and the quality of life they provide.
"Trails help retain a younger population and attracts retirees," he said. "Trails also encourage the revitalization of adjacent properties and increase nearby property values, thereby increasing tax digest, which we didn't expect."
McBrayer said all properties within a quarter of a mile of the Silver Comet Trail in Atlanta saw increased property values.
The Atlanta Beltway and Carrollton's GreenBelt are two similar projects in adjoining counties, and there also are similar projects underway in LaGrange and in the south Georgia city of Albany. The Coweta Area Trail System (CAT) is being spearheaded by a citizens' committee, and the Newnan City Council voted a few weeks ago to enter into a $49,200 contract with two firms that have planned and designed linear park projects in Georgia cities.
McBrayer said Carrollton has seen more economic activity since the completion of its trail two months ago. The trail was in the works for almost six years before being completed.
Community involvement
Members of Friends of CAT are Parks Avery, Danny Beck, Tamarkus Cook, Hasco Craver, Tony Ferguson, Michael Fouts, Deborah Kalish, Sandra Parker, Cleatus Phillips, Ginger Queener, Clint Richmond, Jim Thomasson, Sandy Wisenbaker and Jean Wyant. Phillips is Newnan's city manager, and Craver is assistant city manager. Fouts is the county administrator.
Cook said he is excited about the numerous possibilities that come along with trail.
"This will bring families together and make everyone even more health-conscious," Cook said. "It's a very good thing for our growing community."
Brady praised the Coweta Area Trail System for taking the initiative to make the trail a reality.
"A path system in and around Newnan would add to the quality of life in our community," Brady said. "It could be one of those things that attract people that want to come here, not just to live, but also to start a business."
McBrayer said the city/county shouldn't look any further than the county line for money.
"Don't start thinking of grant writers and lobbying for money at the state capitol," he said.
"It's important to build trails, and it's important enough for the city and county to allocate funding for it. Businesses need to participate in the development of it."
The steering committee will have its last meeting in May and hope the city/county will adopt the trail plan in June.
A public meeting about the Newnan/Coweta Trails Master Plan will be held on Tuesday, March 14 from 6-7:30 p.m. at the Newnan Centre at 1515 Lower Fayetteville Road. All residents of Newnan and Coweta are encouraged to attend to give their input.