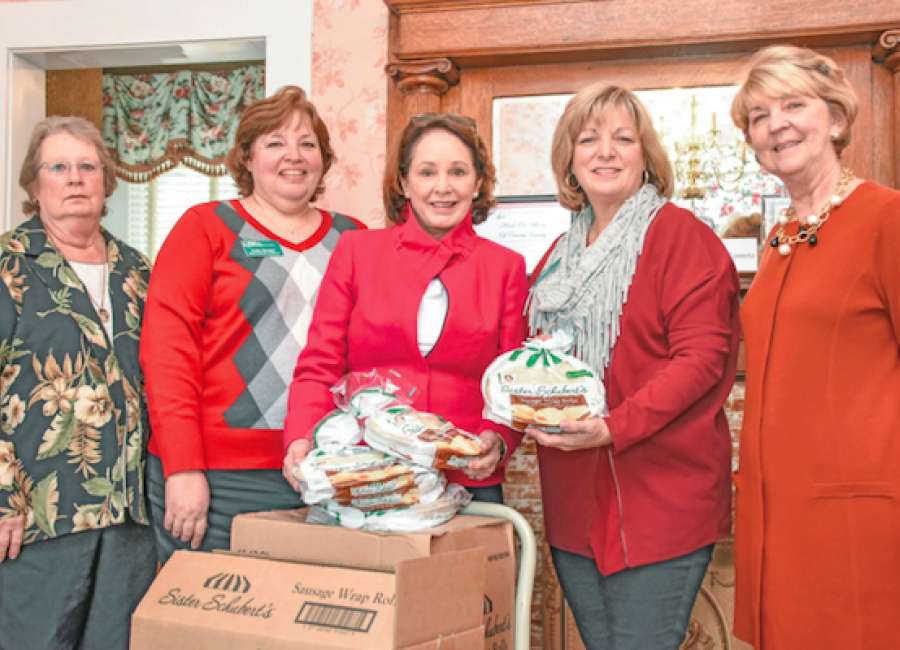 Patricia "Sister" Schubert Barnes' trip to Newnan brought her back to a familiar place.
"I'm so happy, being with my family and friends here in Newnan," she said during her talk at the Carnegie Library on Feb. 5. The late Mary Parks of Newnan was Barnes' father's sister, and several local relatives and friends from years past were in the audience.
Prior to her talk, Barnes visited Meals on Wheels of Coweta where she made a donation of her bread for distribution. She said she was impressed with the number of meals provided by the local program and with the program's growth.
Barnes said that because of the name "Sister Schubert," people have sometimes mistakenly thought she was a nun.
In fact, Sister is a childhood nickname that stuck. Many longtime friends have never heard anyone call her "Patricia."
"My older sister, Charlotte, could not say Patricia. I've been Sister all my life. I guess I was supposed to be Sister," Barnes reflected.
Barnes shared the story of how she and her husband, George, came to adopt an orphaned boy from Ukraine. Sister Barnes heard a missionary speak about children in orphanages in Ukraine and made a trip there.
"To go to a country where it was 16 below zero was way out of my comfort zone. I had no idea that I was about to get the opportunity of a lifetime," she said.
She met a child brought to the orphanage with serious health issues. The boy's mother had been murdered, and there was no known father. The tiny blond boy had club feet. With no surgery likely in his future, the boy would probably be turned out of the orphanage at adulthood to spend his life as a beggar.
The boy stayed on her mind after she went home. "I had felt that little boy's arms around my neck," she said.
Two years later, the Barnes family welcomed 4-year-old Alexander David Barnes. They were told he would never be able to run, but he is now 14 years old and is an outstanding soccer player.
"Don't tell me God is not good everyday in every way," Sister Barnes said.
Before she went into business, her bread was often referred to as "Sister's rolls" by friends in Troy, Ala. When she learned she could not copyright the name "Sister's Rolls," she chose the Sister Schubert name.
Musing about how her family recipe became a national brand, Barnes said, "It does still amaze me when I go into grocery stores all over the country."
•••
Sister's Cinnamon Bread Pudding
—from Cast Your Bread Upon the Water (Idea Boutique, 2009)
1 pan of Sister Schubert's® Cinnamon Rolls
8 egg yolks
2 eggs
1 quart heavy cream
1 cup sugar
Pinch of salt
2 tablespoons butter, cuts into small cubes
1 cup pecans, coarsely chopped
½ cup golden raisins
2 teaspoon bourbon or 1 teaspoon vanilla extract
Butter a 9 x 13-inch casserole dish. Remove rolls from package, and cut into 1-inch cubes. Using a large mixing bowl, whisk eggs with egg yolks until light and fluffy. Add cream, sugar and salt, whisking to combine thoroughly. Flavor custard with bourbon or vanilla extract, stirring until well distributed. Place rolls into prepared casserole and pour custard over. Make certain that all of the bread is wet with custard. Dot casserole with butter and sprinkle with pecans and raisins. Cover tightly and refrigerate for 8 hours or overnight.
Preheat oven to 350 F. Bake on center rack until pudding is golden and center is set, approximately 55 to 60 minutes. Allow pudding to stand for 10 minutes before serving.
Yield: 8 to 10 servings