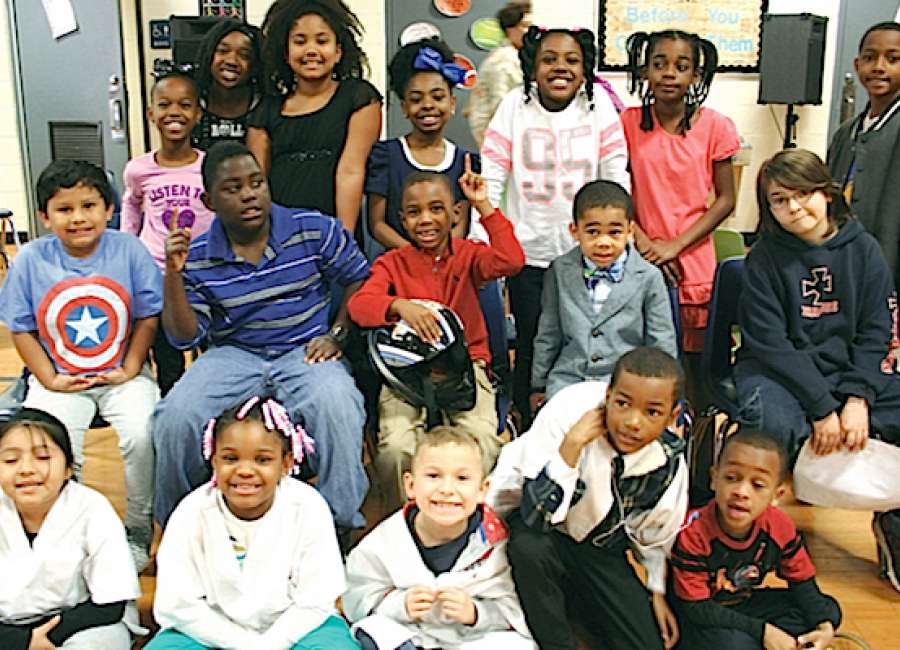 From the time Principal Aaron Corley welcomed students, staff and guests until student Jordan Crumbley led the assembly in singing R. Kelly's "The World's Greatest," Ruth Hill Elementary School celebrated the traditions and contributions of black Americans.

Through music, poetry and skits, the mostly student-led Black History Program – an annual celebration which was held this year on Feb. 10 – highlighted important historical figures and the unfolding of key events that have shaped the black experience in the United States.
Pre-K students led the Pledge of Allegiance and recited a short poem before the Smokey Road Middle School Chorus, many of them former Ruth Hill students, performed the national anthem. Director Denise Meacham led the singers in "Yonder Come Day," a traditional Georgia Sea Islands spiritual, and the classic Stevie Wonder soul tune, "Sir Duke."
Smokey Road Jazz Band Director Oscar Prado's ensemble played "Fat Burger" and Aretha Franklin's "R-E-S-P-E-C-T," followed by Ruth Hill's own chorus members, directed by Tiffany White, performing "Lift Every Voice and Sing."
Special musical guests was Toni Byrd with accompanist Neal Wauchope. Byrd, an award-winning singer and songwriter, performed "A Tisket, A Tasket" in the jazz style of Ella Fitzgerald.
Reciting the Frank L. Stanton poem "Keep A-Goin" were members of the Ruth Hill MAD TEAM (Making a Difference Through Education and Mentoring), which is sponsored by Assistant Principal Dwight McDaniel and staff member Earnest Chase. Members of the team, decked out in dress shirts and ties for the event, took turns speaking lines from the poem.
Students from kindergarten through fifth-grade classes read reports and acted out scenes from the lives of important figures in African-American history, including Wendell Scott, Dr. Charles Drew, Ray Charles, Loretta Lynch, "Hidden Figures" women and Wilma Rudolph.
Guest speaker Cynthia Jenkins, who is the city of Newnan's mayor pro tem, was introduced by student Antwan Herring. Jenkins, a finalist for 2017 Coweta County Citizen of the Year, urged the students to do good for others and to continue shaping history.