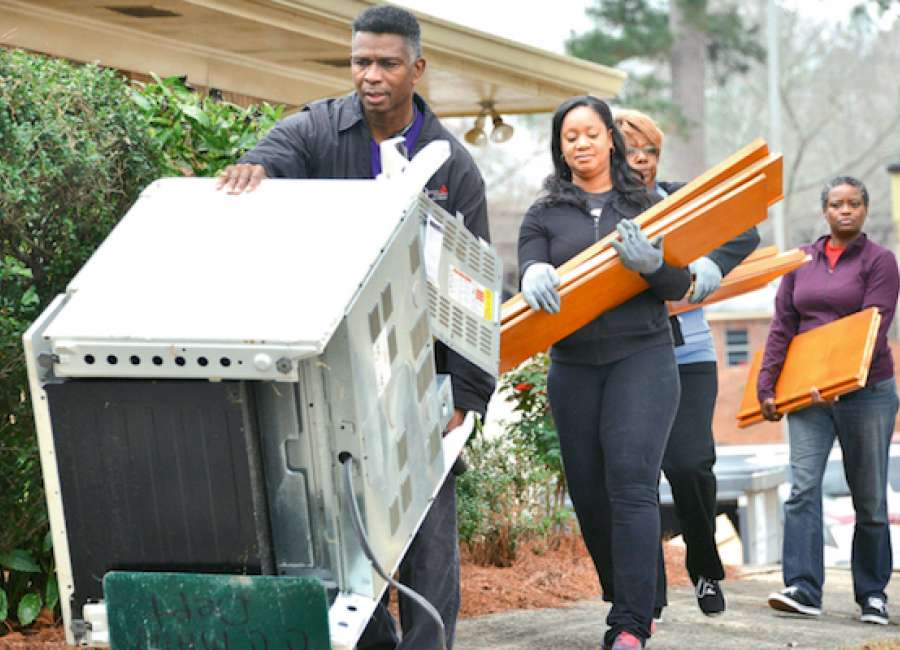 The legacy of Dr. Martin Luther King Jr. shows itself each year as volunteers help out community organizations and ministries in honor of his birthday.

Georgia Power is one of the companies that encourages employees to volunteer their time on MLK Day. "For many Georgia Power employees, the federal holiday to honor the work of Dr. Martin Luther King Jr. is 'A Day On, Not a Day Off,'" said Rhonda Silvis, director of marketing and communications at Christian City.
Volunteers from Georgia Power spent time at One Roof Ecumenical Outreach in Newnan and at Christian City, a ministry that serves children and senior citizens in Union City. One Roof provides a range of services to the needy, including the homeless, in Coweta County.
The Coweta Community Food Pantry, which provides canned goods and other staples to families in need, is also housed in the One Roof headquarters on Temple Avenue.
A total of 28 employees from Georgia Power's Metro South Region arrived at Christian City early on the morning of Jan. 16 to help with a variety of projects at the 500-acre campus.
According to volunteer team leader and Atlanta native, David Herring, the program is facilitated through the Citizens of Georgia Power group, which encourages employees to sign up to volunteer in the community throughout the year. "We have 10 different projects going on throughout the Metro South Region today," Herring said.
Len Romano, Christian City's president and CEO, welcomed the volunteers and expressed his gratitude for their choice to celebrate the legacy of King by serving at Christian City.
"Dr. King made a difference not just in the United States, but around the world," Romano said. "Through your volunteer service at Christian City, you are helping us provide life-changing hope for the victims of child abuse and the hundreds of senior adults who live on our campus."
According to Connie Hall, Christian City's volunteer coordinator, this is the 12th year a group from Georgia Power has volunteered on the Christian City campus. "You are our life savers," she said in welcoming the employees.
"The volunteers divided into three groups to assist with playground landscaping at the Children's Village, finishing a shed in the community garden, and taking inventory at a storage facility on the Christian City campus," Silvis said. "Several employees brought their children along for hands-on learning about the importance of serving in the community."
Building a tool shed was among the tasks on the volunteers' agenda for the day.
The MLK Day of Service is "the company's largest single day of service rallying employees throughout the company around Georgia Power's century-old mission to 'be a citizen wherever we serve,'" said Georgia Power spokeswoman Ashley West.
Since 2005, more than 11,000 Georgia Power employees have volunteered for approximately 525 individual MLK Day of Service projects, totaling more than 46,000 service hours. The volunteer efforts "equate to nearly $1 million in estimated hourly service value," West said.