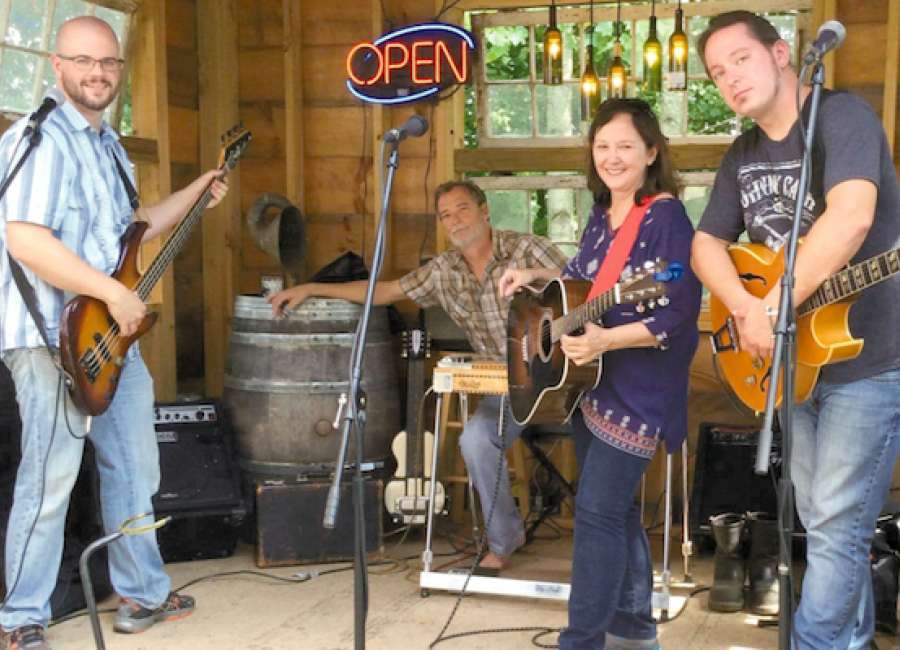 It is music that drives Kris Youmans, despite a full-time job, family, and innumerable other daily tasks and responsibilities. Music, and the community that surrounds it.
The traditional country music artist has been singing and songwriting since the age of 18, when she and other fellow musicians began making their way onto the stages of local pubs and clubs along the popular River Street in downtown Savannah.
"Music has a way of bringing people together," Youmans explained.
It is that sentiment that brought the singer back to the art nearly 15 years ago, after leaving Savannah for small-town Newnan and taking on the role of wife and mother. These days, Youmans focuses her skill on bringing awareness.
"I enjoy using music to support local organizations," Youmans said. "Everyone is so happy to help. I love how people in the community network and work together."
The singer and her band, The Kris Youmans Band, put on three shows a year locally at a minimum, and play to benefit a number of Coweta charities. Youmans also organizes concerts in support of lesser-known musicians in the area. In addition, the band managed to win Georgia Country Artist of the Year, Traditional, in 2016.
"I stay pretty busy," Youmans said. "And, I love it all."
It began with Meals on Wheels of Coweta, a local chapter of the larger Meals on Wheels Association of America. The organization provides home-delivered meals, handyman services, pet care assistance and general companionship to area elderly and homebound. Youmans said she enjoys bringing awareness to the charities that don't receive much focus, and Meals on Wheels in Coweta was one of the first brought to her attention.
In response, Youmans created a local version of Blues Plate Special, a concert which brings together a variety of area talent, all willing and able to play a specific genre of music: the blues. Several bands contribute to the show each year and the fundraiser has become a popular one amongst locals and visitors alike. The concert has been held annually at The Alamo, located in downtown Newnan.
"I try to go with what works," Youmans said. "The Alamo is well-known and liked, and all of the staff and the managers love being a part of community outreach."
Youmans explained that similar fundraisers in other cities charge guests up to $50. "Maybe they raise more money, but we have more fun and draw more awareness to local organizations," she said.
Though organizing such a large gathering requires considerable work, Youmans and other participating musicians receive no monetary compensation. "I get to watch how the music pulls everyone together," she said. "And, it's fun."
The process, according to Youmans, is probably more thought than action, and she begins thinking about the next event almost as soon as the current show is over.
It starts with choosing the organization. "Then, I pick a date and start contacting local sponsors," Youmans said. "I found out early that you don't really need any big sponsors. All of the small venues on the square in Newnan and so many local restaurants are always available and happy to help."
For the 2017 Blues Plate Special, Youmans has chosen two beneficiaries, Bridging the Gap and Coweta CASA.
Bridging The Gap Community Outreach is a nonprofit established in 2009 that helps in a variety of ways to assist families in need in Coweta County. The organization offers a community food bank in addition to providing toiletries and household items, both through a warehouse in Newnan and by distributing goods and meals. The charity contributes a good deal of items to the community during the holidays and is now in need of assistance restocking.
"I met Kelli Mix at Full Circle Toys," Youmans said. Mix and husband, Richard run the collector's toy store in downtown Newnan. "She is a board member for CASA and explained to me that she and several volunteers organized a fundraiser which did not get much attention."
Youmans said the more she spoke with Mix about CASA, the more she knew she wanted to become involved by bringing support. Coweta Court Appointed Special Advocates is a national network of nearly 1,000 community-based programs that recruit, train and support citizen-volunteers to advocate for abused and neglected children in court. CASA volunteers help ensure that community children find safe, permanent homes rather than possibly being forgotten in foster care services.
Blues Plate Special will be held at the Alamo, located at 19 W. Court Square in Newnan March 4, beginning at 6 p.m. The show will include performances by The Kris Youmans Band, Eric Culberson Band, Doug Kees, David Pippin, SweetBay, Southbound, Sweet Grass Sally, and Leonard Washington Trio.
Headlining the event is Eric Culberson, Youmans' younger brother, and the lead of one of the top blues bands in the southeast.
"With local musician Doug Kees and Eric being the headliners of the evening, the show will be fabulous," Youmans said. "I'm excited about this show, everything has truly come together for the evening and I know it will be wonderful."
For more information on Blues Plate Special, visit the event Facebook page at www.facebook.com/events/113288732491047/.