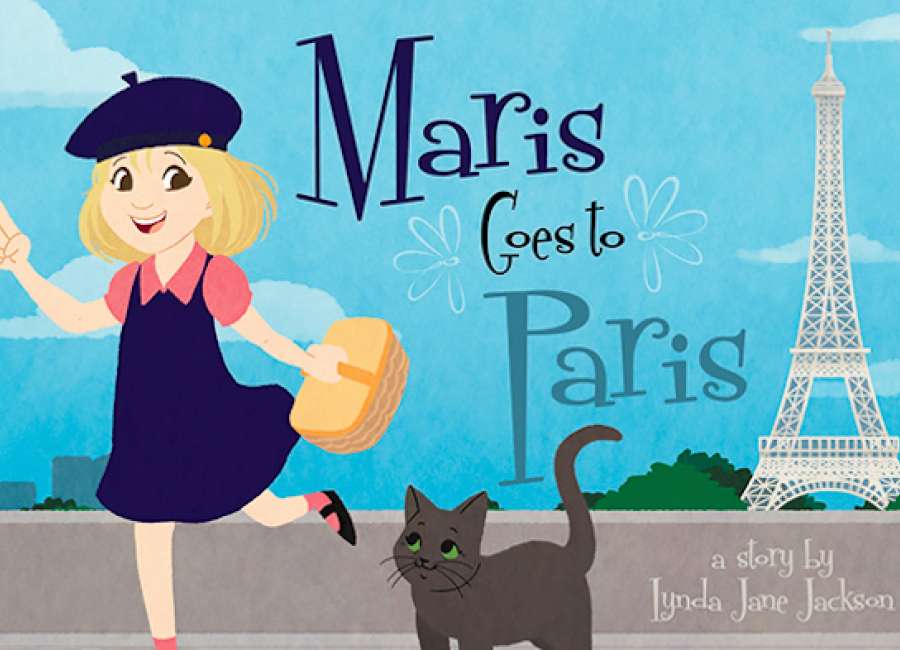 Newnan resident Lynda Jackson never aspired to become a writer. In fact, when she initially stumbled upon the idea to create a book for her first grandchild, she considered the project to be merely a novelty gift meant only for her son's first child. 

Like most grandmothers, Jackson shared the news of her family's newest addition with everyone. She sent emails, posted photos on social media and sent announcements. And, in a world of unique and uncommon names for children, it wasn't surprising that many of her friends weren't quite sure of how her granddaughter's name, Maris, was meant to be spoken aloud.
"I always answered the same way. I would say, 'It's Maris, like Paris,' Jackson said. "Then one day I thought, 'I should write a book about a little girl named Maris who visits Paris.'" 
The idea for a children's book was born. 
Writing and publishing a children's book, however, is not as easy as it may seem. Jackson noted that, initially, she imagined the book would be very simple. 
"I thought I would probably write something very much like 'See Jane run,'" Jackson said. "I figured it would be something cute, just for Maris."
Jackson's idea evolved beyond the intentionally simple "Dick and Jane" reading collection of the 1930s. Over the course of two years, the straightforward, elementary concept became a fully developed story about a young girl who travels to the French city of Paris to visit her grandmother, GiGi. 
"I was working full time and I was in no hurry to finish the project," Jackson said. After all, her granddaughter, at the time, was a toddler, and was a few years away from learning to read. 
Once completed though, Jackson knew it was something she wanted to have edited, bound and published, if only for Maris. She began to research publishers. Jackson said she knew she would have to find someone to illustrate the book in addition to publishing it, and she hoped that the images of the main character could resemble her granddaughter. 
"I searched for a publisher online, and I chose one that offered a reasonable price for illustrating," Jackson said. 
A friend of Jackson's took some photos of Maris and her GiGi to send to the publisher and to promote the future book. Jackson said her favorite photo was one in which Maris spontaneously wrapped her arms around her grandmother. The photographer caught the moment and the photo was used to inspire the computer-generated depictions of both Maris and GiGi in the children's book. 
"The process really wasn't difficult. I sent in the manuscript and, because I had been revising the book for more than two years, there was very little editing needed," Jackson explained. "The best part was choosing the pictures." 
The publishing company sent Jackson mock-up illustrations of Maris and GiGi, and though Jackson had originally envisioned the images to be photo-realistic, she fell for a cartoon-like depiction of her granddaughter. 
Jackson said she ended up selling a few copies of the books at local shops and the volume can be found at local libraries and in the media center of the school Maris attends in LaGrange. 
Maris, who will turn nine in May, is thrilled to be a character in a book. According to Jackson, her granddaughter cherishes the book and said it makes her feel special.
"I love being a cartoon character," Maris said. "I want to be a cartoon on tv, too."
Maris said for the next book, she hopes her dog, a boxer named Moose, will be included. According to the outgoing, blonde-haired little girl, Moose is her best buddy. 
Jackson has considered a sequel to "Maris Goes to Paris." Moreso now that Maris has a new baby brother, Jace. 
"I have started putting together ideas for "Jace Goes to Space," and it would feature Maris' youngest brother Jace visiting planets in the solar system," Jackson said. 
As for Maris, Jackson said her granddaughter continues to have many inspiring adventures in her daily life, and any one of them would make for a great children's book. 
"Maris is an old soul," Jackson said. "She is so outgoing and friendly. She loves to sing and loves Lynyrd Skynyrd. She's also learning to play the violin."
Jackson added that she has even considered working on commission, noting that a book created specifically for a child is a beautiful gift that he or she could carry with them for a lifetime. 

For more information about "Maris Goes to Paris," visit the official Facebook page managed by Jackson at www.facebook.com/Maris-Goes-to... .