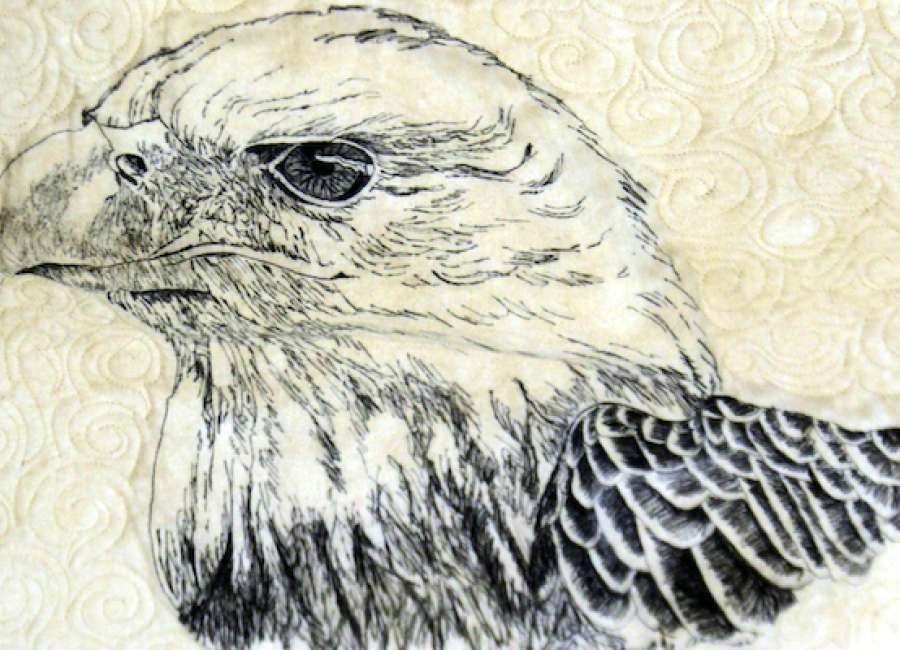 Many Coweta County residents are aware of the abundance of sewing clubs that gather in the area, creating small communities of local men and women who enjoy the popular hobby together. 

Sharron Abrams began the search for local sewing and creative organizations just over two years ago and has since become a part of several groups including the Coweta County Quilts of Valor, a quilter's circle established in 2014. The nonprofit organization works together to create quilts for local veterans "touched by war." 
The interesting thing about Abrams, however, is that she is only now learning to quilt. 
"We do have one member of our quilting group that has a very special talent," said Quilts of Valor program coordinator Cathy Wilson. "Sharron Abrams does hand-drawn panels for us. She does it with pen and ink, directly onto the fabric."
Other quilters then include the embellished fabric panel into the design of a piece, generally created with a specific veteran in mind.
"I lost my husband to Agent Orange in 2014," Abrams explained. At the time, Abrams and her husband resided in Phoenix, Ariz.  "I lost him in October, then our anniversary was in November and I just couldn't stay there."  
Abrams made the decision to move to Georgia in order to be with her sister whose husband suffered with a terminal cancer. 
"I stayed in Newnan for five weeks to help her get his affairs in order and to assist in her transition to begin working from home," Abrams explained. "I just fell in love with Newnan and decided to stay here permanently."
Abrams has always enjoyed drawing, but she found that the military-inspired images she could place directly onto fabric were the perfect way to honor her husband. 
"I decided this was a great way to give back," Abrams said. "For my husband and for everything he did, and for all of those that have served."
Abrams herself is a veteran. 
"I am a disabled vet and I'm home most days," she said. "I try to always use that time to do something special. Something for each individual who has served."
Wilson said she doesn't know of anyone else in the county who draws directly onto quilts like Abrams. 
"She does wonderful work," Wilson said. "She is very talented."
Over time, Abrams has become more and more interested in learning to quilt. She began working with another Quilts of Valor member to learn the art a little over a year ago. These days, Abrams is creating her own unique blankets for local veterans and as personal works of art that she enters into contests. 
Coweta County Quilts of Valor meets on the fourth Saturday of each month to gather together and create works which are later presented to local soldiers. To date, the group has produced and awarded just under 250 quilts since the organization was established in 2014. 
The group can be found online at www.facebook.com/CowetaQuiltso... .