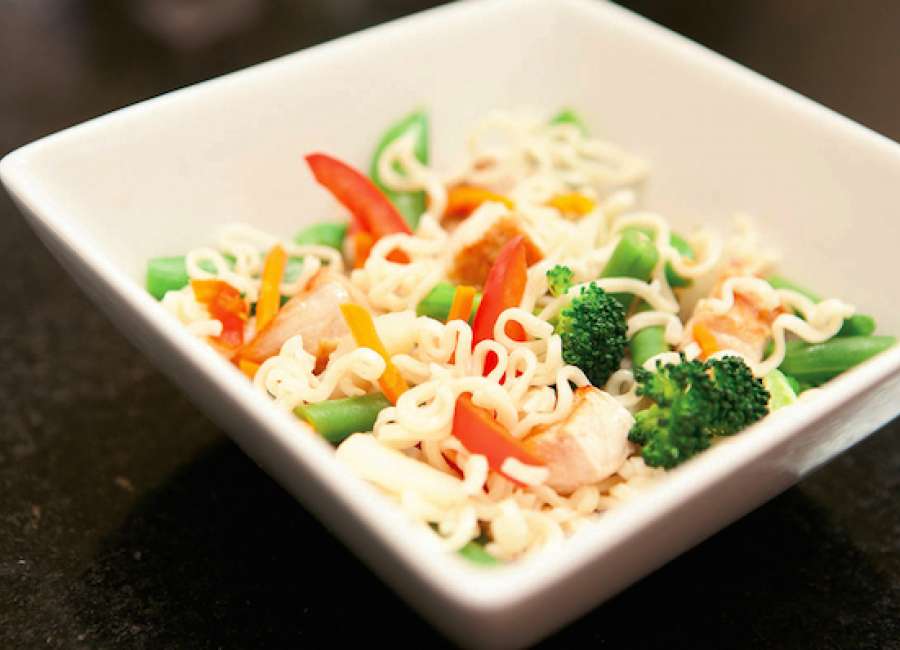 Along with celebrating Valentine's Day and Mardi Gras, February is also commonly known as American Heart Month, a time to raise awareness about heart disease and other (health) matters of the heart. 
According to the Centers for Disease Control and Prevention, heart disease is the leading cause of death for both men and women. Cardiovascular disease includes both strokes and heart attacks. 
The good news is preventing heart disease doesn't have to be difficult. According to the American Heart Association, it simply means making smart health choices, particularly those involving diet and exercise. 
Food choices can directly affect the risk of heart disease and stroke. The AHA recommends foods low in saturated fat, trans fat, and sodium. The association also suggests eating plenty of fruits and vegetables along with fiber-rich whole grains, fish, nuts, legumes and seeds. Selecting lower fat dairy products and skinless poultry, and limiting sugar-sweetened beverages and red meat can also go a long way for heart health. 
Following these suggested guidelines, here are a few heart-healthy recipes just simple and delicious enough to please both chef and family. 
Asian-Style Noodles with Pork and Vegetables
By: American Heart Association, www.recipes.heart.org .

Ingredients
2 Tbsp fresh, grated ginger root or 2 tsp jarred, minced ginger root
¾ lb pork tenderloin or pork chops (can substitute chicken or shrimp)
¼ tsp red pepper flakes (if you really like spicy, add ½ tsp instead)
Nonstick cooking spray
2 tsp vegetable or canola oil
2 cups thinly sliced green cabbage
1 16-oz. Packaged, frozen stir fry vegetables, Asian-style
2 14.5-oz fat-free, low-sodium, canned chicken broth
¼ cup light teriyaki sauce or ¼ cup low-sodium soy sauce
1 3-oz pack ramen noodles, seasoning pack discarded
Directions
Cook frozen vegetables in microwave according to package instructions minus 2 minutes (i.e., if package says 7 minutes cook 5). Drain off excess water.
Rinse pork and pat dry. Heat deep skillet or wok over medium heat. Pour in oil and swirl to coat. Add pork and ginger to skillet and cook 5 minutes, stirring occasionally. Transfer pork to a plate and set aside.
Spray skillet with cooking spray. Add cabbage and vegetables, cook for 5 minutes stirring constantly.
Stir in broth and red pepper and bring to a boil.
Break noodles into 4-6 chunks. Reduce heat to a simmer and add noodles and teriyaki sauce. Cover and simmer 5-7 minutes until noodles are done. Return pork to skillet and let stand 3 minutes.
Chickpea and Red Pepper Soup with Quinoa
By Art Smith, www.delish.com
Ingredients
½ cup quinoa
2 Tbsp olive oil
1 medium onion
1 carrot
2 stalks celery
3 cloves garlic
1 Tbsp smoked paprika
Kosher salt to taste
Pepper to taste
1 yellow pepper
1 red pepper
2 can low-sodium chickpeas
2 can low-sodium vegetable broth
2 Tbsp red wine vinegar
Chopped fresh parsley
Directions
Cook the quinoa according to package directions.
Meanwhile, heat the oil in a Dutch oven or large heavy-bottomed pot. Add the onion, carrot, and celery and cook, covered, stirring occasionally, for 6 minutes. 
Add the garlic, paprika, and 1/4 teaspoon each salt and pepper and cook, stirring, for 1 minute. Add the peppers and cook, stirring occasionally, for 5 minutes. 
Add the chickpeas, broth, and 1 cup water and bring to a boil. Reduce heat and simmer until the vegetables are tender, 5 to 8 minutes. Stir in the vinegar and cooked quinoa. Serve topped with parsley, if desired.
Mini Mushroom-&-Sausage Quiches 
EatingWell Magazine, April/May 2005, www.eatingwell.com
Ingredients
8 ounces turkey breakfast sausage, removed from casing and crumbled into small pieces
1 teaspoon extra-virgin olive oil
8 ounces mushrooms, sliced
¼ cup sliced scallions
¼ cup shredded Swiss cheese
1 teaspoon freshly ground pepper
5 eggs
3 egg whites
1 cup 1% milk
Directions
Position rack in center of oven; preheat to 325°F. Coat a nonstick muffin tin generously with cooking spray
Heat a large nonstick skillet over medium-high heat. Add sausage and cook until golden brown, 6 to 8 minutes. Transfer to a bowl to cool. Add oil to the pan. Add mushrooms and cook, stirring often, until golden brown, 5 to 7 minutes. Transfer mushrooms to the bowl with the sausage. Let cool for 5 minutes. Stir in scallions, cheese and pepper.
Whisk eggs, egg whites and milk in a medium bowl. Divide the egg mixture evenly among the prepared muffin cups. Sprinkle a heaping tablespoon of the sausage mixture into each cup.
Bake until the tops are just beginning to brown, 25 minutes. Let cool on a wire rack for 5 minutes. Place a rack on top of the pan, flip it over and turn the quiches out onto the rack. Turn upright and let cool completely.
Make Ahead Tip: Individually wrap in plastic and refrigerate for up to 3 days or freeze for up to 1 month. To reheat, remove plastic, wrap in a paper towel and microwave on High for 30 to 60 seconds.
Dark Chocolate Mint Bites
Ingredients
Nonstick cooking spray
1 cup quick-cooking rolled oats
¾ cup dark or semisweet chocolate pieces
¼ cup unsalted butter
1 cup finely crushed chocolate wafers (about 19 wafers)
1 tablespoon unsweetened cocoa powder
¼ teaspoon salt
1 teaspoon shortening
1 cup powdered sugar
2 tablespoons reduced-fat cream cheese (Neufchatel), softened
1 tablespoon low-fat milk
½ teaspoon peppermint extract
½ teaspoon vanilla
1 drop green food coloring (optional)
Directions
Line an 8x8x2-inch baking pan with foil, extending foil over the edges of the pan. Coat foil with cooking spray. Set aside.
For crust, in a food processor pulse oats until fine. In a medium saucepan combine 1/4 cup of the chocolate pieces and the butter; heat and stir until melted. Stir in the processed oats, finely crushed chocolate wafers, cocoa powder, and salt. Press crust mixture into bottom of the prepared pan. Chill for 15 minutes.
In the same saucepan combine the remaining 1/2 cup chocolate pieces and the shortening. Heat and stir over low heat until melted and smooth. Set aside.
In a medium bowl combine powdered sugar, cream cheese, milk, peppermint extract, vanilla, and, if desired, food coloring; stir until smooth. Spread over crust. Drizzle with the melted chocolate mixture.
Chill about 1 hour or until set. Using the edges of the foil, lift the uncut bars out of the pan. Cut into 24 bars.