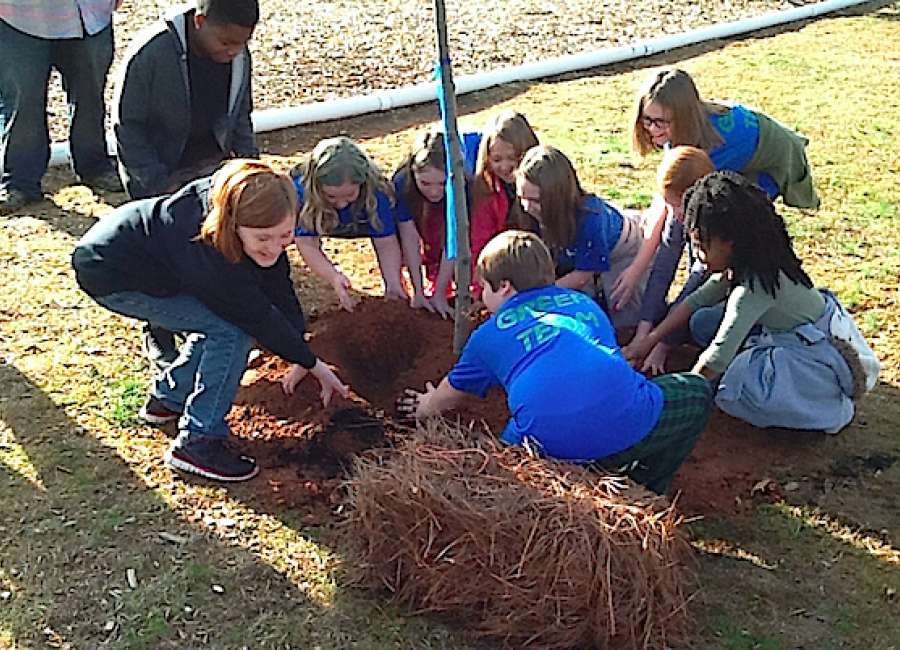 Third-graders at Eastside Elementary School are taking advantage of a unique opportunity to study the concept of reversing the impact of human activity on the environment through the Hand-Printing Project.

Students were challenged to change the effects of their carbon footprints by developing proposals that benefit ecosystems and their community. Teachers April Deleshaw and Tamara Eason sought out a partnership with Yamaha of Newnan to make the project possible, giving their students access to educational, environmental, and real-life learning opportunities through the project.
"The Hand-Printing Project has been a phenomenal opportunity not only for our students but for me as well," Deleshaw said. "We were able to study ecology in a way that we cannot do in the classroom."
Eastside Elementary is currently the first elementary school in the state of Georgia to participate in the Hand-Printing Project. With outside partnerships with Yamaha of Newnan, which provided grant money and support, along with Harvard University, Clean Air Campaign, Home Depot, and the Coweta STEM Institute, the project and experiences for the 80 third-graders at Eastside – who call themselves the "Green Team" – have become possible.
The students took a field trip to West Point Lake and the Chattahoochee RiverKeeper to learn about ecosystems, food chains and pollution. Students created STEM proposals about environmental issues in class and put them up for a vote on what would become the focus of their project.
"They researched a variety of environmental issues and their impact," said Jim Fowler, assistant principal at Eastside. "They have been able to get an in-depth look at ecosystems through the field trip to the 'Floating Classroom' provided by West Point and the Chattahoochee RiverKeepers."
After selecting classmate Zeke Bowen's air quality proposal as the focus for the project at Eastside, students put their problem-solving skills to use and came up with ways they could improve the air quality at their own school.
"They learned how increasing tree cover not only improves air quality, but also helps in providing shade for our playground and creates habitat for wildlife," Fowler said.
Through the grant and additional donations of labor, material, and time from Pristine Lawn Care and Services of Senoia, Yamaha and Home Depot, the third-graders put their proposal into practice by planting trees and landscaping the playground at Eastside.
Students will monitor air quality and record data to gauge the impact of the trees they planted.
"It has been exciting to learn about how planting trees helps out the air quality," said Will Pitts, one of the participating students.
"To see students energized and excited about science is thrilling," Deleshaw said. "For our students to feel a sense of accomplishment in helping our school and our community creates a lasting impact that will make them more aware of conservation and preservation. We have an amazing group of students."