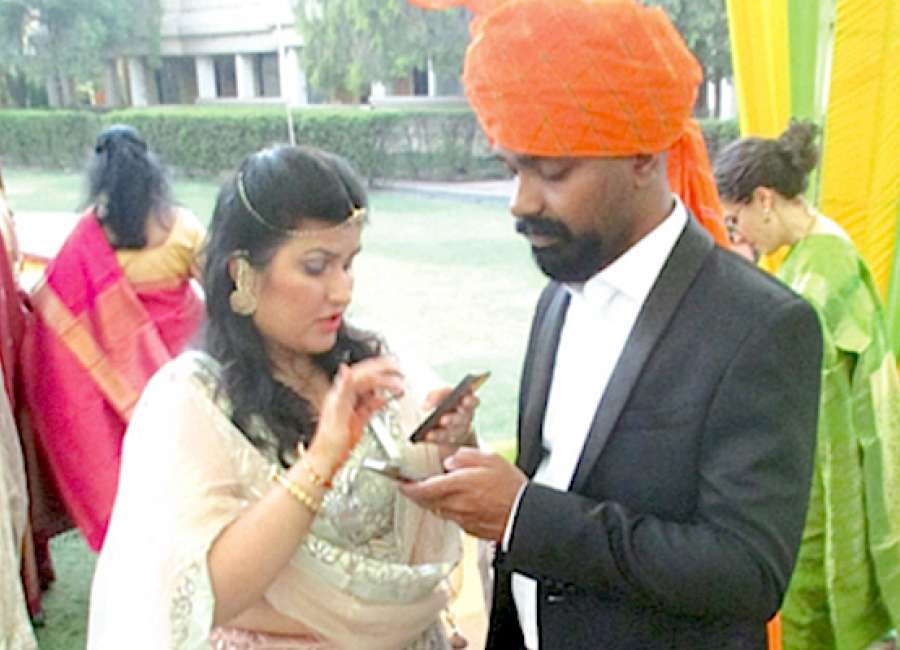 In Coweta County, some folks have postage stamps showing a small bowl with a flame.
Those stamps celebrate Diwali, a Hindu festival, and the stamp is the first U.S. Postal Service issue honoring a Hindu holy day. Indian Americans have been advocating for the stamp for 15 years, and it follows stamps that celebrate Christmas, Hanukkah, Eid al-Fitr and Kwanzaa.
The Diwali stamp was released at a first-day ceremony hosted by the Indian Consulate on Oct. 5 in New York City. Rep. Carolyn Maloney (D-NY), a leading figure advocating for the stamp, held a celebratory event marking the occasion.
In December, Divya Chadha received some of the Diwali stamps from relatives in Coweta County. Chadha, who now lives in Bangalore, India, is originally from Delhi, the national capital. She was excited to hear about the U.S. stamp and to have a few to hold in her hand.
Diwali, the Hindu Festival of Lights and a major Hindu festival, has particular resonance for Chadha and her family. "Both my brother and I left home for further studies and professional careers in our early 20s, and it's been over eight years that we have been away from home," she said.
"Diwali has always been that one time of the year when – no matter where we are, which city/country we reside in, no matter how busy lives are – we go back home and celebrate the festival with our parents," she said.
Now that she and her brother have both married, Diwali holds more promise for a time of family, faith and celebration. "The tradition continues, and it's the most beautiful feeling of the year that we all look forward to," she said.
Diwali can be an antidote to the business of modern life. The holiday makes people focus "on those little joys of celebration, togetherness, and family," Chadha said. "As the saying goes, 'What is this life if, full of care, we have no time to stand and stare?'"
The stamp design is a photograph featuring a traditional diya oil lamp lit and sitting on a sparkling gold background. Diya lamps are usually made from clay with cotton wicks dipped in a clarified butter known as "ghee" or in vegetable oils.
Also known as Deepavali, Diwali celebrates the triumph of good over evil. Spanning five days each autumn, it is considered by some to be the start of the new year.
On the Hindu calendar, Diwali falls on the eve of, or on, the new moon that occurs between mid-October and mid-November. In 2016, the main day of the festival was celebrated Oct. 29 for South Indians and Oct. 30 for North Indians.
Diwali is a shortened version of the Sanskrit word Deepavali, which roughly translates as "a necklace of lights." During Diwali, the flickering oil-wick diyas sprinkle the homes of observers around the world.
Before the festival, many Hindus traditionally go shopping, clean their homes, open their doors and windows, create intricate rangoli – a vibrant floor pattern traditionally made from materials such as rice powder, colored sand and flower petals – and light diyas with hopes that Lakshmi, the goddess of wealth and prosperity, will visit.
In some regions of India, people play games, just as Hindu lore says that the god Shiva did. On the festive main day of the holiday, families pray for Lakshmi, dress up in their best clothes, enjoy lavish feasts and sweets, exchange gifts and light fireworks.
Diwali also is celebrated as a major holiday by followers of the Jain and Sikh faiths.
Sally Andersen-Bruce of New Milford, Conn., photographed the diya. Greg Breeding of Charlottesville, Va., designed the stamp and William J. Gicker of Washington, D.C., was the project's art director.
"Nearly a billion people around the world celebrate this Festival of Lights, including two million right here in the U.S., and this stamp represents the hard work and achievements of all Indian Americans," said U.S. Rep. Ami Bera (D-CA) in a statement.
Dr. Shailendra Kumar, an Indian-American physician based in Maryland, played an early role in initiating this cause in 2001. In 2007, Congress officially recognized Diwali's significance, and in 2009, Pres. Barack Obama lit a diya at the White House.
Activists Ravi and Ranju Batra in 2013 succeeded in gathering more than 400,000 online signatures calling for the stamp. Two years later, Senate India Caucus co-chairs Sens. Mark Warner (D-VA) and John Cornyn (R-TX) introduced Senate Resolution 113, calling for the Diwali stamp.
"Elements of all major religions find expression here and it is indeed momentous that finally Diwali too, which is part of Hinduism, Sikhism and Jainism, has been recognized and commemorated by the USPS," said Sanjay Puri, chairman of the U.S. India Political Action Committee.
Chadha said she also sees issuance of the stamp as an affirmation.
"A lot of people in India believe that western culture is very different from the Indian culture and that someone from that part of the world would probably not understand the nuances of Indian culture. However, the Diwali stamp proved that to be a myth," she said.
"The fact that the country took pride in launching an intricately designed stamp of another nation's largest festival displayed a great sense of humanity," she said. "We are all the same irrespective of where we live, who we pray to, what we eat, what language we speak. We are humans built out of emotions, and those remain the same across the globe."