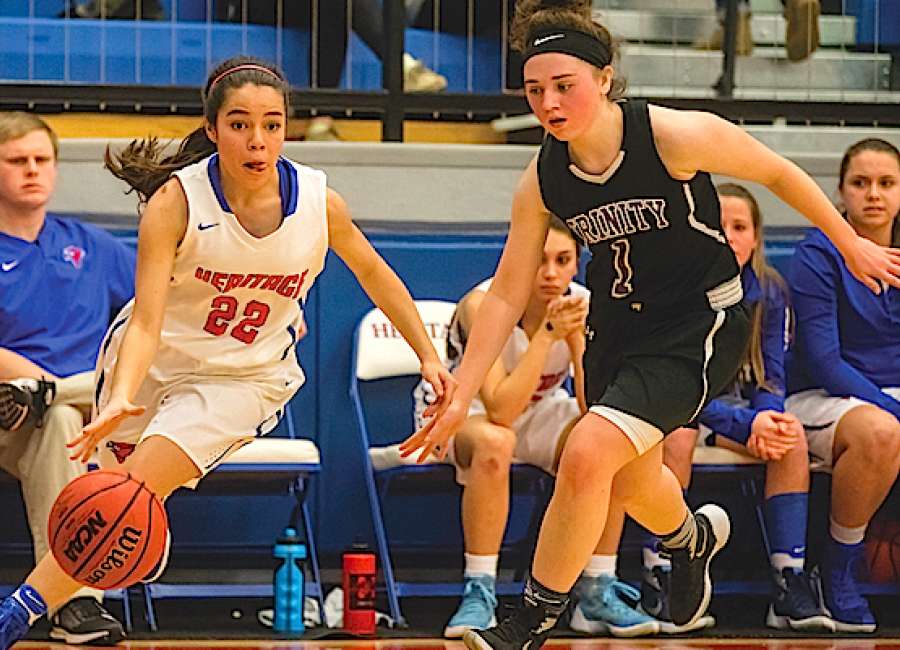 It's going to be an all-Coweta County finals matchup today at the GISA Region 1-AAA Basketball Tournament at Loganville Christian Academy.

The No. 1-seeded Heritage School Lady Hawks steamrolled their way to a 45-21 victory over the No. 4 seed Bethlehem Christian Lady Knights Thursday afternoon. A few hours later, the No. 3 seed Trinity Christian School Lady Lions punched their ticket to the region tourney finals with a 55-41 upset win over the No. 2 seed Holy Spirit Prep Lady Cougars.
It's time for Heritage vs. Trinity — Round Three.
The rivals will square off in their personal rubber match at 7 p.m. today at LCA in the girls tournament finals. The Lady Hawks won the first meeting between the rivals 44-26 on Jan. 12 while the Lady Lions won the rematch 46-28 on Feb. 3.
In Thursday's action, Olivia Ayers scored 15 points and Kara Groover added 14 to lead the Heritage Lady Hawks to the easy win over Bethlehem Christian.
Heritage (17-3) jumped on Bethlehem early, racing to a 25-10 lead at the half. Heritage scored 16 points in the third quarter to pad their lead and coast to the victory.
"Bethlehem was a good, physical team for us to face in the region tournament," said Heritage head coach D.J. Clay. "We have been working since October for the post-season. We need to work hard Friday and finish strong. We want to carry as much momentum into the state tournament as possible. But for now we need to start focusing on playing a very good Trinity team Friday night."
GrooverEmily Cushing (6 points, 7 rebounds, 4 steals) and Carissa Vasquez (4 points, 2 rebounds, 2 steals) were among several Lady Hawks who had good games Thursday.
The Trinity Lady Lions (18-6) were led in their win over Holy Spirit's girls by Catherine Skebo with 16 points, Heather Long with 15 and Abby Bragg with 14. It was a tremendous win for Trinity, which lost twice to the Lady Cougars in the regular season.
Since both Coweta teams advanced to the tournament finals, they will start the first round of the upcoming AAA state playoffs with a home game.
****
Holy Spirit 70, Trinity 50 (boys): The No. 4 seed Trinity Christian Lions looked to pull the upset Thursday, but they couldn't topple the No. 1 seed Holy Spirit Prep Cougars Thursday evening.
The Lions (15-10) started well and only trailed 35-30 at the half, but the Cougars poured it on in the second half to win 70-50 and advance to the boys region tourney finals at 8:30 p.m. today against the winner of Thursday's Heritage-Loganville Christian late game.
"We started out strong, but we ran out of steam towards the end," said Trinity head coach Will De La Cruz.
Pierce Davis scored 17 points, Michael Young added 13 and Tyler Whitfield chipped in 9 for Trinity, which plays the Heritage-LCA loser at 5:30 p.m. today.