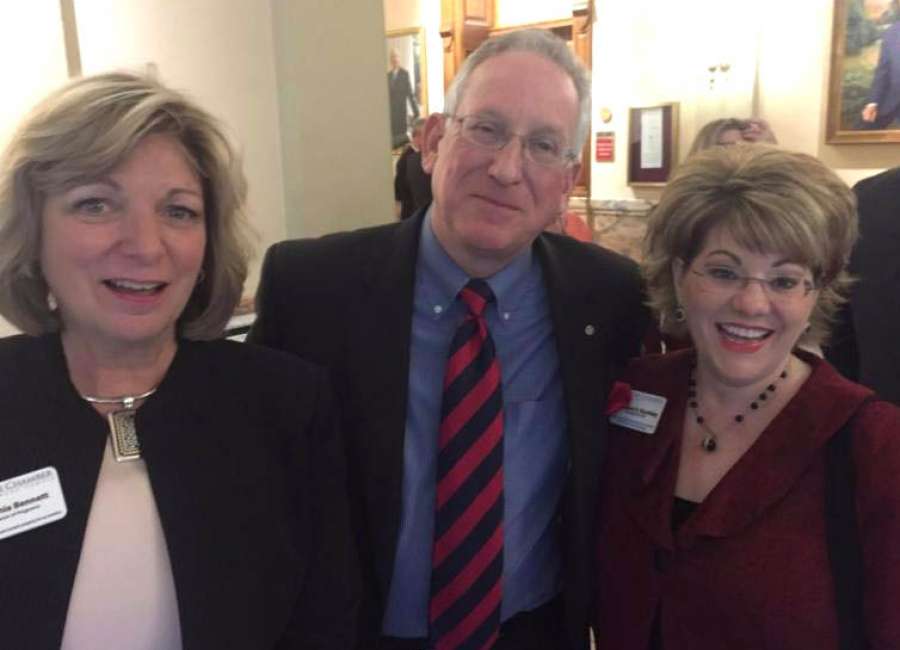 Leaders and members of the Newnan-Coweta Chamber of Commerce have been visiting the state Capitol in Atlanta to get an update on the current legislative session and visit local legislative leaders.

The ribbon cutting ceremonies for Sen. Matt Brass, R-District 28, and Rep. Josh Bonner, R-Peachtree City, were held on Friday, Feb. 10, when the General Assembly completed day 16 of the 2017 Legislative Session.
Bri Sanders, chamber director of membership and development, said the ribbon cutting were a celebration for Brass and Bonner.
Rep. Bob Trammell, D-Luthersville, was part of the Feb. 10 visit.
Rep. Lynn Smith, R-Newnan, also hosted lunch for the chamber delegation that same day.
"We had a great visit at the Capitol with the group from the chamber," Trammell said in an email statement. "It was a great opportunity to discuss legislative priorities and pending legislation with them, plus a chance to watch the legislative process in action."
Trammell said last week the budget out of the House was passed.
"We have also passed House Bill 146, which provides for cancer insurance coverage for firefighters," Trammell said. "Next Friday is crossover day, so we are expecting a very busy legislative week."
Brass and Bonner were in session, so they were not able to comment on their experience.
As far as the session goes, the legislature was scheduled in recess Monday, Feb. 13 and re-convened on Tuesday, Feb. 14 for Legislative Day 17.
Several bills in the business/entertainment industry, transportation and healthcare industry were discussed during the session.
The General Assembly completed day 20 of the 2017 Legislative Session on Friday, Feb. 17. The legislature was in recess on Monday and re-convened on Tuesday, for Legislative Day 21. The legislature was in session Tuesday through Friday of this week.
Newnan-Coweta Chamber Director of Programs Cynthia Bennett, Carroll County Chamber President Daniel Jackson, and Newnan-Coweta Chamber President and CEO Candace Boothby all met earlier this week and discussed regional collaboration while visiting at the capitol earlier this week and to get a legislative update.
Lieutenant Governor Casey Cagle spoke about college and career academies in Georgia.
"I was very proud to hear about the great advances of college and career academies throughout the state of Georgia, knowing that our Central Educational Center has launched this initiative," said Bennett.