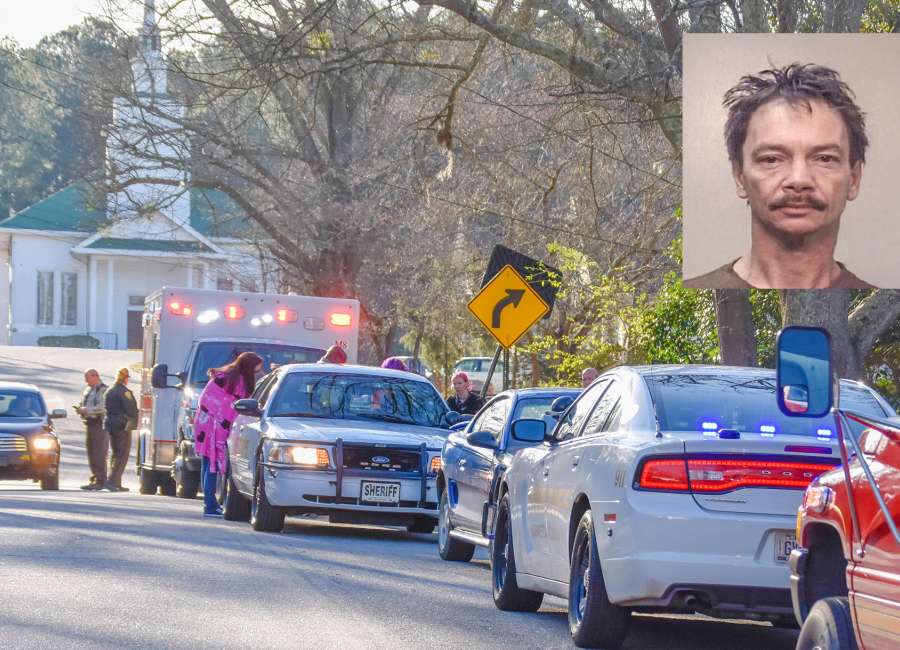 A Tennessee man is now in jail and another man is being sought after what might be called a big "meth-understanding."

Anthony Eugene Barnett, 44, is facing one count of aggravated assault with a knife after allegedly stabbing an Arnco man. 
The victim of the stabbing, Ricky Allen Cagle, was already facing charges related to his arrest last month along with two others in a drug raid at the site of the stabbing, 132 Arnco 3rd St.
The latest incident occurred after Monique Harrison, an ex-girlfriend of Cagle, contacted him on Facebook from Lawrenceburg, Tenn., asking if she could reunite with him, according to Sgt. Elaine Jordan with the Coweta County Sheriff's Office.
Because Harrison did not have her own car, she caught a ride from Lawrenceburg to Arnco with Barnett on Thursday afternoon. The couple allegedly decided to purchase some methamphetamine from Cagle.
However, Cagle said it was "a little hot down here right now" and texted her a photo of the front page of The Newnan Times-Herald which featured his mugshot following the January drug raid at his house.
Still, on Thursday evening when Barnett and Harrison arrived in Arnco, they allegedly gave Cagle around $2,000 to purchase the drugs, according to investigators. Detectives say Barnett stayed at the house on 3rd Street, while Cagle and Harrison went out to find the drugs, along with Cagle's friend, Terrance Truitt.
Several hours later, Cagle and Harrison returned to the house in Arnco, but without the drugs, the money or Truitt, Jordan said.
As Barnett grew impatient inside the house, Cagle reassured him that Truitt would be back soon with the drugs. Cagle attempted to avoid Barnett by sitting in a parked car in his driveway, according to Jordan. After seeing Cagle outside, Barnett joined him inside the car.
While Barnett was on the cell phone inside the car, Cagle allegedly overheard someone on the phone say "stab him," and Barnett then stabbed him in the right thigh and began to physically assault him, Jordan said.
In an effort to escape, Cagle allegedly attempted to start the car, but Barnett turned the ignition off each time, according to Jordan. Cagle eventually escaped from the car and ran inside the house from the back door, while Barnett ran inside through the front door.
Witnesses told Jordan that Barnett began ransacking the house looking for money or drugs, and subsequently woke up Harrison's 9-year-old daughter who had also made the trip from Tennessee.
Serena Caldwell, a girlfriend of Cagle, took Harrison and her daughter to another house up the road, Jordan said. When Caldwell returned to the house, Barnett was gone and Cagle was in a bathtub trying to alleviate the pain from the stabbing. For nearly 10 hours, Cagle refused to allow Caldwell to call 911, the investigator reported.
The next morning, Caldwell called 911, and an ambulance arrived to the residence around 9:45 a.m. where Cagle was taken to Piedmont Newnan Hospital to be evaluated for his injuries.
On Friday night, a witness reported seeing a car parked at the nearby Witcher Station with a Tennessee tag. After confirming it was the car belonging to Barnett, Jordan took him into custody for aggravated assault with a knife. He remains in the Coweta County Jail with a $10,000 bond.
Based on several witness statements, investigators believe the money was probably divided among Cagle and Truitt. Police are pursuing Truitt who has an outstanding warrant, according to Jordan.  
****
Clay Neely: clay@newnan.com, @clayneely