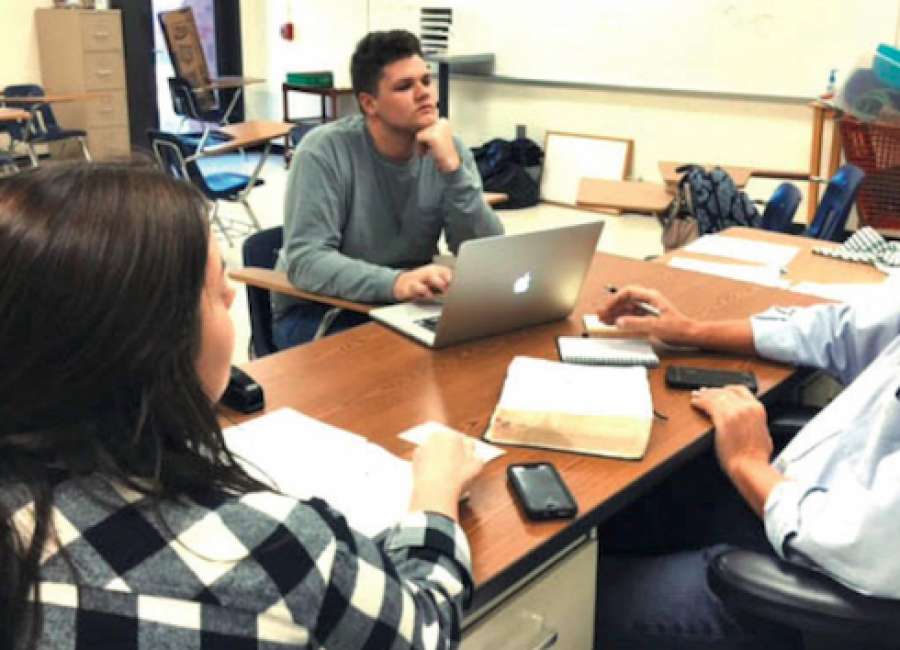 Local high school students are gaining leadership, social, soft and business skills while helping their community at the same time, through Team Hungry, a local nonprofit that began in a classroom at East Coweta High School about four years ago.
ECHS Family and Consumer Sciences Teacher Jeff Flavin, along with fellow ECHS teacher Kelli Parrish and ten students, developed a vision while working on a community project.
"This just started out about people being hungry," Flavin said. "We had no idea it would get this big. "
Team Hungry's mission, which officially became a nonprofit last year, is to help, feed, and serve people in the community, both locally and globally, through high school students who have a passion to impact the world, according to their website.
In a previous Newnan Times-Herald interview, Mack and Ria Story, owners of Top Story Leadership, which specializes in teaching and improving personal and professional leadership skills, talked about the importance of building leaders and soft skills, which is just as important as an impressive resume according to the Story's.
"'Soft skills' is another word for character," Mack Story said. "We all are here to make a bigger difference. We can all do small things to make a bigger difference, but first you must know who you are, where you are, who you want to become and where you want to go."
Flavin said the organization is a Christian-based organization, but he wants the students to learn their purpose in life and fulfill that purpose. Flavin described himself as the one who "pushes them higher to fulfil their potential," by testing their knowledge and delegating duties to help students become leaders.
"I don't do anything," he said. "The students do all of our marketing, social media and I'm even teaching them to delegate duties. We're building leaders, business owners and CEOs here. We like the students to take care of all the operational duties, so they can gain experience."
Flavin said he also likes to surround the students with other business leaders.
"We learn so much from being around them," said Caitlyn McNutt, ECHS senior.
McNutt became active with the organization her sophomore year after having some life difficulties. She said the organization has helped hone her business skills, which will be helpful when she attends Texas A&M University in Texas this fall.
"I plan to major in business administration, so the hands-on experience has been really helpful," she said.
McNutt helps plan the organization's annual concert, which was started last year to raise money for their mission trip to Nicaragua each February, where Team Hungry sponsors a small Nicaraguan school with about 25 students, and takes them shopping for school supplies.
The concert will be held April 21 at South Metro Ministries in Sharpsburg.
The team of students are heading to Nicaragua next month.
Flavin is also committed to challenging the students, by pushing them to face and overcome their fears.
Mary Chase, ECHS junior, was afraid of public speaking before joining the organization her sophomore year after being recruited by McNutt.
"I wanted to be a part of them and see that change we're trying to bring about in the community and the world," Chase said. "Now, I'm helping plan big events and speaking in front many people at a time."
Flavin said he hopes the students feel more prepared when they leave to go to college.
"The knowledge these kids have when they leave builds more confidence and makes them stronger," he said.
As far as the future of the organization, Flavin said he hopes the organization continues to grow, help the community and the world, and build stronger leaders for tomorrow.
For more information about Team Hungry, visit helpfeedserve.org .