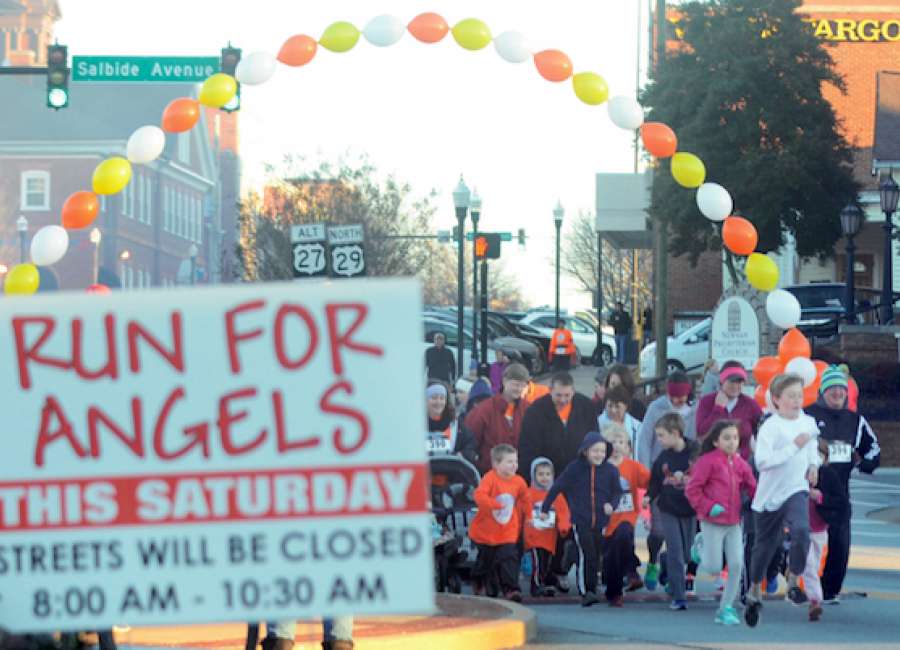 Angel's House is not simply a shelter for youth in Coweta, but is a safe haven in which young women are able to find solace despite a past of abuse, neglect and other difficult circumstances. 
The organization's largest fundraiser is the annual Run for Angels & Chicken Q held in downtown Newnan. The event, according to coordinator Bambi Edge, is what keeps the shelter open and available for children in need throughout the year. 
The 2017 Run for Angels, to be held Feb. 4, marks the organization's 15th event, which continues to grow in both participants and profits every year. 
"It takes months of planning and over 100 volunteers to organize and execute our race each year," said Edge. "The years have flown by and the race continues to grow, drawing runners from all over the Southeast and beyond." 
The family-friendly event will include a one-mile Fun Run, 5K/10K road races and a Chicken-Q lunch.
The Fun Run is open to participants of all ages and includes both walkers and runners, while the 5K and 10K races are qualifiers for the Peachtree Road Race. Start and finish lines for the 5K/10K races will be managed by Orion Racing, and RFID chip timing will be used. Race results will be available online at www.active.com following the event. 
"As a past organizer myself, I continue to be amazed by our many sponsors, our many volunteers, and all of the runners who continue to support this important fundraiser year after year," Edge said. "It has become a wonderful family and community event. 
The first race took place in Coweta in 2002, according to Edge, and was held at the farm of Millie and Andy Gosch. Just a small group of runners showed up to participate on the memorably cold day, and weather forecasters had predicted thunderstorms to accompany the crisp temperatures. 
"Andy and I were so honored to host the first Run for Angels at our farm," local artist Millie Gosch said. "Although the weather posed a great threat, runners showed up and the race was run with much success for a very worthy cause."
According to Edge, several community members and leaders have served as chairpersons for the race over the years and each put their own mark on the race. The logo has evolved in addition to the race t-shirt, signage and banners. The race course was then certified as a Peachtree Road Race qualifier, boosting the event's popularity even more. 
"I just really look back on those years as the chairperson with such joy," offered former race organizer and chairperson Lisa Shaak, "I felt connected to a great organization, as well as to a great group of volunteers."
The 2017 race will once again be professionally managed by Orion Racing using chip-timing technology to ensure accurate finish times, which will be displayed on a screen located at the finish line. Registration packets are available online now at www.theangelshouse.org/run and participants who complete registration before Jan. 24 will be guaranteed a race t-shirt. Late registration and early run packet pickup will take place Feb. 3 from 11 a.m. to 6 p.m. at the First United Methodist Parish Hall, located on Greenville Street in downtown Newnan. 
On-site registration will be available on race day beginning at 7 a.m. alongside check-in for registered participants. The one-mile Fun Run will begin at 8 a.m., the 10K race at 8:15 a.m. and the 5K race will immediately follow at approximately 8:17. An official awards ceremony will be held beginning at 9:30 a.m.
The Run for Angels will be held in conjunction with another fundraising effort, the Angel's House Chicken Q, which will take place inside the First United Methodist Church Parish Hall. Huckleberry's chicken, potato salad, bread, baked beans and homemade desserts are included on the plate, which is available for $10. A pickup line will be available for to-go orders beginning at 10 a.m. on race day in addition to lunch being served from 10 a.m. to 1:30 p.m. in the Church Parish Hall.