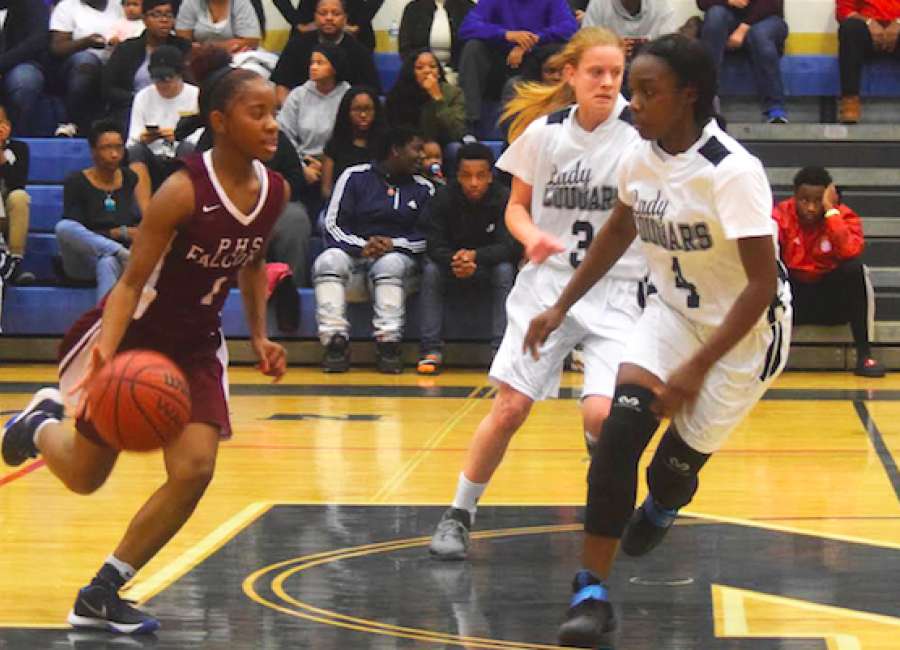 It was a road sweep for the Pebblebrook High basketball teams Tuesday evening, as the Falcons and Lady Falcons made the trip to Newnan and defeated both the Cougars and Lady Cougars in Region 2-AAAAAAA action at the Max Bass Athletic Complex.
Pebblebrook 59, Newnan 46 (girls): Pebblebrook's girls started Tuesday's game on fire, sprinting to a 15-2 first-quarter lead and rolling to a 56-49 win over the Newnan Lady Cougars. The Lady Falcons' trap bothered Newnan and forced several turnovers. When the Lady Cougars actually did get the chance to shoot to they missed several shots or they were blocked by Pebblebrook center Simone Lett. Newnan missed 12 shots in the first period.
Pebblebrook (11-2 overall, 2-0 region) led 30-12 at the half and it would've been worse had it not been for Newnan's Miranda Hill, who scored seven of her team's 12 first-half points.
A 3-pointer from Maxy Gates in the third quarter cut the Pebblebrook lead to 35-22, but the Lady Falcons outscored Newnan 10-4 to take a 45-26 lead into the fourth quarter. Newnan (7-8, 0-2) trailed by as many as 21 points in the final stanza before making a run, but it was too little, too late and Pebblebrook held on to win 59-46.
Lett scored 19 points and had 8 blocks, Milana Holmes scored 18 and Naliece Raiford chipped in 11 for Pebblebrook. Hill had 18 points and 10 rebounds and Gates chipped in 10 for Newnan, which hosts county and region rival East Coweta at 6 p.m. Friday.
Pebblebrook 86, Newnan 44 (boys): University of Alabama signee Collin Sexton led Pebblebrook with 25 points, as the Falcons drubbed the homestanding Newnan Cougars 86-44 in region action at home.
The No. 7 state-ranked Falcons used a strong press to force several Newnan turnovers and they sprinted to a 14-2 first-quarter lead. A 3-pointer from Harrison Drake in the second quarter got Newnan within eight points at 27-19, but the Cougars would get no closer. Pebblebrook (9-4 overall, 2-0 region) led 44-26 at the half, 65-35 at the end of three quarters and cruised to the 86-44 win.
Xavier University signee Elias Harden scored 14 and Drue Dannon chipped in 10 for Pebblebrook. Travis Johnson and Nick Parks scored 10 points each and Edward Frey added 9 for Newnan (7-8, 0-2), which gets back in action at 7:30 p.m. Friday against county and region rival East Coweta at home.
In other area hoops action Tuesday, the Trinity Christian Lady Lions lost their home game to visiting Holy Spirit Prep 66-57 in their first GISA Region 1-AAA action of the new year. Abby Bragg and Catherine Skebo led Trinity (8-4 overall, 3-1 region) with 16 points each, followed by Celine Paul with 14. The Trinity Christian Lions also fell at home to Holy Spirit's boys, dropping a 64-45 decision to the visiting Cougars. Trinity lost its fourth straight game to drop to 10-5, 3-1.
The Heritage Hawks started the new year with a 71-47 blowout of the Bethlehem Christian Knights in GISA Region 1-AAA play. Lance Terry led Heritage with 20 points, followed by 12 points each from Kasen Jennings and Ebenezer Dowuona. The Heritage Lady Hawks played without the Groover twins, but still managed to beat Bethlehem Christian's girls 40-28 Tuesday.
Olivia Ayers finished the game with a double-double, leading the team with 10 points and 16 rebounds.
K.T. Heggood finished with 8 points, and Rebekah Henson 7 to help pace the Lady Hawks.
Carissa Vazquez added 6 and Claire Turner 4. Trisha Underwood finished with 2 points and Emily Cushing had 1 in the Lady Hawks' first game after the break.