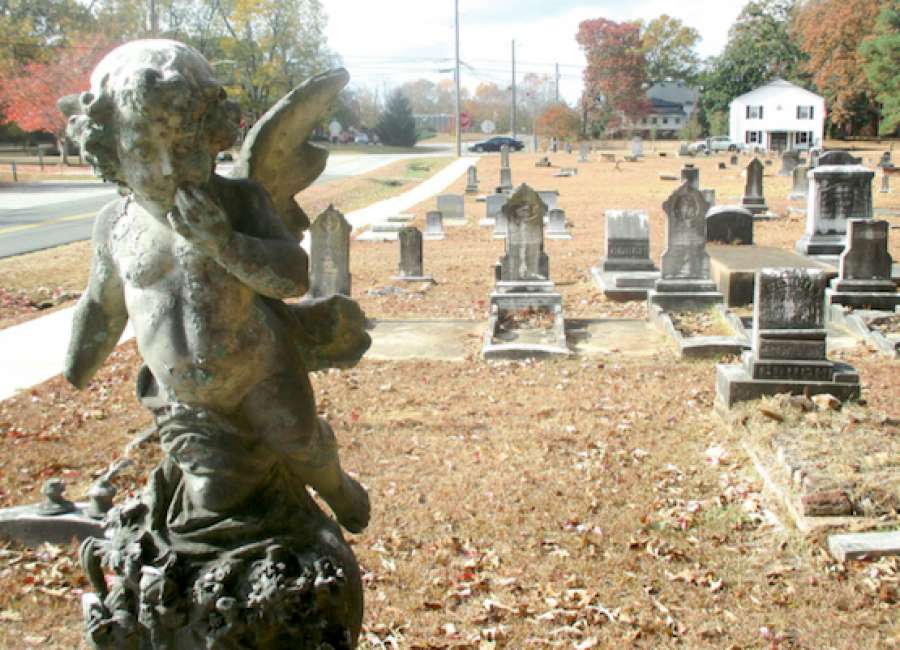 When Richard Waterhouse spoke in Newnan, he pointed out examples of religious symbolism on grave markers from the Victorian era.

Old cemeteries in and around Coweta County are full of examples of what Waterhouse shared. Waterhouse spoke on "The Power of Christian Symbolism in Victorian Cemeteries" at the Carnegie Library Auditorium in November.
Some of the symbols are overtly religious – angels, saints, crosses. The gates of heaven and a veil – lifting to connect earth to heaven – are less obvious today and are frequently seen in Coweta cemeteries.
"The angel actually portrays the messenger of God," Waterhouse said. "There are several different types of angels. Some of them have swords, and some of them have torches."
Some sculptures depict an angel taking flight to go to heaven. A grieving angel is a type "you see … in a lot of cemeteries in the United States."
Baby angels were popular in Victorian times, particularly on the graves of children who died young.
The dove is probably "the most important symbol in Christian art," Waterhouse said.
"The dove conveys purity and peace," he said. Sometimes the dove has a twig in its mouth, depicting the story from Genesis where a dove brings a twig for Noah on the ark.
"He is bringing back the olive branch to save mankind," Waterhouse said.
Other symbols include:
• IHS- monogram for Jesus Christ in Greek
• open books- perfect knowledge/the Bible
• closed book- completed life
• lamb- God's messenger, innocence
• owl- light in the darkness
• lion- bravery
• butterfly- freedom
• chrysalis- hidden life and transformation
• acorns and oak trees- living strength from a tiny, seemingly dead, beginning; also endurance
• calla lily- majestic beauty
• rose- innocence; also, Mary, Queen of Heaven.
• acanthus leaf- heaven
• Easter lily- resurrection
• daisies- Virgin Mary
• ferns- humility and sincerity
• passion flower- Christ
• wheat/sheaves of wheat- harvest where seeds spring to eternal life
• weeping willows- mourning and grief
• thistle- mortality
• wreath- eternity
• shells- resurrection and baptism
• eye- God's omnipresence and watchfulness
• clasped hands- unity
• finger pointing upward- heaven
• beds/footboards/pillows- sleep
• five-pointed star- manifested nature of God
• six-pointed star- creation
• bow- unity
There are some other, less common symbols on local graves. At Oak Hill Cemetery in Newnan, the grave of an early newspaper editor features quill pens, and another grave offers the Georgia state seal.