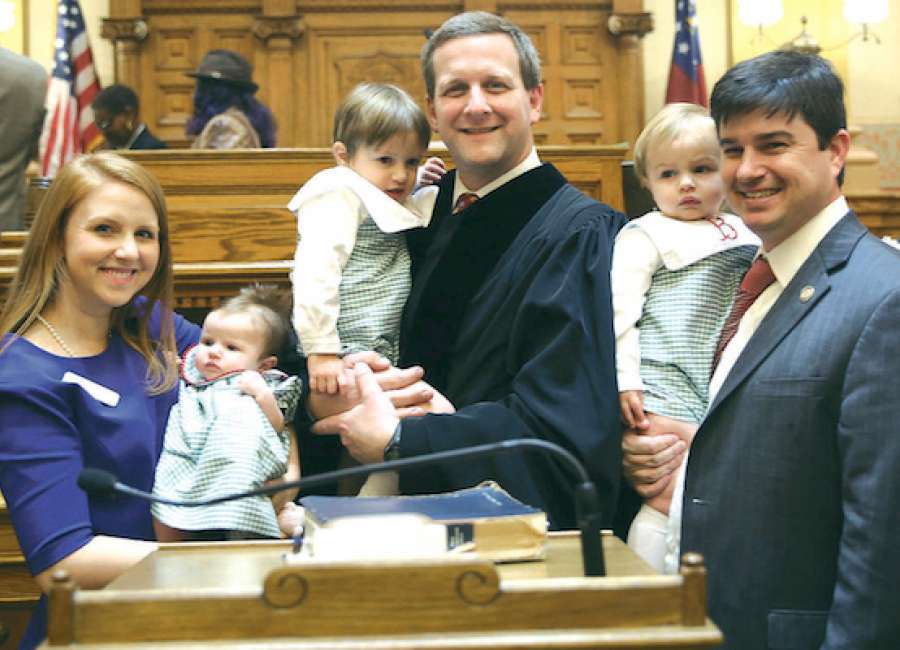 Coweta's new legislators are now sworn in and on the job, and new state Sen. Matt Brass has already received committee assignments.

Brass, R-Newnan, and state Rep. Josh Bonner, R-Peachtree City, were sworn in Monday at the state capitol.
Brass represents Georgia Senate District 28, which covers all of Coweta and Heard counties and portions of south Fulton, Carroll, and Troup Counties.
Bonner represents House District 72, which covers the southeast corner of Coweta, including Senoia and Haralson, as well as portions of Fayette County including Brooks and part of Peachtree City.
Brass was named vice chairman of the Senate Economic Development and Tourism Committee, the panel that typically considers legislation on tax credits for movie production, a growing industry in his district. He will also will be a member of the Senate Education and Youth, Natural Resources and the Environment, Local Government Operations and Reapportionment and Redistricting committees.
Bonner continued a family tradition by using his parents' Bible for the swearing in. The same Bible was used by his father, John "Bill" Bonner, when he was sworn into two terms on the Fayette County Commission and when he was sworn into the Georgia Real Estate Commission, and for Bonner's swearing into the Georgia Real Estate Commission.
He said he wasn't expecting to have his committee assignments until Thursday or Friday. The first few days of the session are largely filled with ceremony and administrative actions, such as choosing leadership and adopting rules.
"The capitol is a frenzy of activity," Bonner said.
People are there from all over the state, and there is excitement in the air, he said.
"My time outside of the formal session has been spent meeting with other House members discussing upcoming legislation," Bonner said. "I am struck by the diversity and quality of the House membership. Every one of the 180 members has a unique story and brings a slightly different perspective to the conversation. In addition to the veteran legislators, we have an outstanding freshman class from a wide range of backgrounds that is ready to go to work."
Across the Capitol, Brass has similar impressions as he settles into the job.
"I feel incredibly blessed to have the honor to serve the district which I have called home for most of my life," said Brass, who served as a field representative and then chief of staff for Congressman Lynn Westmoreland before being elected to the state Senate post.
"I am committed to working hard to bring good growth and prosperity to our district, as well as our state as a whole," Brass said. "And the committees I have the pleasure to serve on reflect that commitment."