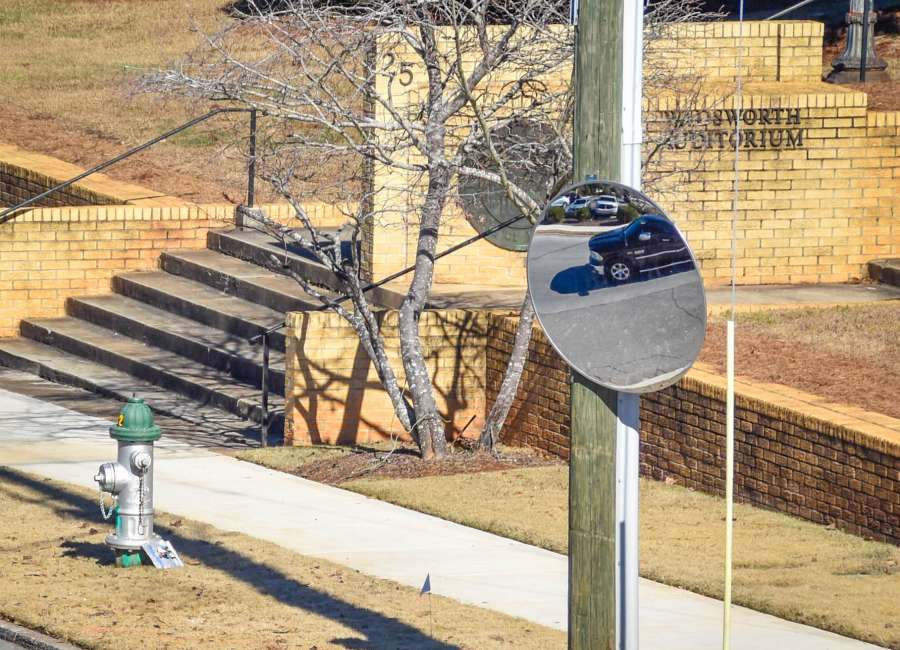 Making a left turn from Wesley Street onto Jefferson Street in downtown Newnan should now be easier.

The city of Newnan has put up a large mirror to help motorists see whether it's safe to pull out.
Site distance for motorists on Wesley Street has been an issue since the city added several new parking spaces along Jefferson and Jackson streets about a year ago. If cars are parked in certain spaces, it become impossible to see if there is any approaching traffic.
Newnan City Manager Cleatus Phillips said the city has received complaints about sight distance at Wesley and Jefferson.
Phillips said there have been no complaints related to the two intersections of Wesley with Jackson Street.
After receiving some complaints, city officials looked at the issue. The city contacted the Georgia Department of Transportation for some suggestions. Jefferson Street is also U.S. Highway 29 and Ga. Highway 14, and therefore is controlled by the state.
"They basically said that it's our responsibility, that it occurred during our project," Phillips said.
State highway officials said the city could remove some parking spaces to fix the site distance problem.
The city of Newnan has been working to add parking spaces, and there has been a lot of discussion about the lack of parking downtown.
So eliminating spaces "wouldn't have been my first option," Phillips said.
Another option, said the state, was to make that short section of Wesley Street one-way.
"That would be pretty extreme," Phillips said. "I don't want to make extreme changes. We're trying to add parking. We're not trying to alter the flow of traffic."
A few city residents suggested putting up a mirror. So the city looked into it.
It's not something the state approves of and they're not taking any responsibility, Phillips said.
But the city decided it was worth a try. "I think it will be an improvement," Phillips said. "With the other options being pretty severe, I think we owe it to everyone to try that."
The mirror went up on Friday, and is attached to a utility pole next to the driveway for the fire station.
City crews had been trying to figure out the best place to put it and there were original plans to put up a dedicated pole.
But, there are plans in the works to renovate the fire station, and there will be some changes to the driveway.
"We don't really know where the permanent location is going to be so we made a decision to put it on that pole until those renovations are completed," Phillips said.
The city will monitor the situation and if the mirror doesn't solve the problem, other options may be considered.