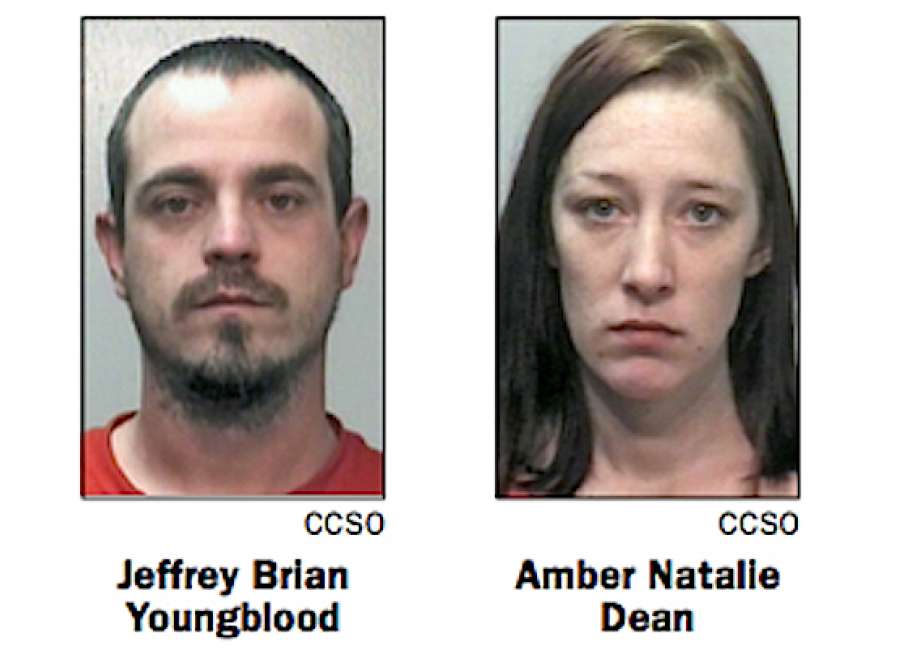 Two people are now facing charges after investigators claim they fabricated the story of an armed robbery to cover up their theft at a store where one of them worked.
Arrested are Amber Natalie Dean, 27, and her boyfriend Jeffrey Brian Youngblood, 30. Youngblood confessed to the ruse while Dean stuck to her original story, according to investigators.
Last Saturday night, authorities from the Coweta County Sheriff's Office were dispatched to the Dollar General on Glenda Trace after an employee claimed she was forced to take money from the cash register by a gun-wielding suspect in the back parking lot.
Dean told investigators that she was instructed by the robber to bring back money or else he would harm those inside the store, according to lead investigator Ryan Foles with the Coweta County Sheriff's Office. Dean said she gave the robber $400 before he fled the area on foot.
Deputies began a search for the reported thief who was supposedly last seen behind the store, including the use of tracking dogs. The dogs' search ended in an adjacent parking lot where the scent was lost.
Investigators later recovered an outfit believed to have been worn by the thief near a dumpster.
On Wednesday, Foles was able to acquire surveillance video taken from the parking lot of a nearby business which he said showed a black four-door passenger car arriving before the incident occurred, and then leaving immediately after.
Based on the search conducted by the K-9 unit, the car's location was consistent with the path likely followed by the suspect fleeing the scene, Foles said.
After receiving an anonymous tip implicating Dean's boyfriend, Youngblood, Foles returned to the store to interview several employees who confirmed the model of Youngblood's car matched the car seen in the surveillance video.
Surveillance video taken Saturday night from inside Dollar General appeared to show Youngblood coming inside to speak with Dean several times, and he was also seen wearing the same clothes recovered in the parking lot, officials said.
On Thursday evening, both Dean and Youngblood arrived in Youngblood's car for an interview at the sheriff's office. Detectives took them to separate areas for questioning.
"He initially denied any involvement, then claimed he changed his clothes for work in the back parking lot before he ultimately admitted to the entire act," Foles said. "He admitted it was not a robbery, there were no guns involved, and he instructed her to go inside to get the money, bring it back to him and then call 911."
However, during questioning, Dean did not change her story and maintained that she was robbed by a black man in the parking lot, according to Foles.
Dean was charged with false report of a crime, disorderly conduct, false statements and writings and theft by taking. Youngblood was charged with false report of a crime, disorderly conduct and theft by taking.
"This was a complete waste of resources to investigate this case," Foles said. "From the initial response from deputies, the K-9 search, the EMS services requested by Dean, and the legwork it will take to put this through the judicial process, she put thousands of people on edge for a weekend when it was unnecessary."
****
Clay Neely: clay@newnan.com, @clayneely