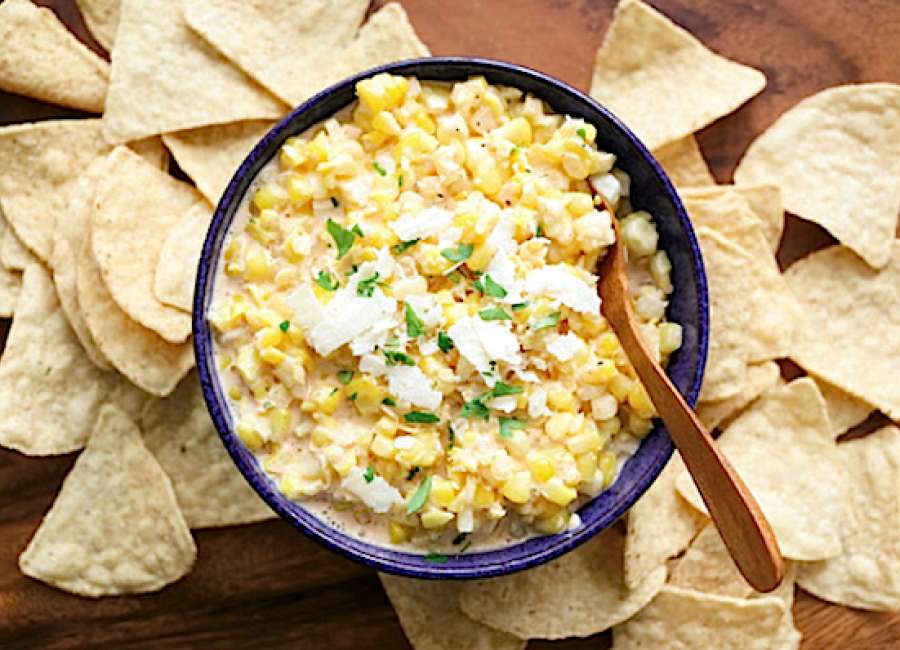 – By Barbara Wetherington
The Super Bowl is just around the corner so I thought I would share some recipes that we love when there are hungry people hanging around. All are, of course, my trademark easy to make. And delicious.
Ranch and Corn Dip
1 packet Hidden Valley Ranch Original Salad Dressing and Seasoning Mix (the dry powdered one found with the salad dressings)
16 ounces of sour cream
10-ounce can Rotel Original tomatoes, well drained
11-ounce can of Mexicorn, well-drained
1 cup shredded cheddar cheese
Mix all ingredients in a medium-size bowl. Chill in the refrigerator for about an hour. Serve with your favorite tortilla chips or corn chips.
Hissy Fit Dip
This stuff is divine and there is never any left.
1 pound of sausage
16 ounces of sour cream
8 ounces of Velveeta cheese, cut into tiny pieces or the shredded kind
4 ounces of shredded muenster cheese (or mozzarella)
1 teaspoon of onion powder
1/2 teaspoon of garlic powder
1 tablespoon of Worcestershire sauce
1 tablespoon of dried parsley flakes
Preheat oven to 350 degrees. Lightly spray an 8x8-inch baking dish with cooking spray.
In a large skillet, cook the sausage until it's no longer pink. Drain it well. Mix together the sausage and all the remaining ingredients.
Pour into your prepared baking dish.
Bake for 30 to 40 minutes until nice and bubbly.
Hot Crab Dip
Easy. Delicious. Cheesy. Slightly spicy. Yum!
1 (8-ounce) package of cream cheese, room temperature
1/2 cup of mayonnaise
1/2 cup of sour cream
1/2 cup of shredded Parmesan cheese
1 cup of shredded cheddar cheese
1 pound of lump crab meat (ok - a pound of crab meat is EXPENSIVE - if you want to you can chop up the artificial kind - if you love crabmeat, go for the real stuff)
1 tablespoon of lemon juice
1 teaspoon of hot sauce
1/2 teaspoon of salt
1/2 teaspoon of black pepper
1/2 cup of Parmesan cheese for the topping
2 tablespoons sliced green onions
Preheat you oven to 400 degrees.
In a large bowl, mix together the cream cheese, mayonnaise, and sour cream until smooth. Stir in the Parmesan cheese, cheddar cheese, lemon juice, hot sauce, salt and pepper. Mix well. Fold in the crab meat.
Pour into a 1-quart baking dish. Sprinkle with the remaining Parmesan cheese.
Bake for 25 to 35 minutes until bubbly and hot.
Remove from the oven and top with the green onions. Serve with tortilla chips or crostini.
Slow Cooker Buffalo Chicken Sandwiches
You will love having this recipe handy if you love buffalo anything - I do. I also love buffalo pizza and this can be used on a gently oiled pizza crust with pizza cheese on top and then popped in the oven to get bubbly. It's great to have handy in the freezer (if you can hide it from your family).
4 boneless chicken breast halves (I use the big ones)
1 (17-ounce) bottle of buffalo wing sauce
1 envelope of dry ranch salad dressing mix
2 tablespoons of butter
6 hoagie rolls (I love to make this on slider rolls - for some reason it's more fun)
1 bottle of ranch or blue cheese dressing and a pile of cheddar cheese to put on top if you like - you don't need it if you are a buffalo purist.
Put the chicken in your slow cooker and pour in 3/4 of the wing sauce and the ranch dressing mix packet.
Cover and cook on low for 6 hours (every slow cooker is different so just be sure the chicken is done enough to shred).
Once the chicken is cooked, add the butter. and shred the meat with two forks.
Pile the meat onto the hoagie rolls and splash lightly with the remaining wing sauce. Top with bottled dressing and shredded cheese if you like.
Enjoy the game. With love, from our home to yours.