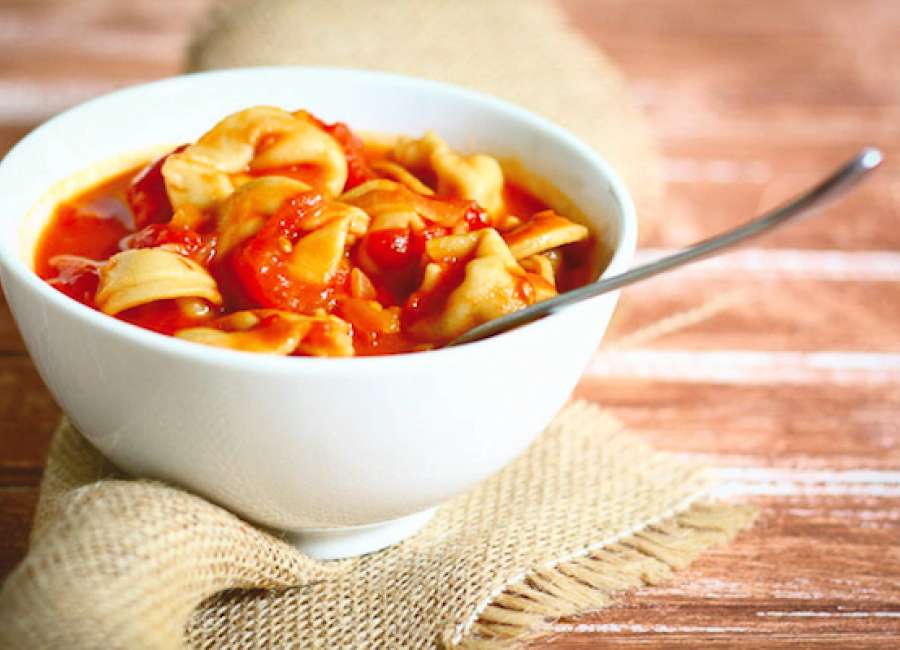 – By Barb Wetherington
It's January! Some of us are summer people. I'm not one of them. I LOVE winter. Maybe because we don't get much of it here. Or maybe because I'm a big fan of cozy food, fireplaces, reading good books and having a great excuse for being lazy. Lazy suits me perfectly.
So let's do some cozy food that is so easy and so delicious that you might become a winter person, too.
I think we will be doing a lot of cozy food recipes for you over the next couple of months. But none will be as simple as these soups.
Easy Tomato Tortellini Soup
Nothing quite as perfect on a cold night than tomato soup. Sometimes I make gooey grilled cheese sandwiches to go with this but often I make a good bread or some very special crackers. Both recipes are included on this page today. But first let's make soup.
4 cups of chicken stock (I keep those 32-ounce boxes of chicken broth in my pantry and find a lot of uses for them)
1 (28-ounce) can of diced fire-roasted tomatoes (with the liquid)
1 (10-ounce) bag of fresh tortellini (you can use the dry kind from your pantry but you will need to cook them first)
Add the chicken stock and the fire-roasted tomatoes to a medium-sized pot and bring to a boil over medium heat. When at a rolling boil, turn off the heat and use an immersion blender to make it smooth. If you don't have an immersion blender you can use your electric hand mixer. When it's smooth, add the tortellini and cook for 3 or 4 minutes. Total time to make this is only about 15 minutes and it tastes like you worked hard!
Perfectly Easy Potato Soup
Have you discovered Better Than Bouillon yet? It's magic and you need to keep it in your refrigerator. It lasts a really long time. I love this stuff. I buy both chicken and beef and have it handy for making all sorts of yummies that call for broth. Trust me on this - give it a try. It tastes a lot better than broth or bouillon cubes.
1 (28-ounce) package of Potatoes O'Brian (found with the frozen french fries)
1 packet of Country Gravy Mix (found with all the envelopes of mixes like chili and taco)
4 teaspoons of Better Than Bouillon Chicken base and 4 cups of water (or a 32-ounce box of chicken broth - both can be found in the same soup aisle)
Mix all the ingredients together in a large pot. Bring to a boil while stirring occasionally. Once it's boiling, turn down the heat and let it simmer until it begins to thicken. It will continue to thicken as it cooks.
That's it! The easiest no-fuss delicious Potato Soup.
Easy Cheddar Beer Bread
You can use any kind of cheese or beer. I'm not a beer drinker so one day I asked the clerk at the grocery store what was a really good beer. He gave me lots of advice and then asked me about my personal taste in beer. I told him I didn't drink beer and that I was making bread with it. He had the most horrified look on his face and blurted out, "What a waste of good beer." I laughed out loud and bought the good beer anyway. This is a good hearty rustic bread that goes well with soup.
3 cups of all-purpose flour
1 cup of shredded sharp cheddar cheese
3 tablespoons of sugar
1 tablespoon of baking powder
1 teaspoon of salt
1 (12-ounce) bottle of beer
4 tablespoons of butter, softened
Preheat your oven to 350 degrees.
Grease a 9x5-inch loaf pan with half of the butter.
Whisk the flour, baking powder, sugar and salt together.
Add cheese and stir with a spoon.
Make a well in the center and pour in the beer.
Mix with a spoon until just combined.
Spread into your loaf pan.
Bake for 50 to 55 minutes or until the top is lightly browned and a toothpick inserted in the center comes out clean.
Rub the top with the remaining butter.
Allow to cool for 10 minutes and then turn it out on a wire rack. Let it cool for 15 or 20 minutes before slicing.
Those Incredible Crackers
I love these. It's just like having fancy homemade crackers without any work. You can make these to have with soup or to have with some nice cheese when friends come over.
4 sleeves of saltine crackers
1 package of ranch dressing mix (found with the other envelopes in the same place as the regular bottled salad dressings)
1 tablespoon of red pepper flakes (you can use less if you like less spice)
2 teaspoons of garlic powder
2/3 cup of vegetable oil
In a small bowl combine the oil, the ranch dressing powder, the red pepper flakes and the garlic powder.
Mix thoroughly.
Place all the saltines in a large container with a cover.
Pour the seasoning mixture over the crackers.
Pace the lid on the container and flip it over several times to completely coat the crackers.
Pour the crackers on a baking pan and bake at 250 degrees for about 10 minutes. Allow to cool. Yum.
Stay warm and snug. With love, from our house to yours.