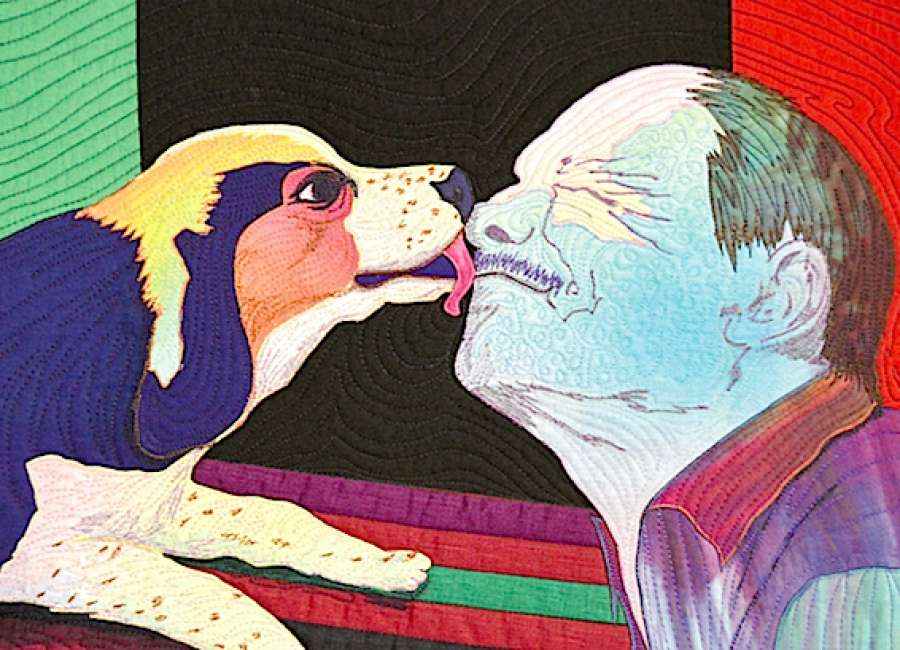 A new year of unique and inspiring exhibits and performances has begun at the Donald W. Nixon Centre for Performing and Visual Arts in Newnan beginning with a display of fine art in an unexpected form - quilts.
According to the Nixon Centre's Director, Cathe Nixon, the idea for the one-of-a-kind show came from a Centre Patron who had seen Caryl Bryer Fallert-Gentry's uncommon work at an exhibit in Michigan and, after viewing the colorful quilts for herself, she knew the Centre had to have them on display.
"I immediately loved the idea of having a quilt exhibit," Nixon explained. "My grandmother quilted as well as my great-grandmother and I think as an art form, quilting is unusual but beautiful."
The exhibit includes a series of large and small quilts that are anything but traditional, while maintaining the process of quilting in its original form — telling a story through fabric.
"Quilting is functional as well as artistic," Nixon said. "The practice is a unique way in which so many women have expressed themselves for generations."
Fallert-Gentry has been quilting for nearly 40 years, though her artistic ability has been long evident. Currently living in Washington state, the artist noted that she spent many years painting, sewing and experimenting with other media before discovering that fabric art best expressed her personal vision and overall artistic goals.
"I paint with fabric," she said. "Most of the designs and imagery I use in the works come from pure imagination."
The artist noted that as a painter and mixed-media artist, she often created works which included the human figure and sometimes abstract imagery and now, working with fabric, she continues to include similar themes in her works.
The artist begins with simple sketches as a means to transfer her ideas onto paper. She then scans the sketches into the computer, creating a template for the piece, then proceeds to experiment with color using computer programs.
"I like to play with unusual colors," she explained, noting that oftentimes creating an abstracted image can be more difficult than a photo-realistic one.
The next step in Fallert-Gentry's process involves sizing the "template" to scale. The artist prints the modified sketch onto a sheet of clear paper, or acetate, and uses a projector to enlarge the image and project it onto large, thin paper. The paper will later be cut into pieces, each a guide used to measure the fabric.
She uses a sewing machine to connect the fabric bits, then continues patterns of stitching throughout the quilt to create texture. In some works, each piece of fabric making up the quilt is emblazoned with a different pattern.
"The extra quilting gives each piece texture," she said. Creating texture was a practice the artist has always enjoyed, even as a painter. "The process, overall, reminds me of painting with a brush. You wash in the background first, then come back into the painting using a smaller tool and add detail."
To her, the quilted patterns are like doodling. "It's just like drawing, but with thread," she noted.   
Each quilt can take several months to complete, depending on the size and detail, according to Fallert-Gentry. The centerpiece of her show on exhibit at the Nixon Centre is titled, "New Dawn," and depicts an intricately rendered phoenix. The 63x78-inch work took nearly a year to develop, then an additional three months to sew the final work.
Each of the artist's quilts has a personal story as to how the piece came to be, and, rather than simply indicating each work by title in a gallery setting, she prefers to include the story.
"As a viewer, I like a window into what the artist was thinking when they made the piece," Fallert-Gentry said. So, years ago, she decided she would give the viewers the story and the inspiration behind the art.
"Other artists choose to put a small sign with the title of the work, size and price," she continued. "But I feel like, with a medium that is so unusual to many viewers, I am obligated to offer more explanation."
Another eye-catching, vibrant quilt included in the Nixon Centre exhibit depicts a woman jumping or dancing with a background of flowing grass and sky.
"This is a self-portrait," Fallert-Gentry said. "I created this piece after my first husband died suddenly, ten years ago."
According to the artist, the work represents her journey to healing after the loss. "It is about making a new start and beginning a new chapter in life."
The Caryl Bryer Fallert-Gentry art exhibit will be on display during the Centre's regular business hours until Feb. 17. Visit the Centre online at www.TheNixonCentre.net, or call for more information at 770-254-2787.